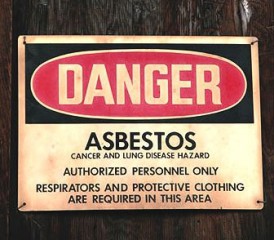 After several years of decline, the importing of
asbestos
into the United States is back on the rise, infuriating advocates like Linda Reinstein of the Asbestos Disease Awareness Organization. According to the United States Geological Survey (USGS) Mineral Commodity Summaries released this week, asbestos imports were are up by more than 25 percent in 2011. "I was appalled and shocked (to learn the numbers),"
Reinstein said in a statement released this morning
. "The asbestos industry has argued for years that importation and exposure was decreasing. We have discovered that the argument simply isn't true."
Asbestos Banned in More Than 50 Countries
Asbestos, which was once coveted around the world, has been banned in more than 50 countries — but not the United States or Canada — because of its toxic nature. The inhalation of
asbestos fibers
can lead to a variety of serious health issues, including
mesothelioma
, which is diagnosed in an estimated 2,500  Americans annually. Asbestos, which was once used in the making of more than 3,000 different products, has not been mined in the United States since 2002. With asbestos use being restricted severely, the imports had been declining steadily — until now. According to
USGA figures
, manufacturers imported 1,100 metric tons of asbestos in the first seven months of 2011 (figures from the last five months were not available yet), which was more than all 12 months of 2009, or 2010. More than 90 percent of the imports came from Canada, where the last two asbestos mines were closed late in 2011. Asbestos mines still are thriving in Russia, Brazil and Zimbabwe, which are finding great demand in some still-developing countries.
No Safe Level of Exposure
Roofing products accounted for an estimated 60 percent of the United States consumption, according to the report. Asbestos, which is relatively inexpensive, is valued for its heat resistance and pliability. The United States Environmental Protection Agency (EPA), the United States Surgeon General, the International Labor Organization and the World Health Organization all have agreed that there is no safe level of asbestos exposure. The
ADAO
and the Canadian Voices of Asbestos Victims (CVAV)
have teamed together
to present a North America Declaration to President Barack Obama and Prime Minister Stephen Harper asking for them to push for a ban of the toxic substance.
200 Million Tons of Asbestos
The USGA estimated that there are 200 million tons of identified resources of asbestos in the world today.  The use of it in the United States the past five years has been at the lowest level in more than a century. Most
manufacturing companies
have moved to usually-more expensive asbestos substitutes, or just stopped making products that require asbestos.  The sudden rise in imports was surprising, particularly because of the rise in awareness of the dangers that asbestos presents. "I am calling on Congress and the President to immediately prohibit the importation of raw asbestos and asbestos-containing products from crossing our borders to protect public health," Reinstein said.