Asbestos Exposure & Bans
Politics Block Demolition of Building Filled with Asbestos
Fact Checked
Our fact-checking process begins with a thorough review of all sources to ensure they are high quality. Then we cross-check the facts with original medical or scientific reports published by those sources, or we validate the facts with reputable news organizations, medical and scientific experts and other health experts. Each page includes all sources for full transparency.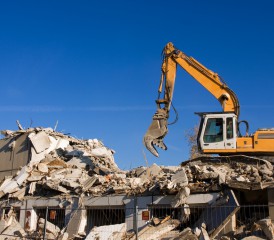 The fight between Democrats and Republicans spread beyond the usual bounds of politics into the hazardous world of asbestos.
On Tuesday, a bid to provide funding for demolition of an asbestos-containing building failed.
The bid, proposed by Colorado House Majority Leader Sal Pace, was blocked by state Republicans in a 33-32 vote.
Pace, a Democrat representing Pueblo, Colorado, proposed adding $451,000 to an existing budget to bring down the building at Northern and Acero avenues, which was already vacant.
All looked good for Pace and his plan until a congressman on the other side of the isle changed his position. Rep. Keith Swerdfeger, a Republican, changed his vote from support to dissent, joining other Republican members.
Pace was working on having the building demolished after learning of an assessment by the Colorado State Fair, which said asbestos fibers in the building could pose a significant threat to the health of local residents. Asbestos is a naturally-forming substance that was historically used in construction materials and other various products.
Scientists have long known that asbestos exposure causes the development of many diseases, including mesothelioma, which is a rare cancer of the lung. This disease alone is accountable for more than 3,000 deaths a year.
Despite the evidence and concern for public health, this issue has morphed into a political matter.
Arguments on Both Sides
The democrat seemed poised to defend his proposed bid all the way until the last vote was cast. Pace stated that the State Fair has expressed interest in using the property of the asbestos-contaminated buildings for parking purposes and to expand the space of the neighboring Army National Guard.
"We're setting ourselves up for liability on this issue, and someone could get sick from this," he said.
His efforts on this issue date back to mid-2011, when he wrote a letter to the state's Capital Development Committee urging them to take action. In a news story from August of last year, Pace stated where his initial involvement in the matter began.
"This came to my attention when I received some emails from constituents who were concerned about the disrepair of the building. I also heard about it from Pueblo City Councilman Leroy Garcia, who has been working on issues regarding cleaning up the city."
The $451,000 proposed project was to be included in the General Assembly budget which the legislature is currently considering. The congressman who proved to be the difference maker was Rep. Keith Swerdfeger, who represents Pueblo West. Ironically, his recent position doesn't align with his previous one.
Seven years ago, Swerdfeger wholly supported the demolition of asbestos-tainted buildings in the neighborhood. At one point, he actually urged his fellow Republicans to join him.
"When that building collapsed, all that asbestos went everywhere," he said. "All the water fighting the fire took that asbestos into the soil. The bill to clean up that building was $7 million."
After saying his Republican colleagues convinced him to change positions, Swerdfeger killed the budget allocation. He said the impact of other projects in addition to the decision by the Department of Agriculture not to make the demolition a high priority may have played a role in swaying him from support to dissent.
Removing Asbestos Is a Delicate Process
For Pace, the concern is about demolishing an asbestos-containing building. For you, it may be more about removing asbestos when it is found within your home or office.
In the situation where asbestos does pose a health risk to you, other residents, occupants or neighbors, it is critical that the toxic material be properly removed. This process of removing it is known as asbestos abatement.
Whether for a home, office building, facility or any other structure, abatement is a process that should be conducted carefully. It typically occurs in multiple steps. First, you must test for and identify that asbestos is present. This is often done — and should be done — by asbestos experts.
Then you must find an abatement company, which can be accomplished by contacting your state health department. Next, you would prepare the area to ensure that the abatement company can easily and properly perform their job. Finally, you let the professionals do their work.
It should be noted that just because asbestos is present in a building or home doesn't mean that it should always be removed. If the asbestos is confined to an area and is not disturbed, meaning that the fibers are not exposed and cannot be ingested by humans, then it may be more beneficial to simply leave it in place.
The abatement process can get very expensive and should be used when necessary. It is always recommended to consult professionals when considering whether abatement is right for you.
Free Mesothelioma Resources
Get Access to Free Resources for Patients & Loved Ones