Research & Clinical Trials
International Research Reports Advances in Diagnosis and Treatment of Mesothelioma
Fact Checked
Our fact-checking process begins with a thorough review of all sources to ensure they are high quality. Then we cross-check the facts with original medical or scientific reports published by those sources, or we validate the facts with reputable news organizations, medical and scientific experts and other health experts. Each page includes all sources for full transparency.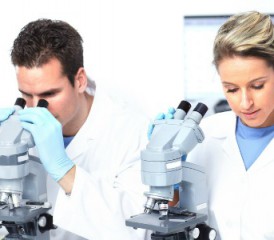 Potential advances in the diagnosis of mesothelioma and the treatment for the disease are being reported this week from different parts of the world, another indication that the fight against this cancer has become an international battleground.
Australian researchers reported at the annual European Lung Cancer Conference in Geneva, Switzerland that they have isolated new blood markers that could dramatically simplify the diagnostic procedure.
Researchers from the University of California-San Diego also reported at the recent annual American Association for Cancer Research meeting that they have found a new non-small cell lung cancer vaccine that could translate well for mesothelioma patients.
Both are good news in the world of mesothelioma, the cancer caused primarily by an exposure to asbestos. An estimated 10,000 Americans will die annually from asbestos-related diseases, and the World Health Organization expects 100,000 people internationally to die from mesothelioma each year.
Diagnostic Advances
Finding a more accurate diagnostic tool is critical in helping mesothelioma patients. Because mesothelioma has a long incubation period, the presence of the disease is often masked until it has progressed to stage III or stage IV, making it almost impossible to treat successfully.
Once diagnosed, a patient with mesothelioma typically receives a prognosis that includes 6-18 months to live.
Testing for mesothelioma now often requires a tumor tissue biopsy, which is an invasive procedure that often is delayed. And other simpler tests have been unable to provide a consistently reliable diagnosis.
Scientists from the Asbestos Diseases Research Institute (ADRI) in Sydney, Australia, identified a particular molecule, called microRNA, that is four-times more prevalent in patients with mesothelioma, than in those without the disease.
The findings came in a small sample that will need to be expanded before a definitive blood test could be used.
"If doctors could use a diagnostic marker based on a simple blood test to help with diagnosis, ti could circumvent the problem of availability of tumor tissue and help accelerate the process," said Michaela Kirschner, M.D, from the ADRI. "For a patient, this could mean appropriate treatment could be instituted at an earlier stage."
The blood test could be simple enough that anyone with prolonged exposure to asbestos might be interested in taking it, despite not showing any symptoms.
There have been a number of other blood-based markers identified in the past for mesothelioma, but none have had a high enough accuracy rate for routine clinical use.
New Cancer Vaccine
Researchers at the Moores Cancer Center at UC San Diego were working with a trial that included gene-modified tumor cells that help the body build an immune response that kills cancer cells. Lung cancer patients showed an improved survival rate.
Although mesothelioma is distinctly different from non-small cell lung cancer, both are difficult to treat. Advancing treatment for one often helps the other.
The vaccine is called belagenpumatucel-L. The recent report provided an updated survival analysis that included a median survival of 14.5 months for all patients, with a one-year (55 percent), two-year (35 percent) and five-year (20 percent) breakdown.
For stage III and IV patients with non progressive disease who followed chemotherapy the median survival was 44.4 months and the five-year survival rate was 50 percent, compared to those with progressive disease, who had only a 14.1 months survival rate and a 9.1 percent five-year survival rate.
The authors of the report are hoping to move into a phase III trial to further evaluate the results.
Connect with a Mesothelioma Doctor
Find a Top Specialist Near You