Asbestos Exposure & Bans
'Crazy Joe' Mascot, Made with Asbestos Tiles, Still Loved at Illinois High School
Fact Checked
Our fact-checking process begins with a thorough review of all sources to ensure they are high quality. Then we cross-check the facts with original medical or scientific reports published by those sources, or we validate the facts with reputable news organizations, medical and scientific experts and other health experts. Each page includes all sources for full transparency.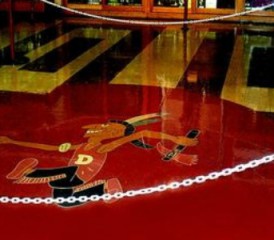 School districts all across America have been wrestling in recent years with the task of removing and disposing of toxic asbestos from older buildings, often struggling financially with the high cost of abatement.
Officials at Du Quoin High School in Illinois are facing just the opposite. They are working hard and contemplating a major expenditure to save the asbestos tile in their aging gymnasium lobby, and make it a part of their sparkling new facility.
No one wants to let it go.
At issue is "Crazy Joe," the American Indian mascot made from asbestos tile that was inlaid on the lobby floor when it was first built in 1955.
The thought of leaving behind Crazy Joe when demolition of the old facility begins soon is like treading on sacred ground. For three generations now, he has been an integral part of this small town in Southern Illinois.
"I'd be very sad to see it go, if it was taken away," Du Quoin resident Shirley Anheuser told television station WSIL-TV. "That's part of the Indian tradition."
Steeped in Local History
Du Quoin, a town of just seven square miles and an estimated population of 7,500 in Perry County, originally was named after Chief Jean Baptiste Ducoigne of the Kaskaskia Indian tribe.
When the school originally was built, Crazy Joe was handcrafted into the floor. Many at the school believe he watches over and protects the entire student body. He has been on the school's yearbook cover, the school handbook and the sports uniforms. He also has served as the guardian of sportsmanship, too. He is a proud mascot.
The problem now is how to move him before demolition begins. Asbestos tile was common in construction through much of the 20th century, valued for its strength and heat resistance, but its use declined rapidly in the mid-'70s when awareness of the dangers of asbestos became more pronounced.
District officials are getting advice from asbestos abatement companies on the safest and most economically feasible way to move the 10-foot circle of tile. One option would be cutting out Crazy Joe, along with the eight-inch concrete slab beneath him to keep the asbestos encapsulated. It would take a sizeable forklift, along with an abatement expert to move it into place and seal it safely in the new gymnasium lobby.
The tile design was patterned after a photograph of the original Du Quoin Indian, which has hung on the lobby wall for close to 60 years.
Costs, Risks to Consider
The new school being built is expected to provide a more modern look with much-needed technology, yet officials do not want to lose the school's most noted tradition.
Exposure to asbestos fibers can cause a variety of respiratory issues including mesothelioma cancer. Although it is not banned in the United States like it is in many countries, its use is highly regulated. Older schools around the country are going to great lengths to remove it entirely.
It rarely is used in any new school construction. It would take special permitting from the U.S. Environmental Protection Agency to allow its use in a public school today.
Free Mesothelioma Resources
Get Access to Free Resources for Patients & Loved Ones