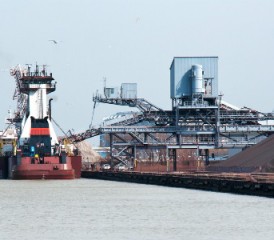 A study by the University of Minnesota's School of Public Health confirmed a 300 percent higher rate of mesothelioma in the Iron Range region where taconite is produced than in the state's general population. The latest study update includes a 20-percent higher rate of lung cancer and an 11-percent higher rate of heart disease than in the rest of the state, according to the Duluth News Tribune. Mesothelioma, an aggressive cancer with no cure, is attributed normally to
asbestos exposure
. Researchers curiously said last week they have yet to reach a definitive link to the controversial
taconite iron ore
industry. The
$5 million study
was funded by the state legislature in 2008, hoping to provide more insight into the occupational hazards that come from an industry that has been a part of the Iron Range region since the 1950s. The industry, in the Northeast section of Minnesota, employs approximately 3,000 workers. Low-grade iron ore mining can produce fibers that are shorter but similar to the asbestos fibers that cause mesothelioma when inadvertently inhaled. In recent years, there have been 82 confirmed deaths in the Iron Range region attributed to mesothelioma but many more from other respiratory illnesses. Researchers have focused on the 46,000 people born since 1920 who have worked in the production of taconite. There has been considerably speculation that the mesothelioma stems from the process of turning the iron ore into taconite pellets. Researchers in the study, though, have left open the possibility that the mesothelioma could be attributed to previous jobs in the
ship-building industry
, or from
U.S. Navy ships
laden with asbestos, or even from handling asbestos insulation while working in the taconite plants. "That's one of the possibilities. It could be that we don't see any relationship to the workplace," lead researcher Jeff Mandel told the Duluth News Tribune. The field work in the study has been completed and researchers now are compiling the data. A final analysis is not expected to be released until 2013. The original study request included five parts:
A cause of death mortality study of deceased taconite workers.

An environmental study of air quality that looked at asbestos levels in taconite plants and area cities.

A respiratory health study of taconite workers still living.
A lung cancer incidence study to compare rates to other parts of the state.

An occupational exposures assessment to determine exactly where the fibers were found.