Treatment & Doctors
Study Reveals Insufficient Psychosocial Support Among Mesothelioma Patients
Fact Checked
Our fact-checking process begins with a thorough review of all sources to ensure they are high quality. Then we cross-check the facts with original medical or scientific reports published by those sources, or we validate the facts with reputable news organizations, medical and scientific experts and other health experts. Each page includes all sources for full transparency.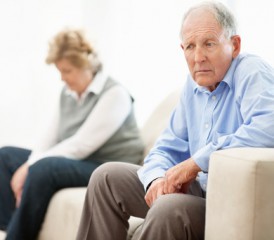 There long has been the belief that mesothelioma patients don't receive enough support or resources to fight or cope with their disease because of the rarity of the cancer as well as the lack of understanding of the disease.
Now there is scientific evidence to validate this theory.
British sociologists have concluded that mesothelioma patients receive inadequate psychological support in the the months following their diagnosis.
According to patients who participated in the small study, the common theme of the diagnosis was "all bad news."
Study Structure and Results
Researchers from England's University of Surrey School of Health and Social Care interviewed 10 mesothelioma patients and analyzed the psychological and social impact of their cancer diagnosis.
The face-to-face interviews performed by Dr. Anne Arber and Dr. Lesley Spencer found that insufficient support of the patients' emotional and mental well-being was evident, particularly during the three months immediately after they received their mesothelioma diagnosis.
According to the researchers, the patients' perceived lack of control over their illness and their uncertainty about the success rate of treating it led to physical, emotional and psychosocial anxiety. Patients typically maintained short-term views on their illnesses while also showing concern for the longer-term outlook.
In hope of getting improved psychosocial support to the patients who need it, the authors recommend earlier referrals for palliative care for mesothelioma patients.
Conclusions by Dr. Arber's and Dr. Spencer's study don't represent an entirely new viewpoint. The discussion of psychosocial health within the frame of cancer patients has long been discussed in the medical community.
For example, a 2007 report brief from the Institute of Medicine openly discusses the need and practical significance of improved psychosocial health care within the United States. The brief cites that to neglect the psychosocial health needs of a cancer patient is to neglect the actual treatment of the physical cancer, as the two go hand-in-hand in quality of life.
Similarly, additional research is currently being conducted by the well-known Memorial Sloan-Kettering Cancer Center. This clinical trial, which is studying nearly 90 enrolled subjects, is aiming to describe the psychological needs of mesothelioma patients after the diagnosis period. This study is estimated to be completed in May 2013.
Why Mesothelioma Patients Are Unique?
Evidence shows that lung cancer patients, breast cancer patients, and patients of other diseases disproportionately receive more supportive services compared to mesothelioma patients.
This is because much of the resources found in other cancer communities are provided by well-funded organizations like the American Lung Association and Susan G. Komen for the Cure, which exemplifies the centralized efforts, fundraising and resources that are lacking in the mesothelioma community.
Therefore, an underlying question of the University of Surrey study begs an understanding of why mesothelioma patients are uniquely receiving insufficient support.
Well as previously eluded, the fact that mesothelioma is a rare disease, with nearly 3,000 diagnoses each year in the United States plays a role.
It becomes extremely challenging to raise funds and rally advocacy behind a cancer that is rare.
To provide better context, there are approximately 200,000 Americans diagnosed with lung cancer each year and nearly 226,000 new breast cancer cases are expected in 2012.
While most Americans don't know anyone diagnosed with mesothelioma, most can certainly name someone whom they know who has been diagnosed with breast cancer or lung cancer.
As the mesothelioma community continues to face significant challenges in receiving research funding and raising awareness around the cancer, the lack of support resources and subsequent bad news will likely perpetuate.
Support Groups: An Underutilized Asset
While mesothelioma experts continue to evaluate the best way to implement effective psychosocial support services, mesothelioma patients can consider one resource that may be underutilized: support groups.
As noted by cancer experts, receiving a cancer diagnosis likely will cause someone to feel added stress — in a number of ways — and feel more anxious. Support groups offer an outlet for cancer patients of all types by providing access to others on the same or a similar journey — people who are experiencing the same types of struggles and emotions.
Despite it being unlikely that there will be a support group in your area dedicated solely to mesothelioma patients, it is likely that groups are in your area that caters to cancer patients at large. Getting involved in these groups can be extremely beneficial to the mental and emotional support of the patient and their entire extended network.
Whether the patients in the English study participated in support groups isn't clear from the authors' reports. However, the lack of awareness of support groups has often led patients to go without this valuable service.
One of the best ways to learn about support groups in your area would be to speak with your doctor. Because of their industry expertise, they will likely be familiar with local support groups and similar organizations, or will be able to refer you to someone who can provide further assistance.
Medically Reviewed by Top Mesothelioma Doctors
Free Mesothelioma Guide