Treatment & Doctors
NIH: Breakthrough Lung Cancer Treatment Approach with Drug Pairings
Fact Checked
Our fact-checking process begins with a thorough review of all sources to ensure they are high quality. Then we cross-check the facts with original medical or scientific reports published by those sources, or we validate the facts with reputable news organizations, medical and scientific experts and other health experts. Each page includes all sources for full transparency.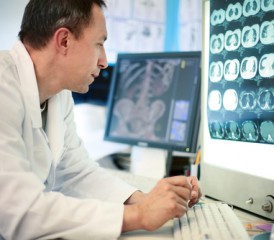 A National Institute of Health (NIH) study found that genetic abnormalities of a common form of lung cancer can be treated more effectively by drugs that are already on the market or by ones that aren't difficult to develop.
Known as drug pairing, the concept involves using drugs that address specific gene mutations that create the cancers, essentially tailoring each treatment to address each malfunction.
What emerges is an entirely new treatment approach, a contrast to traditional methods of treating all lung cancer cases with the same drugs. In this case, the cancer in question is squamous cell lung cancer.
Squamous cell lung cancer accounts for nearly 25 percent of all lung cancer cases and is caused primarily by smoking. Most cases of this type of lung cancer develop in the central area of the lungs or within one of the primary airway branches.
"What we found will change the landscape for squamous cell carcinoma," said Dr. Matthew Meyerson, a researcher at the Dana-Farber Cancer Institute and Professor of Pathology at Harvard Medical School who was on a team of nearly 300 authors that collaborated to explain the study.
"I think it gives hope to patients."
The study, part of a project known as the Cancer Genome Atlas, was published in the scientific journal Nature.
Drug Pairing for Squamous Lung Cancer
The study is only the second genetic analysis performed on a common cancer, with the first being focused on colon cancer. A focus on squamous cell lung cancer is important because the disease has no available targeted therapies, according to experts.
In the study, researchers analyzed 178 patients with known cases of squamous lung cancer. The objective of the study was to identify cancer cell mutations and compare them to the patient's healthy cells.
Mutations within 11 genes were common, with a mutation in the TP53 gene being present in practically all cases.
The CDKN2A gene was considered to be inactive in nearly 75 percent of the studied cancer tumors. When functioning normally, both genes are known to fight cancer. When a mutation occurs or these genes become inactive, they do not protect the body from developing cancer.
Cancer researchers continuously search for new ways to treat all types of cancer, but the NIH study took a new turn, that some cancer cells could be treated effectively by drugs that are already on the market but weren't being prescribed for squamous lung cancer treatment.
The drugs currently used for non-small cell lung cancer include vinorelbine, cisplatin, carboplatin, gemcitabine, pemetrexed and doxorubicin, among others.
Focus on Genes, Not Organs
The study has experts thinking about cancer in a new way. Typically, research on cancer is performed by grouping patients with like cancers based on where the cancer originated. The NIH study is redirecting the focus from where the cancer developed to the genetic makeup of the patient.
Older research methods included doctors broadly looking at the 21,000 genes contained within the human genome all at once. Now, with improvements in DNA sequences, researchers are able to critically analyze select portions of DNA.
Specific alterations and causes of inactivity of these genes varied among the patients.
Researchers now understand that giving all patients of a certain cancer the same drug simply doesn't work. Pairing different drugs with specific mutations could prove more beneficial, according to the report.
It is estimated that squamous cell lung cancer kills nearly 50,000 Americans annually.
Researchers are only now capable at arriving at such a discovery thanks to recent advances in DNA sequencing technologies.
A Shift Toward Personalized Medicine
Dr. William Pao, a lung cancer researcher at Vanderbilt-Ingram Cancer Center, sees the study's results as a larger sign for a necessary transition towards more customized treatment approaches.
"The field is really moving toward personalized medicine," said Pao, one of the authors of the paper.
Catering specific treatment methods to attack a patient's unique case presents an entirely new perspective to cancer treatment.
Changes in treatment costs and increased specialization may follow this transition to a future of personalized medicine.
The specifics of when and how much will change in the field of lung cancer treatment is not yet known, but Pao acknowledged that the study is an eye-opener.
"Unfortunately, what the Cancer Genome Atlas has revealed is that everyone's cancer could be very different," he said.
Medically Reviewed by Top Mesothelioma Doctors
Free Mesothelioma Guide