Treatment & Doctors
FDA Approves Abraxane, Expands Non-Small Cell Lung Cancer Treatment Options
Fact Checked
Our fact-checking process begins with a thorough review of all sources to ensure they are high quality. Then we cross-check the facts with original medical or scientific reports published by those sources, or we validate the facts with reputable news organizations, medical and scientific experts and other health experts. Each page includes all sources for full transparency.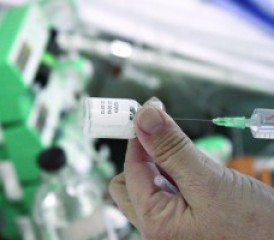 For almost eight years, breast cancer patients whose first round of treatment failed have turned to protein-bound paclitaxel for a second chance at survival.
Now, lung cancer patients who are not eligible for curative surgery or radiation therapy are getting the same opportunity.
On October 11, 2012, the U.S. Food and Drug Administration approved Abraxane for use with carboplatin in patients who have inoperable locally advanced or metastatic non-small cell lung cancer.
"Abraxane is an interesting drug," Dr. Nathan Pennell, a lung cancer specialist at the Cleveland Clinic, told Pharmawire. "It's not a new drug, but a formulation of an older drug."
Abraxane is an offshoot of the popular chemotherapy drug paclitaxel. While paclitaxel is traditionally bound to a solvent, Abraxane is bound to albumin, a protein in human blood plasma.
Abraxane is the first drug to use this technology to deliver anti-cancer drugs to tumors.
The Study that Convinced the FDA
Researchers started studying Abraxane in non-small cell lung cancer patients in 2003.
In 2012, researchers from the Lineberger Comprehensive Cancer Center at the University of North Carolina Chapel Hill finally produced enough evidence for the FDA to endorse its use.
In the Phase III clinical trial that ultimately elicited the drug's FDA approval, researchers gave 1,052 non-small cell lung cancer patients carboplatin and either Abraxane or paclitaxel.
The researchers were primarily interested in the overall response rates, as requested by the FDA.
The Abraxane group had a significantly higher overall response rate of 33 percent (vs. 25 percent in the paclitaxel group). The median response duration was almost a month longer in Abraxane patients.
There was one drawback.
"I'm not sure an overall response rate is an end all goal. Overall survival…is certainly a better endpoint," explained Dr. Kartik Konduri, medical oncologist at the Baylor Charles A. Sammons Cancer Center.
In the phase III study, the overall survival outcome was not clinically significant. The median survival for Abraxane was 12.1 months (compared to 11.2 months for paclitaxel).
Its performance may not be perfect, but the potential benefits are encouraging.
"The FDA approval of Abraxane is exciting for health care professionals because it offers an important new treatment option … in an area that has seen few treatment advancements in recent years," said Mark Socinski, the lead investigator of the trial.
The Biggest Advantage of Abraxane
Unlike traditional paclitaxel, Abraxane does not use a chemical (such as Cremophor) to solubilize the drug. As a result, the dose can deliver a larger amount of the paclitaxel without the often-severe side effects of Cremophor.
Without the toxic solvents, patients do not need to premedicate with steroids or antihistamines.
In the Phase III clinical trial, there were significantly fewer reports of neuropathy, neutropenia and myalgia in the patients who took Abraxane. In other studies, fewer than 20 percent of all non-small cell lung cancer patients on the drug experienced adverse reactions.
Other Advantages
Medical oncologist Alexander Spria notes that "Abraxane is slightly easier to administer and also has a shorter duration of administration."
Infusions of solvent-based paclitaxel take up to three hours. Abraxane infusions last approximately 30 minutes.
Most patients receive both Abraxane and carboplatin on the first day of a 21-day chemotherapy cycle. They then receive Abraxane only on days eight and 15.
Older patients also stand to benefit from the new formulation. A randomized study found the Abraxane/carboplatin combination to be just as effective in geriatric patients (over the age of 65) as it was in younger patients.
This is especially encouraging for patients with asbestos-related lung cancer. Because of the long latency of asbestos-related diseases, patients tend to develop the disease later in life.
Unfortunately, because Abraxane is a newer drug and no generic version is available, it will be more expensive than paclitaxel. Vials containing 100 mg of Abraxane are listed at $933 each.
Celgene, the company who owns the drug, does have a program to help both uninsured and insured patients access the drug.
Celgene has also submitted Abraxane for approval in Japan, Australia and New Zealand. They expect the drug to be approved for non-small cell lung cancer treatment in these countries in 2013.
Medically Reviewed by Top Mesothelioma Doctors
Free Mesothelioma Guide