Treatment & Doctors
New Test Could Predict Response to Chemotherapy in Lung Cancer Patients
Fact Checked
Our fact-checking process begins with a thorough review of all sources to ensure they are high quality. Then we cross-check the facts with original medical or scientific reports published by those sources, or we validate the facts with reputable news organizations, medical and scientific experts and other health experts. Each page includes all sources for full transparency.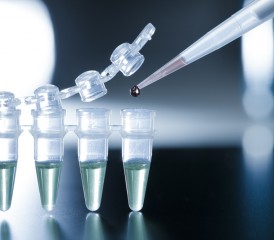 What if there was a way to find out whether or not you'd respond to treatment before you actually agreed to do it?
For patients with gynecological cancer, it's already a reality.
Patients with non-small cell lung cancer may be next.
ChemoFx — a test produced by Precision Therapeutics — evaluates tissue samples to determine which, if any, chemotherapy drugs will cause a response. It can predict whether a full course of chemotherapy is more likely to produce a full response, an intermediate response or no response at all.
Even though the test is only approved for use with ovarian, cervical and endometrial cancers, a new study indicates that with a few modifications, it may also accurately predict chemotherapy response in lung cancer specimens.
ChemoFx Can Evaluate Up to a Dozen Drug Combinations
For a ChemoFx analysis, doctors take two small core needle biopsy samples or two samples of pleural fluid. They then mail these samples to a laboratory, where they are mixed with reactive chemicals and analyzed.
The test can evaluate up to 12 drugs or drug combinations at one time. Results rank each drug from most to least likely to produce a full result.
In most clinical trials, the ChemoFx results correlated with patient's progression-free intervals. Patients treated with a drug from the responsive category had an overall survival that was more than 2.5 times longer than patients treated with an unresponsive drug.
Doctors have used ChemoFx in a number of different clinical scenarios, including:
When a patient has too high of a toxicity risk with the chemotherapy drug most commonly used for their type of cancer.
When the patient does not respond to initial treatment.
When there is no established protocol for the patient's specific tumor type.
When patients need second-line chemotherapy for a recurrent tumor.
Patients typically get their results quickly enough to not delay treatment.
Adapting ChemoFx for Lung Cancer
In the non-small cell lung cancer trial, researchers modified the drug response marker to evaluate pemetrexed — one of the most common lung cancer chemotherapy drugs.
Researchers obtained a total of 65 specimens. They then added epidermal growth factor and RPMI to the samples to make them grow the way they would in the human body.
The test predicted that 84.6 percent of the samples would not respond to the pemetrexed. Only 6.2 percent of the specimens were fully responsive, while 9.2 percent were intermediately responsive.
The full study will appear in the January 2013 issue of Landes Bioscience.
How ChemoFx Could Optimize Lung Cancer Treatment
Currently, to choose a chemotherapy regimen for a lung cancer patient, oncologists evaluate the patient's age, overall health, cancer stage and specific diagnosis. They then choose the drug that is the current standard of treatment for patients with the same condition.
However, these factors do not always accurately predict the patient's response to treatment. At best, it's an educated guess. Many patients end up trying costly and aggressive chemotherapy regimens that ultimately do not shrink their tumors.
If ChemoFx is successfully adapted for non-small cell lung cancer, patients could reduce their risk of wasting time on ineffective therapies.
The pre-treatment analysis could also prevent patients from developing debilitating side effects from treatments that do not ultimately improve their condition.
Medically Reviewed by Top Mesothelioma Doctors
Free Mesothelioma Guide