Research & Clinical Trials
Study Uncovers Link between Popular Chemotherapy Drug and Heart Failure
Fact Checked
Our fact-checking process begins with a thorough review of all sources to ensure they are high quality. Then we cross-check the facts with original medical or scientific reports published by those sources, or we validate the facts with reputable news organizations, medical and scientific experts and other health experts. Each page includes all sources for full transparency.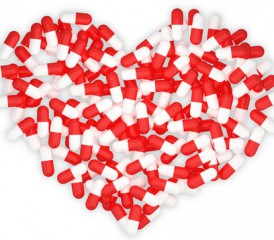 A team of scientists at the University of Texas MD Anderson Cancer Center have solved a longstanding mystery about doxorubicin's role in the destruction of heart tissue a finding that will help identify the patients who can safely tolerate the drug.
"Even in this age of targeted therapies, doxorubicin remains an effective agent used mainly in combination with other drugs against a variety of malignancies," says Edward T.H. Yeh, M.D., professor and chair of MD Anderson's Department of Cardiology and senior author of the study.
For 50 years, oncologists prescribed doxorubicin for the treatment of numerous cancers, including mesothelioma and lung cancer. Although the drug is highly effective, its use was limited by its cardiotoxicity.
Several years after doxorubicin treatment, some patients develop dilated cardiomyopathy, a condition where the heart becomes weakened and enlarged. This often leads to congestive heart failure a potentially fatal inability of the heart to adequately pump blood throughout the body.
"We're excited because we've identified the molecular basis for doxorubicin's damage to the heart," Yeh said.
The Molecular Culprit
Researchers initially suspected that reactive oxygen species (ROS) were responsible for the heart damage. This is because increases in ROS were observed in patients after chemotherapy with doxorubicin. At elevated levels, these highly-reactive, oxygen-carrying molecules incite a condition called oxidative stress, which damages cells.
But when researchers tested therapies aiming to reduce ROS levels after doxorubicin treatment, heart damage persisted. Reactive oxygen species, as it turns out, were not the direct cause of heart failure.
Yeh and colleagues determined that the true driving factor behind doxorubicin's attack on healthy heart muscle is topoismerase2 (Top2), an enzyme that regulates the unraveling of DNA during cell division.
"We provide an explanation for the classic observation that doxorubicin generates major ROS, but we show that the entire cardiotoxicity cascade depends on Top2b," Yeh said.
Two forms of Top2 exist. Top2a is overproduced in cancerous cells and basically absent in healthy cells. The exact opposite is true for Top2b, which is virtually absent in cancer cells but present in healthy cells.
To destroy cancer cells, doxorubicin binds to Top2a and to DNA. This causes irreparable damage to the DNA and triggers apoptosis, a cellular self-destruct process that halts the growth of damaged cells.
In the muscle cells of the heart (known as cardiomyocytes), doxorubicin binds to Top2b. However, Top2b does not damage heart cells in the same manner that Top2a destroys cancer cells. While Top2b also breaks strands of DNA within cardiomyocytes, the study found that it disrupts gene expression as well. This can have a severely detrimental effect on heart muscle metabolism.
Additional Findings
To make their discovery, MD Anderson researchers used the drug tamoxifen to eliminate the Top2b gene from the heart muscle of laboratory mice.
The experiment not only proved that Top2b is unnecessary for healthy heart function, but it also revealed that ROS levels declined by 70 percent in doxorubicin-treated mice with a knocked out Top2b gene.
Contrarily, the mice with an intact Top2b gene displayed weakened heart capacity after doxorubicin therapy.
As a result of this study, a clinical study was launched to investigate two groups of cancer patients — those who developed heart complications after a small dose of doxorubicin, and those who experienced no complications after receiving larger doses.
Funded by a $1.84 million, five-year grant from the Cancer Prevention and Research Institute of Texas, the study is expected to spur the development of a simple blood test that indicates which patients will be most sensitive to doxorubicin.
Yeh said he believes this will warn doctors about a need for protective measures during doxorubicin treatment or reveal that the drug should be avoided altogether.
Additionally, this study may lead to new drugs that target Top2a directly. If its outcome aligns with Yeh's predictions, safer doxorubicin treatments could be on the horizon.
"We want to make sure that cancer patients will have healthy hearts to enjoy their life after successful cancer treatment," he said.
Connect with a Mesothelioma Doctor
Find a Top Specialist Near You