Research & Clinical Trials
Lung Cancer Stem Cell Finding Could Accelerate Immunotherapy Research
Fact Checked
Our fact-checking process begins with a thorough review of all sources to ensure they are high quality. Then we cross-check the facts with original medical or scientific reports published by those sources, or we validate the facts with reputable news organizations, medical and scientific experts and other health experts. Each page includes all sources for full transparency.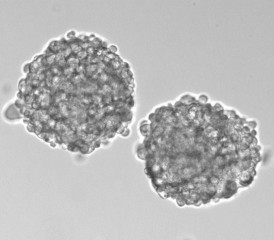 A lung cancer research team from the University of Cincinnati (UC) Cancer Institute recently described a new method to harvest and grow lung cancer stem cells, which are thought to be responsible for the origin, maintenance and progression of lung cancer, as well as the disease's perplexing resistance to chemotherapy.
The new approach is touted to improve our current understanding of the origins of lung cancer, and at the same time pave the way for vaccines and immunotherapies that specifically target this rare class of cancer-initiating cells.
Along with his colleagues, John C. Morris, M.D., professor at the UC College of Medicine, sought out a practical and reliable way to isolate lung cancer stem cells and incorporate them into a viable model. Such a model would be invaluable for the screening of novel immunotherapy drugs, which boost the ability of a patient's immune system to fight cancer.
The UC team succeeded in creating the stem cell model and reported their findings in the Nov. 13, 2012 issue of PLOS ONE, a peer-reviewed online journal that covers research on all disciplines of science and medicine.
Stem Cells Drive Cancer, Resist Chemotherapy
Investigations of lung cancer at the cellular level have revealed that cancerous tumors contain a sparse amount of stem cells that play a key role in the disease's development and progression.
"Increasing evidence supports the idea that cancerous tumors have a population of stem cells, also called cancer-initiating cells, that continually regenerate and fuel cancer growth," said Morris, senior author of the study. "These cancer stem cells may also have the highest potential to spread to other organs."
Lung cancer stem cells make up only about 1 percent of cancer cells. Although they appear in limited quantities, it is thought that the presence of these cells in the lungs' airways may initiate the formation of tumors.
The cancer-initiating cells divide rapidly and excessively. They can give rise to a wide range of specialized cell types, and compared to other cells, they have a longer lifespan and a higher resistance to chemotherapy drugs. They also have the ability to self-renew after treatment and produce more stem cells.
"One of the hypotheses behind why cancer therapies fail is that the drug only kills cells deemed to be 'bad' (because of certain molecular characteristics), but leaves behind stem cells to repopulate the tumor," said Morris. "Stem cells are not frequently dividing, so they are much less sensitive to existing chemotherapies used to eliminate cells deemed abnormal."
Since discovering that these stem cells can regenerate tumors and lead to cancer recurrence, researchers have sought to develop treatments that promptly destroy them, eliminating their capacity to metastasize throughout the body.
But because drug screening efforts typically require large sample volumes, the scarcity of these cells has been a hindrance for researchers. Further, researchers who perform animal studies using lung cancer stem cells usually transplant human tumor tissue into mice with weakened immune systems. As a result, this approach has failed to provide useful information about the cancer-initiating cells.
The Tumorsphere Assay: A New Approach
The UC team perceived the added value of studying lung cancer stem cells in mouse models with fully-intact immune systems. But first, they had to find a way to isolate and implant the stem cells.
With a laboratory test known as the tumorsphere assay, which allows researchers to observe how cells grow in three dimensions, Morris and colleagues were able to cultivate lung cancer stem cells and sustain their growth.
When implanted into mice with full immune function, the cultivated stem cells proved more useful for evaluating immunotherapies that target them specifically. The reason, according to the researchers, is because these mouse models better simulate the complex interactions that take place between cancer stem cells and the host's immune system.
In turn, data on these interactions are expected to advance drug screening and other areas of research.
"Immunotherapy is the future of cancer treatment," said Morris. "We are hopeful that this new method will accelerate our investigation of immunotherapies to specifically target cancer stem cells."
Connect with a Mesothelioma Doctor
Find a Top Specialist Near You