Genetic Research Focus at Meso Foundation Symposium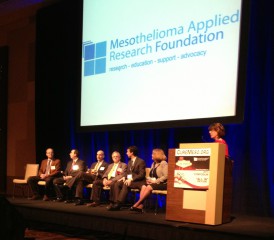 LAS VEGAS — Genetics have become the key to developing earlier detection methods for mesothelioma, as well as better targeted therapies for the disease, according to a variety of experts who spoke on opening day at the Meso Foundation's 2013 symposium, providing hope and encouragement for the patients, family members and advocates who attended.
"It's not going to be shot-in-the-dark therapy anymore, like it was not long ago," said Michele Carbone, M.D., Ph.D., professor of pathology and director of the University of Hawaii's Cancer Center. "At the genetic level, we're identifying the mechanisms now that cause mesothelioma. That will lead to therapies that are more efficient and less toxic."
Genetics and Mesothelioma
Although mesothelioma cancer is caused by exposure to asbestos, researchers suspect that it's often a genetic predisposition that determines why one person develops this rare cancer and another person does not.
As researchers continue identifying which defective genes lead to mesothelioma, or encourage its growth, it opens the path to develop treatment strategies that can target specific steps.
Carbone was part of the research group in 2011 that identified the mutations in the BAP1 tumor suppressor gene that contribute to the growth of mesothelioma. Only now are researchers beginning to uncover all the intricacies of that gene.
"We never knew this gene was important to mesothelioma before. Hopefully, in the next few years, we can discover exactly how this gene causes it," Carbone said. "And as you discover, you discover different steps, and you aim at those specific steps."
The Future of Genetic Research
Carbone was part of a panel Thursday that was moderated by Joseph Testa, Ph.D., co-leader of the Cancer Biology Program at Fox Chase Cancer Center in Philadelphia. Testa has been a national leader in the identification of both inherited and somatic (occurring after birth) mutations of tumor suppressor genes.
"The good news is that there is more hope than ever before," Testa said. "There is hope out there now, where there was absolutely none before."
The identification of BAP1 is why the panel Thursday included ocular oncologist J. William Harbour, M.D., from the University of Miami. "It doesn't matter so much the anatomical locations of the cancers, but the biological properties of the cancer," Harbour said. "What you learn from one cancer can be important in understanding the other. We're all in this together."
Haining Yang, Ph.D., who works with Carbone at the Hawaii Cancer Center, spoke about her work with mesothelioma pathogenesis. She is the one who uncovered the link between asbestos and the release of HMGB1, an antibody that promotes and sustains a unique inflammatory process that contributes to the development of mesothelioma.
"A person's genetic makeup can tell you something about that person's risk," Testa said. "In the past, people thought just asbestos caused mesothelioma, but now it's important to know there is a genetic defect that contributes. That's important for family members to know."
Tests are available now at the Fox Chase Cancer Center that can detect if family members have the same genetic mutation as a mesothelioma patient. Almost everyone agrees that the key to successful treatment is early detection.
Less than a third of mesothelioma patients are eligible for surgery when first diagnosed. Too often, it is too far advanced to make surgery an option.
Testa's latest investigational focus has been on various molecular signaling pathways, hoping to identify more targets where particular drugs would be effective. "The more you can personalize the treatment, the better it can be," he said.
At the 10th annual Meso Foundation Symposium Thursday, there were sessions on other novel research findings, on the push for more involvement in clinical trials, and on legislative and legal issues. The focus, though, clearly was on genetics.
"With so much going on, we've proven we can treat this disease," said Mary Hesdorffer, executive director of the Meso Foundation. "We can't cure it yet, but we can treat it."