Treatment & Doctors
New Immunotherapy Drug Works with Lung Cancer, Might Be Future for Mesothelioma Treatment
Fact Checked
Our fact-checking process begins with a thorough review of all sources to ensure they are high quality. Then we cross-check the facts with original medical or scientific reports published by those sources, or we validate the facts with reputable news organizations, medical and scientific experts and other health experts. Each page includes all sources for full transparency.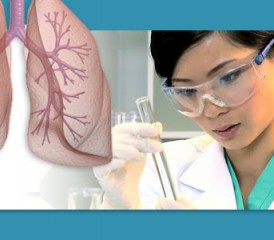 Oncologists often need to remind cancer patients there are distinct differences between lung cancer and malignant pleural mesothelioma, including the way they are treated and how they respond to different therapies.
A recent breakthrough with one cancer, though, might be just what the other one needs.
A new type of drug that allows the body's immune system to attack lung cancer tumors has excited those who are looking toward the day they can use it for mesothelioma patients.
"There is great potential with this one," said oncologist Tawee Tanvetyanon, M.D., who is part of the Mesothelioma Research and Treatment Program at H. Lee Moffitt Cancer Center in Tampa. "I think it will be the major focus of our future success (with the disease). I do believe it will work for mesothelioma."
The latest drug compounds are known as anti-PD-1 and anti-PD-L1, protein agents that have worked effectively by overcoming a tumor's ability to evade the body's immune system. They are part of the latest advancement in immunotherapy, which holds considerable promise for treating multiple cancers.
"There is great potential for immunotherapy in general. In essence, it should work for almost all types of cancer," Tanvetyanon told Asbestos.com. "Never before have we achieved remission of disease with immunotherapy in lung cancer."
Moffitt is One of the Leaders
The Moffitt Cancer Center, which was part of the original clinical trial, has been using the anti-PD-1 and anti-PD-L1 drugs successfully for almost two years with lung cancer patients.
It is the interaction between the PD-1 (programmed death) protein and PD-L1 (programmed death ligand) protein that allows cancer cells to escape and multiply. When the two interact, it prevents T cells from telling the immune system to attack.
By giving a patient the correct antibody protein to block either the PD-1 or PD-L1 from interacting, the immune system will destroy the cancer cells.
"The field of inhibiting this PD-1 and PD-L1 access is one where there is a great deal of excitement right now," said oncologist Edward Garon, M.D., from the UCLA School of Medicine, during a recent interview for CurrentMedicine.Tv.
Working with Variety of Cancers
The excitement originally stemmed from a multicenter study that was funded by Bristol-Myers Squibb. Results were published in The New England Journal of Medicine in 2012. It included 296 patients covering five types of advanced cancers, including non-small-cell lung cancer.
The positive response rate of tumor shrinkage ranged from 18-28 percent. And many of those patients have responded well for more than a year. Patients received an intravenous antibody every two weeks targeting the PD-1. It worked best with a 28 percent response rate for melanoma and 27 percent for those with renal-cell cancer. The lung cancer patients had an 18 percent success rate.
"It obviously does not work for everyone," Tanvetyanon said. "But among patients who have gone through so much chemotherapy, and it doesn't work anymore, this treatment can work. It's best to keep every option on the table."
Using the same drug for mesothelioma will take clinical trials that require more funding, which isn't easy to get with a rare cancer. Only 3,000 Americans are diagnosed each year with mesothelioma, which is caused by exposure to asbestos. By comparison, lung cancer is diagnosed in 150,000 Americans each year.
"Medically, it can be tried now (with mesothelioma) if someone is willing to sponsor it," Tanvetyanon said. "I believe it could work."
Medically Reviewed by Top Mesothelioma Doctors
Free Mesothelioma Guide