Treatment & Doctors
Specialized Care for Mesothelioma Reaches Elite Level at Moffitt Cancer Center
Fact Checked
Our fact-checking process begins with a thorough review of all sources to ensure they are high quality. Then we cross-check the facts with original medical or scientific reports published by those sources, or we validate the facts with reputable news organizations, medical and scientific experts and other health experts. Each page includes all sources for full transparency.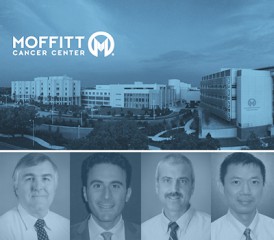 Selecting a cancer center with considerable experience in treating malignant mesothelioma might be the most important decision a patient and family will make.
More than ever, this is not the time to worry about staying close to home.
Mesothelioma is a rare but aggressive cancer with intricacies that have baffled medical professionals and even seasoned oncologists for decades, contributing to a history of poor survival rates.
"If you don't see this [mesothelioma] enough, it can be daunting," said Dr. Craig Stevens, radiation oncologist and director of the Mesothelioma Program at H. Lee Moffitt Cancer Center in Tampa. "If you see it only rarely, and that's often the case, then it's going to be difficult to manage."
Experience Treating Mesothelioma Matters
Stevens spoke during a web seminar earlier this month as part of the Lung and Thoracic Tumor Education (LATTE) Program at Moffitt. He is part of a multi-disciplinary team that includes surgeons, oncologists, radiologists and support staff, all with considerable experience in handling mesothelioma.
"It can be a vicious cycle. If you don't see many mesothelioma patients, you're not going to treat it aggressively," Stevens said. "And if you don't treat it aggressively, patients will do poorly. And if they all do poorly, you aren't going to treat it aggressively."
Moffitt sees an estimated 100 patients with mesothelioma, attracting them from across Florida and the entire Southeast, earning a reputation as one of the top treatment facilities in the country.
"We see a good number of cases, and we're seeing therapy that actually works," Stevens said. "To treat a cancer like this, you have to be as aggressive as the cancer itself.
"We're developing new agents based on molecular targets. We have three clinical trials going with mesothelioma, looking for better drugs to treat it systemically. There is good news out there."
In addition to Stevens, the Moffitt team includes Dr. Jacques Fontaine; surgical oncologist Dr. Scott Antonia, chairman of the Thoracic Oncology Department and co-leader of the Immunology Program; and oncologist Dr. Tawee Tanvetyanon.
They meet regularly to discuss patients, making sure each one is getting a well-coordinated approach to treatment. Their belief is that mesothelioma patients in the Southeast no longer need to travel to Boston or New York to get the best possible care.
During the web seminar that was designed for medical professionals, Stevens touched on a number of topics, hoping to educate those who don't see the disease often enough to manage it confidently.
Some of the webinar topics included:
Extended surgical staging
Team approach to treatment
Laparoscopy
Surgical advantages of the extrapleural pneumonectomy (EPP) over the pleurectomy/decortication
Radiotherapy
Tomotherapy
Local vs. distant recurrence
Immunotherapy Clinical Trials at Moffitt
Although Moffitt has been treating mesothelioma effectively for many years, the official unveiling of its Mesothelioma Research and Treatment Center in 2012 raised its profile nationally.
Its cutting-edge research approach includes an immunotherapy clinical trial that is evaluating both the safety and effectiveness of the CRS-207 vaccine, which aims to boost a patient's immune system while better targeting the cancer cells.
There is a second ongoing clinical trial designed to test the effectiveness of the drug tremelimumab as a second or third line of treatment for those with unresectable mesothelioma.
The LATTE program at Moffitt was designed to help both patients and families, giving them a better understanding of the decision-making process involving thoracic oncology programs. The program also is designed to help develop and promote patient advocacy involving different cancers.
Medically Reviewed by Top Mesothelioma Doctors
Free Mesothelioma Guide