Asbestos Exposure & Bans
Global Burden of Asbestos Still Growing with Life Years Lost to Mesothelioma
Fact Checked
Our fact-checking process begins with a thorough review of all sources to ensure they are high quality. Then we cross-check the facts with original medical or scientific reports published by those sources, or we validate the facts with reputable news organizations, medical and scientific experts and other health experts. Each page includes all sources for full transparency.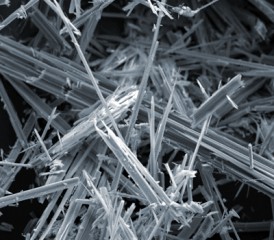 Despite growing awareness, steady advances in medical treatment and increased regulation, the life years lost to asbestos-related diseases around the world continue to reach staggering proportions.
And it could get worse.
Between 1994 and 2010, more than 2.1 million years of human life were lost to malignant mesothelioma, according to an extensive study finished recently by the Institute of Industrial Ecological Sciences, University of Occupational and Environmental Health, Japan.
The study is published in the September issue of the American Journal of Industrial Medicine.
"The world as a whole will continue to see high numbers, which may even increase," lead author Dr. Ken Takahashi told Asbestos.com. "Available data represents only a tip of the iceberg."
Vigilance Needed in Limiting Asbestos Use
Based on the study, future prospects are not encouraging. It accentuates the need for more vigilance globally in curbing the use of asbestos, the toxic, naturally occurring mineral that causes a variety of serious health issues, including mesothelioma cancer.
"The current burden of asbestos-related diseases [ARDs] is substantial," the study concluded. "But the future burden of ARDs can be eliminated by stopping the use of asbestos."
Use of asbestos has declined dramatically in recent decades in North America, Europe and Australia, but it has increased in many still-developing countries throughout Southeast Asia, Africa and Western Europe.
"In the case of the USA, where asbestos was once heavily used but now has declined, there are indications that rates of ARD have started to flatten, and may eventually turn downward," Takahashi said. "But from a global perspective, the problem will shift to where they continue to use asbestos at very high levels."
Although the World Health Organization (WHO) estimates that 107,000 people worldwide die each year from an asbestos-related disease, this study reported just 128,015 deaths from malignant mesothelioma and only 13,885 from asbestosis during the 17-year period. There were 82 countries included, but not China, India or Russia — where asbestos use still is widespread because no reliable national figures were available.
Mesothelioma Patients Lose Potential Life Years
The average number of life years lost per death was 17 for mesothelioma and 13 for asbestosis, based upon a measure of premature mortality.
"It was surprising to see the high numbers for APYLL [average potential years of lost life]," Takahashi said. "The conventional knowledge is that only people of very old age are affected by ARD, especially mesothelioma. Although people die at a fairly high age, they still lose many potential years. Life expectancy now is high, and some people are affected at a relatively young age."
The average age of death from mesothelioma was 69.2 years and 73.4 years with asbestosis. The average PYLL was 3.1 years more for women than men, and the difference was largely attributed to a woman's longer expected lifespan.
"The most important source of bias introduced was probably under-reporting and misdiagnosis," the report stated. "Recognition of these rare diseases may initially have been confined to unambiguous examples of younger patients with typical signs of the disease, whereas older patients may not have been adequately diagnosed."
Agreement Around the Globe
The grim statistics are not surprising to those who have lobbied for a worldwide ban on asbestos. The report concluded with an annual average of 200,785 potential years of lost life (PYLL) from mesothelioma and 17,124 from asbestosis.
"The conclusions of this paper do not surprise me," Laurie Kazan-Allen, coordinator of International Ban Asbestos Secretariat, told Asbestos.com. She lives in the United Kingdom, where there were a reported 2,347 mesothelioma deaths in 2010.
Lord David Freud, Parliamentary Under-Secretary of State, Department of Works and Pensions, told the House of Lords in the UK earlier this year that he expects an estimated 28,000 deaths from mesothelioma between July 2012 and March 2024.
"I whole-heartedly endorse the sentiments of this paper's authors, who said. 'The future burden of ARDs can be eliminated by stopping the use of asbestos,'" Kazan-Allen stated.
Free Mesothelioma Resources
Get Access to Free Resources for Patients & Loved Ones