Legislation & Litigation
Despite Intense Political Debate, Mesothelioma Advocates Strongly Support Obamacare
Fact Checked
Our fact-checking process begins with a thorough review of all sources to ensure they are high quality. Then we cross-check the facts with original medical or scientific reports published by those sources, or we validate the facts with reputable news organizations, medical and scientific experts and other health experts. Each page includes all sources for full transparency.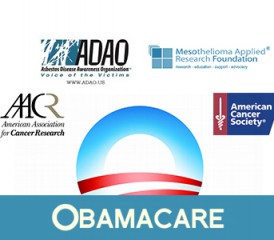 Despite a potential, partial government shutdown over the Affordable Care Act — also known as Obamacare — those working closely with patients diagnosed with mesothelioma and other asbestos-related diseases still believe strongly in the merits of the new health care law.
The debate intensified this afternoon after the U.S. Senate rejected the U.S. House budget bill it passed Sunday that included a one-year delay of the new Affordable Care Act and a repeal of the new law's tax on medical devices that would help fund it. That means the action falls back on the House.
If no compromise is reached by midnight, and no budget is passed before the new fiscal year begins Tuesday, the first government shutdown since late 1995 and early 1996 will begin.
"The Affordable Care Act is a good thing for our patients," said Joe Lahav, longtime patient advocate manager at the Mesothelioma Cancer Center. "Under the new law, more people will have access to the means of achieving a diagnosis, and an earlier diagnosis usually means they can be better helped."
The Affordable Care Act (ACA) is a health care law enacted by Congress in 2010 and reaffirmed by the U.S. Supreme Court in 2012. Much of its implementation begins January 2014, which has ignited a polarizing debate over its merits.
The majority of American people now oppose the ACA, according to most surveys and polls, but the politicians who passed it originally — specifically those in the Senate — still are expected to fund it during the current legislative session, despite a growing outcry against the idea.
Advocates Back the Affordable Care Act
Both the Mesothelioma Applied Research Group (MARF) and the Asbestos Disease Awareness Organization (ADAO) have endorsed the ACA from the start, believing it will benefit mesothelioma patients.
Both the American Cancer Society and the American Association for Cancer Research, which include mesothelioma among the cancers they represent, also fully endorse the law, citing a myriad of potential patient benefits.
"The Affordable Care Act includes more than 100 critical patient protections that will generally benefit cancer patients," Kirsten Sloan, senior director of policy for the American Cancer Society, told Asbestos.com. "Mesothelioma patients will no longer be denied coverage, or charged astronomical rates, because of their health history."
Among the most cited potential benefits to all cancer patients:
Health insurance companies can no longer set lifetime dollar limits, or even annual limits, on coverage.
Cancer patients cannot be dropped from coverage because they have become too costly.
A person cannot be denied coverage, like they previously were, because of a pre-existing condition like cancer.
Preventative screening, which is vital in combating most cancers, will be guaranteed with very little, or no out-of-pocket costs.
The guarantee of affordable health care and preventative screening is likely to mean more Americans will have their cancers diagnosed earlier, leading to better prognosis.
A Boost for Clinical Trials
Particularly important to mesothelioma patients is easier, and more seamless, access to clinical trials, which often are the impetus for advancement in cancer research and developing new therapies.
Under the provisions of the new law, more patients are expected to enroll in trials, which often provide the most up-to-date therapies. Less than 5 percent of all cancer patients currently enroll in clinical trials, according to National Cancer Institute.
And with a rare cancer like mesothelioma — diagnosed in only 3,000 Americans each year, that lack of participation is a major reason why progress in combating the disease has been slow. Insurance companies now will be forced to cover all stages of clinical trials, and all routine medical services that are included in those trials.
"Patients, previously, could be denied coverage if they enrolled in clinical trials because they were seen as experimental," Sloan said. "This should help eliminate a barrier to enrollment that may have existed in the past."
Opposition to Obamacare Is Still Strong
Despite the benefits to most all cancer patients, the opposition to the law remains strong. Most often cited is the potential overall cost to taxpayers — $2-3 trillion over the next decade for a country already drowning in debt — and more government intrusion in individual lives.
The law will force everyone, rich and poor and everyone in between, to buy health insurance. The poor will be receive government subsidies. For the rich and much of the middle class — the majority of Americans — the cost of health care likely will rise, too.
The Affordable Care Act also could hurt an already struggling economy by costing thousands of jobs. Many companies, forced now to offer health insurance to all full-time employees under the ACA, may reduce full-time staffing, and instead rely on less expensive, part-time employees.
Mesothelioma patients, though, may not be as effected by the ACA as those with other cancers because of the age factor. The average age at diagnosis of mesothelioma is 65, in part because of the long latency period (10 to 50 years) between asbestos exposure and obvious symptoms.
According to one poll by CNN, less than one-third of those age 65 or older are in favor of the new law, which includes only a few provisions that apply to the Medicare-aged population. Many don't face the problems the law was designed to solve.
Access Trust Funds, Grants & Compensation for Mesothelioma
Get Financial Assistance