Research & Clinical Trials
Is A Breakthrough Evolving at University of Vermont Laboratory?
Fact Checked
Our fact-checking process begins with a thorough review of all sources to ensure they are high quality. Then we cross-check the facts with original medical or scientific reports published by those sources, or we validate the facts with reputable news organizations, medical and scientific experts and other health experts. Each page includes all sources for full transparency.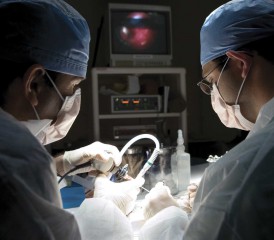 Researchers at the University of Vermont, with assistance from the National Cancer Institute, may have uncovered a new way to better target and destroy mesothelioma tumor cells.
The discovery, published by peer-reviewed journal BMC Cancer, could lead to improved results with chemotherapy, including fewer adverse side effects often associated with typical systemic treatments.
"Our findings are different than other therapeutic approaches [in the past]," Dr. Brooke Mossman, pathology professor at the University of Vermont College of Medicine, told Asbestos.com. "This approach may be a big breakthrough in localized treatment of mesothelioma."
Need for Less Toxic Chemotherapy
Mesothelioma, caused by long-before exposure to asbestos fibers, is diagnosed in an estimated 3,000 Americans annually. The majority of the cases are pleural mesothelioma, which mostly affects the lining surrounding the lungs. Peritoneal mesothelioma, which develops in the abdominal cavity, accounts for approximately 20 percent of the cases.
There is no cure for mesothelioma and typically a poor prognosis includes only 6 to 18 months of survival time after diagnosis. That could be changing thanks to this new study.
Researchers in Vermont tested mice injected with human peritoneal mesothelioma cells. Scientists used silica microparticles, loaded with the chemotherapy drug doxorubicin, and coated with key antibodies that help recognize and bind to the tumor cells. The antibodies also allow the chemotherapy to bypass the healthy cells, which eliminates most of the side effects.
When the microparticles were injected into the mice model, they pursued only the cells that overproduced mesothelin, a protein that often is overexpressed in many cancers, including mesothelioma.
"Targeted microparticles are an attractive option for localized drug delivery," wrote the authors in their conclusion. "Targeted therapy was more effective…and less toxic."
Researchers for years have been searching for more effective ways to reduce the adverse side effects of chemotherapy – nausea, a weakened immune system, hair loss – and they have struggled to find a more effective targeting approach with the drugs.
Chemotherapy, with standard systemic delivery, has been an indiscriminate killer. It is designed to destroy cancer cells that divide quickly, but it also destroys healthy dividing cells.
Microparticles Are Key
The key to this approach, according to Mossman, is the size of the porous microparticles being used to carry the chemotherapy drug. It allows them to remain in the tumor cells, prevents them from penetrating the vessels, and lets them circulate as standard nanoparticles usually do.
"The particles can be filled with, and release, a number of FDA-approved, or future, chemotherapeutic drugs developed for this disease, and cancer in general," Mossman said.
By using this new targeted approach that protects the healthy cells, the researchers were able to reduce the doses of doxorubicin almost four-times, yet still reduced the tumor volume in the mice.
"Changes in tumor weight and tumor volume are due to more efficient delivery, and not due to the particles themselves," researchers wrote. "These numbers were reduced dramatically… in the group [using the silica microparticles and coated with antibodies]. These results suggest that an effective dose of doxorubicin…is well tolerated over the duration of multiple treatments."
Funding Needed for Clinical Trial
The laboratory study strengthens the belief that powerful chemotherapy drugs should remain an integral part of a treatment regimen for mesothelioma. The key to improving it lies in the search for a better, more targeted delivery system.
Researchers in Vermont are hoping to move their work into a clinical trial with mesothelioma patients, possibly at the National Cancer Institute. A major concern, though, is finding adequate funding to make it a reality.
Connect with a Mesothelioma Doctor
Find a Top Specialist Near You