Rise Expected in Radiation-Induced Mesothelioma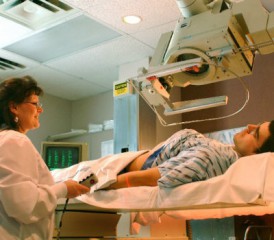 James Stevenson, M.D., renowned oncologist at the Cleveland Clinic, didn't need to see the recent study to know the face of malignant pleural mesothelioma was changing.
He sees it in his waiting room all the time.
While occupational exposure to asbestos, which is still the No. 1 cause of the rare disease, continues dropping significantly, the rate of mesothelioma remains steady. And the patients don't look the same anymore.
Other causes, it seems, are emerging, and they may be rising.
"The general thinking is that these non-asbestos related cases will increase as we move forward," said Stevenson, a mesothelioma specialist who brought his expertise to Cleveland in 2012 from the Abramson Cancer Center in Philadelphia. "We all sense there are going to be more of these, even if the hard numbers don't show it yet."
Mesothelioma Patients with No Asbestos Exposure
Stevenson recently treated two women in their mid-50s, both nonsmokers who had worked in offices with no known asbestos problems. Neither woman was aware of any asbestos in their homes, the homes where they grew up or about any secondhand exposure from parents who could have inadvertently brought asbestos home.
"They had no reason to even think they were ever exposed," Stevenson said.
All were stunned by a diagnosis of pleural mesothelioma.
Mesothelioma specialists across the country often talk about the changing demographics of their patients: They are younger, the percentage of female patients is rising and there are more who discover that secondhand exposure to asbestos — not a job site — caused their cancer.
The typical mesothelioma patient is retirement age or older, and the overwhelming majority of them are men. Many of the men — 25 to 30 percent — served in the military. Their exposures occurred during the service before the 1980s, and much of it was connected to the U.S. Navy.
Radiation for Lymphoma Caused Mesothelioma
Today, the medical community is also finding that patients have a history of radiation therapy used for Hodgkin lymphoma and non-Hodgkin lymphoma, a cancer of the lymphatic system that often strikes at a young age. Advances in treatment of this cancer give patients a chance at a full recovery. Unfortunately, radiation also may be causing other future serious problems.
A study done by researchers at Brigham & Women's Hospital in Boston and published recently in the Journal of Clinical Oncology provided a strong link between earlier chest radiation for lymphoma and later development of pleural mesothelioma.
Researchers examined 1,618 consecutive mesothelioma patients over a 15-year span and identified 22 of them who had undergone earlier radiation therapy for lymphoma. They evaluated the histology in the resection samples of those 22 and found the asbestos body count to be closer to the unexposed control group and less like those of the asbestos-confirmed group.
For the control group, an additional 15 samples from lung specimens from separate patients without a history of pleural mesothelioma or lymphoma were used.
"Patients with Hodgkin lymphoma have a 20-fold increased risk of mesothelioma after radiotherapy," the research group wrote in its findings. "Although the majority of cases of PDMM (pleural diffuse malignant mesothelioma) are attributed to asbestos, other causes have been identified."
What they also found in the study was that mesothelioma patients with a history of radiation therapy were younger than patients with asbestos-related disease (45 years old vs. 65) and had a longer overall survival period (32.5 months vs. 12.7 months).
The latency period between exposure (to either radiation or asbestos) and diagnosis of mesothelioma was shorter (21 years) for those who had lymphoma than those who did not.
Radiation Produces Risk for Second Malignancy
Researchers pointed out the patients with a history of radiation therapy for lymphoma — with or without chemotherapy — have an increased risk of developing multiple malignancies. They believe the highest risk for a second malignancies included mesothelioma, sarcomas of soft tissue and bone, stomach, breast and thyroid cancers.
Although he was not part of the study, Stevenson believes there's a need for greater awareness of the problem of second malignancies for patients who undergo radiation therapy.
"It's not that people who undergo chest radiation are all at high risk, but there are risks for treatment-induced malignancies," he said. "It's tough for a patient to understand how they could have this cancer that is caused by asbestos when they have no reason to think they were even exposed to it. I think we now understand it a little better."
---
Related News Posts