Research & Clinical Trials
Protein Discovery Could Help Guide Mesothelioma Treatment
Fact Checked
Our fact-checking process begins with a thorough review of all sources to ensure they are high quality. Then we cross-check the facts with original medical or scientific reports published by those sources, or we validate the facts with reputable news organizations, medical and scientific experts and other health experts. Each page includes all sources for full transparency.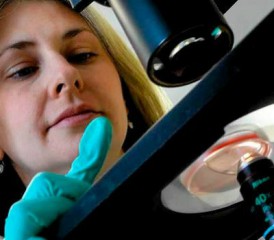 Scientists from Austria, Hungary and Croatia have identified an important biomarker in blood plasma as both an accurate predictor of malignant pleural mesothelioma survival and as a potential new guide for treatment.
Researchers believe that fibrinogen, a clotting protein in plasma, can serve as a useful tool for doctors advising patients on the value of aggressive surgery. They found that higher levels of fibrinogen meant shorter survival periods and, conversely, that lower levels of fibrinogen translated into a longer survival rate.
The multi-center study, which was published in the British Journal of Cancer, involved 175 patients whose average age was 63.5 years. Their fibrinogen levels were measured when they were diagnosed with mesothelioma.
According to the study, 87.5 percent of patients with mesothelioma had higher-than-normal fibrinogen levels in their blood plasma. Those with the lowest level of fibrinogen had an average survival of 19.1 months. Those with the highest level lived an average of 8.5 months.
Levels of Fibrinogen Could Predict Survival Rate
Pleural mesothelioma is a rare but aggressive cancer that is caused primarily by an inhalation of toxic asbestos fibers. Although mesothelioma has a long latency period (10-50 years) between first exposure to asbestos and obvious symptoms, the average life expectancy after diagnosis is just 8-18 months.
Specialty centers have had success with a multi-modality treatment approach that includes chemotherapy, surgery and radiation, but even with the best care, the majority of patients still don't reach the two-year mark.
A patient, too often, will undergo an aggressive surgery that fails to extend his life significantly, but merely leaves him with a diminished quality of life in his time remaining. Even the most experienced mesothelioma specialists struggle to provide a definitive answer when pinpointing how effective surgery will be.
"Most interesting, fibrinogen proved to be a predictive biomarker indicating treatment benefit achieved by surgery within multi-modality therapy," researchers wrote.
Surgery or Not?
The focus on fibrinogen levels could become a valuable tool for physicians as they develop personalized treatment plans for patients with mesothelioma. It's one more factor for asbestos-related oncologists to consider when recommending – or not – aggressive surgeries like pleurectomy/decortication or extrapleural pneumonectomy.
The study showed a startling contrast among the patients who had surgery. Surgical patients who ranked in the top 25 percent for fibrinogen levels had an overall survival rate of just 5.3 months, while those in the lower 75 percent of fibrinogen levels survived an average of 31.3 months.
The findings suggest that patients with the highest fibrinogen levels would benefit more from a palliative approach, instead of a major surgery.
The recent study confirmed earlier research at the Medical University of Vienna (Austria) that examined fibrinogen levels of a larger group of patients (204) from 1994 to 2012. That group had a median overall survival rate of 12.6 months, but only a third of those patients underwent potentially curative surgery. Those with lower fibrinogen levels had a median survival of 15.9 months, compared with to just 9 months for those with higher levels of the protein.
Biomarkers like fibrinogen have been the focus of research for several years as doctors search for better therapies and improved diagnostics. Mesothelioma is difficult to treat because it often is not discovered until it has metastasized. Uncovering these specific proteins are expected to make it easier to diagnose the disease at an earlier stage, and give scientists a clearer target at which to aim in trying to stop the disease.
Connect with a Mesothelioma Doctor
Find a Top Specialist Near You