Treatment & Doctors
Study: Palliative Chemotherapy Not Meeting Patient Expectations
Fact Checked
Our fact-checking process begins with a thorough review of all sources to ensure they are high quality. Then we cross-check the facts with original medical or scientific reports published by those sources, or we validate the facts with reputable news organizations, medical and scientific experts and other health experts. Each page includes all sources for full transparency.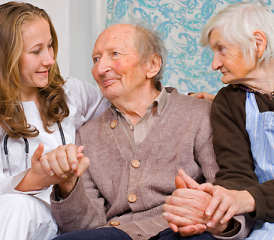 Mesothelioma patients and their caregivers should take a closer look and decide on their priorities before starting palliative care chemotherapy, which has disappointed many in the past, according to a recent study.
Although it is designed to prolong survival and ease symptoms for terminal cancer patients, palliative care chemotherapy often ends with a diminished quality of life, more invasive, late-stage medical procedures, and dying in a less than desirable setting.
Researchers also have found a startling gap between the type of end-of-life cancer care patients wanted, and what they actually received, according to a collaborative study of palliative care chemotherapy published recently in the British Medical Journal (BMJ). Weill Cornell Medical College, Dana-Farber Cancer Institute and Harvard Medical School officials conducted the study.
"It's hard to see in this data much of a silver lining to palliative chemotherapy for patients in the terminal stage of their cancer," said Dr. Holly Prigerson, professor of medicine at Cornell. "This study is the first step in proving evidence that specifically demonstrates what negative outcomes may result."
Palliative Chemotherapy Shortens Hospice Care
During a six-year period, investigators analyzed data from 386 terminally ill patients who were part of Coping with Cancer, a federally funded study. The American Society of Clinical Oncology recently identified palliative care chemotherapy as one of the practices that, if stopped, could improve patient care and reduce costs.
This study found the use of palliative chemotherapy was associated with late hospice referrals and higher rates of cardiopulmonary resuscitation and mechanical ventilation in the last week of life, but not increased survival. Patients also were less likely to die at home and more likely to die in intensive care, compared with those who did not receive palliative chemotherapy.
"Palliative care was intended to prolong life and ease symptom burden, but it might not do either," Prigerson said. "It might, in fact, make things worse. Patients may want [chemotherapy] if it brings hope, but it should not be false hope. They should have data from studies like this, and know what the potential costs are when they are that advanced in the illness."
Fewer Die at Home After Chemotherapy
According to the study, 47 percent of the patients who received chemotherapy died at home, compared with 66 percent of the patients who did not receive palliative chemotherapy. Only 2 percent of the patients not receiving therapy died in intensive care, compared with 11 percent of those receiving palliative chemotherapy.
The study also found that 54 percent of those receiving chemotherapy were referred late (in the last week of life) to hospice care, which is designed to provide both comfort and emotional support for patients. Only 37 percent of those not receiving chemotherapy were referred late to hospice care.
"We often wait until patients stop chemotherapy before asking them about where and how they want to die," said Dr. Alexi Wright, medical oncologist at Dana-Faber. "But this study shows we need to ask patients about their preferences while they are receiving chemotherapy to ensure they receive the kind of care they want near death."
Both researchers agreed there often is a misunderstanding of the consequences and purpose of palliative chemotherapy. The study followed each patient until they died. Afterward, researchers interviewed the caregivers about each patient's care, where the patient had wanted to die, and then compared those answers to medical charts detailing the last week of life.
"Until now, there hasn't been evidence of harmful effects of palliative chemotherapy in the last few months of life," Prigerson said. "Additional studies are needed to confirm these troubling findings."
Medically Reviewed by Top Mesothelioma Doctors
Free Mesothelioma Guide