Research & Clinical Trials
Immunotherapy Trials May Result in Breakthrough Mesothelioma Treatment
Fact Checked
Our fact-checking process begins with a thorough review of all sources to ensure they are high quality. Then we cross-check the facts with original medical or scientific reports published by those sources, or we validate the facts with reputable news organizations, medical and scientific experts and other health experts. Each page includes all sources for full transparency.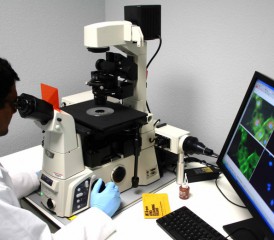 Melinda Bachini thought she was going to spend quality time with family and friends on her son's 14th birthday.
Instead, on that day, doctors in 2009 diagnosed the mother of six with a rare, incurable bile duct cancer in its final stage. Options were slim, and her prognosis grim.
Hope seemed lost after surgery and chemotherapy failed her, but in 2012 she enrolled in a clinical trial at the National Institutes of Health involving an immunotherapy called adoptive cell transfer (ACT). In the simplest terms, it uses patients' immune system T cells to fight their cancer and it appears to be working.
Although she continues with regular checkups, the 45-year-old Billings, Montana, resident is now thriving. Since she started treatment two years ago, her tumors have been shrinking, and she's enjoying time with her family again.
"I am slowly coming back," Bachini told NBC News in a May interview. "When I went into this trial, I felt like I had nothing to lose, but everything to gain. Life definitely doesn't stop because you have cancer."
Researchers now are testing a version of the therapy on mesothelioma patients in clinical trials in Pennsylvania and Maryland.
The results of those clinical trials could render a breakthrough in cancer treatment for patients with the rare, asbestos-related disease.
Keeping Bachini's Cancer Under Control
Steven Rosenberg, M.D., directs the ACT trial in Maryland.
He is considered an immunotherapy and gene therapy pioneer. Rosenberg was the first to safely and effectively infuse foreign genes into people, and his work with ACT has saved the lives of people with melanoma, sarcoma, lymphoma, and Bachini's bile duct cancer.
"I think we have now a blueprint based on our paper in Science a few months ago that tells us how to detect the mutations that are present in a cancer that the immune system can recognize," Rosenberg said in an interview with Frontline Medical News.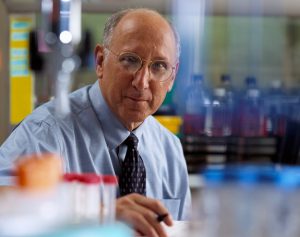 The kind of ACT that has kept Bachini's cancer under control is called tumor-infiltrating lymphocyte therapy (TIL). Lymphocytes are white blood cells, and the primary type under investigation for adoptive cell transfer, that form in the thymus gland, hence the nickname T cells.
An interesting aspect about TIL is a patient's cells don't require modification in a lab to attack the cancer. TIL has worked well for melanoma, leading to remission in about 40 percent of cases, because melanoma has more genetic mutations that TILs can recognize when compared to other cancers.
Rosenberg's team performed genetic tests to pinpoint the exact mutations that caused Bachini's cancer. Then they performed tests on her T cells to identify if any of them recognized the exact mutations. Once they found the right T cells, they grew them in mass numbers in a lab and reintroduced them into Bachini.
Within weeks, her symptoms started vanishing, including a cough once caused by tumors in her lungs. Her tumors are regressing and continue fading as the TILs keep working. Although she isn't cured of the disease, her immune system has been trained to keep the cancer at bay.
"In general, TIL do not work for the treatment of most cancers, unless you perform certain kinds of manipulations," says Dr. Rosenberg.
How Can the Clinical Trials Help Mesothelioma Patients?
The ongoing ACT clinical trials involving mesothelioma patients are underway at the Abramson Family Cancer Research Institute of the University of Pennsylvania in Philadelphia, and the National Institutes of Health Clinical Center in Bethesda, Maryland.
These trials are investigating an ACT tactic known as CAR, or chimeric antigen receptor therapy. The nation's leading researchers in ACT immunotherapy, including Rosenberg, are overseeing the studies.
Director of translational research at Abramson Family Cancer Research Institute, Dr. Carl H. June, oversees the ACT clinical trial in Pennsylvania and is among the first researchers to report leukemia remissions using ACT.
"It's gone from this small group of academic scientists doing this in academic boutique settings to where this is now a very substantial investment by the pharmaceutical and biotechnology industries," June told The Scientist.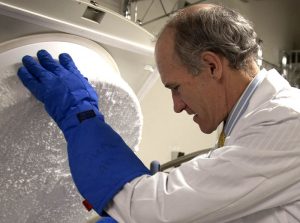 The two ACT trials accepting mesothelioma patients are testing different techniques. The trials include a conditioning component that involves chemotherapy prior to receiving T cells. Conditioning helps make room for the new T cells and prevents the immune system from rejecting them.
Clinical Trial in Pennsylvania
The ongoing clinical trial in Philadelphia, which started this summer and includes a conditioning regimen, is altering T cells with a virus to help them last a little longer in the body.
Another clinical trial in Philadelphia closed days ago and was testing the safety of CAR T cells designed to recognize mesothelin for only three days. One mesothelioma patient's cancer stopped growing with three infusions. After six months, the cancer returned, but that's still considered promising because halting mesothelioma for that long is difficult with traditional cancer treatments.
"We engineered T cells to express CAR for about three days, after which the mRNA is metabolized rapidly by the system, so the T cells basically revert to what they were before in the patient," June told the American Society of Clinical Oncology.
The principal investigator of these ACT trials is experienced mesothelioma researcher Dr. Andrew Haas, who serves as director of clinical operations for the department of interventional pulmonology and thoracic oncology at Penn Medicine. Hass hopes to make the T cells more effective by altering them with a lentivirus, a type of virus regularly used in gene therapy.
"Once we demonstrated safety [in the first study], we moved forward with a lentiviral CAR T cell approach as longer persistence of cells should be more effective," Haas told Asbestos.com.
Clinical Trial in Maryland
Rosenberg's trial in Maryland includes three elements: Chemotherapy, T cells and interleukin 2. Participants undergo a conditioning regimen before the T cell infusion and then receive low doses of interleukin 2, a protein that helps keep T cells alive.
Researchers are collaborating, sharing results and getting closer to making these therapies widely available.
"We've seen in pilot studies signs of activity that are encouraging, and other centers are just getting underway as well," June told The Scientist. "There will be trials in virtually any cancer you can name within the next year or so."
Connect with a Mesothelioma Doctor
Find a Top Specialist Near You