Research & Clinical Trials
Genetic Mutation Increases Survival Time for Mesothelioma Patients
Fact Checked
Our fact-checking process begins with a thorough review of all sources to ensure they are high quality. Then we cross-check the facts with original medical or scientific reports published by those sources, or we validate the facts with reputable news organizations, medical and scientific experts and other health experts. Each page includes all sources for full transparency.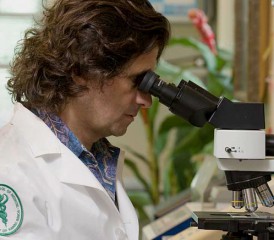 The genetic mutation that increases the chances of developing mesothelioma now is identified as the same one that leads to a dramatic increase in survival time, creating real hope for future therapeutic advances.
It's the bad news/good news tumor suppressor gene known as BAP1.
"You can look at it two ways," Dr. Michele Carbone, director of the University of Hawaii Cancer Center, told Asbestos.com. "At one end, it's a mutation that favors the initial growth of the cancer cells. On the other side now, it's a mutation that somehow impairs the growth of those cells. It could be they are just more susceptible to therapy."
Carbone believes the recent discovery should lead to a grouping of mesothelioma patients who could survive indefinitely, despite having the rare, aggressive cancer with a median survival time of less than one year.
"We don't have the magic pill to take care of everyone with mesothelioma," Carbone said. "But now we can identify a group of patients who have a less aggressive malignancy, and they could live indefinitely. They may not die of mesothelioma. This is very significant."
Findings Recently Published
The findings were published earlier this month in the journal Carcinogenesis. They were first reported at the 2014 annual meeting of the American Association for Cancer Research.
Carbone, leader of the research team that first uncovered the genetic susceptibility to mesothelioma, is at the front of the gene therapy development that could be the future of treatment.
"Every so often you would see a mesothelioma patient live 10 years or more, but people never could explain why," Carbone said. "Now, we have a better idea why. With genetic testing, we will have a way to identify someone with the potential of living a very long time. And that should lead to more targeted therapy."
Carbone's team compared survival data of 23 mesothelioma patients with the BAP1 mutation to that of all mesothelioma patients from the U.S. SEER (Surveillance, Epidemiology, and End Results) Program database from 1973 to 2010. The analysis included 10,556 mesothelioma patients.
The patients with the BAP1 mutation were from an earlier study led by Carbone that first identified the genetic susceptibility to mesothelioma.
Mutation Increases Survival Time Dramatically
The median survival time for those with the mutation was five years. The median survival for those in the SEER study was less than one year, and the five-year survival rate was just 6.7 percent. The five-year survival rate for those with the mutation was 47 percent.
The comparison was dramatic, according to Carbone. He believes the BAP1 findings could be useful in helping to identify those at high risk for mesothelioma. He also believes it provides a target for new therapy advances that could lead to patients living indefinitely with this disease.
"Physicians need to be aware of this, so when they see a mesothelioma patient with this mutation, and you can tell him, he has 5-10 years instead of six month [to live]. That's a huge difference," he said. "It could change how a patient plans the rest of his life, and change the type of treatment a doctor will use."
The recent report also noted that while the use of asbestos in the U.S. has decreased in recent decades, "the number of people exposed to low amounts of asbestos has increased." It also reported the number of new mesothelioma cases in the nation has remained at approximately 3,200 annually.
It showed that BAP1 mutation patients with peritoneal mesothelioma, a second malignancy or both survived longer than those with just pleural.
"In conclusion," the report said, "we found that MM [malignant mesothelioma] patients with germline BAP1 mutation have an overall seven-fold increased long-term survival, independently of sex and age. Appropriate genetic counseling and clinical management should be considered for MM patients who are also BAP1 mutation carriers."
Joining Carbone in this most recent study was Dr. Harvey Pass, chief of thoracic oncology at NYU Cancer Center; Dr. Emanuela Taioli, Hofstra-North Shore School of Medicine; and Drs. Haining Yang, Francine Baumann, Erin Flores, Andrea Napolitano and Shreya Kanodia from the University of Hawaii Cancer Center.
Connect with a Mesothelioma Doctor
Find a Top Specialist Near You