Asbestos Exposure & Bans
Asbestos Found on Rottnest Island Angers Activists, Medical Community
Fact Checked
Our fact-checking process begins with a thorough review of all sources to ensure they are high quality. Then we cross-check the facts with original medical or scientific reports published by those sources, or we validate the facts with reputable news organizations, medical and scientific experts and other health experts. Each page includes all sources for full transparency.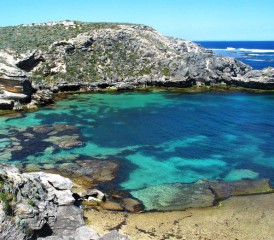 Update: News reports show Rottnest Island Authorities in late December cleared about 120 sites containing asbestos or other potentially harmful materials.
The discovery of asbestos near vacation bungalows on Rottnest Island, an idyllic Western Australian tourist destination, and the local government's claim that the substance is of "low risk" has raised red flags among activists, members of the medical community and other lawmakers.
Dr. Michael Gannon, president of the Australian Medical Association (WA), said Rottnest Island authorities downplayed the severity of the asbestos health threat.
"It's not zero risk, and it's time for the Rottnest Island Authority to have a look at this accommodation and try to make it zero risk," media reports show.
President of the Asbestos Diseases Society of Australia Robert Vojakovic referred to officials' response about asbestos on the island as "patchwork" to save money.
Fremantle MP Simone McGurk, whose district includes Rottnest Island, told Australian media the public deserves to know "where that material came from, what was the source of that material, and if there is risk that any other broken material could be buried on the island and then possibly arrive during storm activity."
Asbestos is a naturally occurring mineral linked to the development of malignant mesothelioma, a terminal cancer that affects the lining of the lungs, heart and abdominal cavity.
How Was Asbestos Found on Rottnest Island?
Rottnest Island (also known as Rotto) is renowned for its beautiful scenery and stunning coastline. It's one of Australia's hottest tourist destinations. A recent survey of the top 10 destinations in Australia listed Rottnest Island as the top vacation spot.
Donovan Pryor, a building company owner staying in one of the Rottnest bungalows, alerted officials in September that he suspected there was blue asbestos, the most toxic form of the mineral on the grounds outside the vacation units.
Officials immediately fenced off the area and tested the substance. Rottnest Island Authority (RIA) Acting Chief Executive Greg Ellson later confirmed it was white asbestos, and it posed little threat to island visitors or residents.
"White asbestos is very low-risk, the material was intact and non-friable [difficult to break down] and was of very low risk to anyone staying in the units or passing by," Ellson said, according to Australian media reports.
But the National Industrial Chemical Notification and Assessments Scheme (NICNAS), Australia's regulatory agency, disagrees with Ellson's statements about white asbestos, also known as chrysotile.
"Breathing in chrysotile dust causes lung cancer, mesothelioma and asbestosis," the NICNAS website shows. "There may be no immediate signs of ill health from breathing in fibers of chrysotile. However, the damage caused to the lung can be fatal many years later."
The agency also adds "there may be no safe exposure level for chrysotile, so all exposure should be avoided."
Discovery of Asbestos Is Not an Isolated Incident
In May 2013, a six-year-old girl vacationing with her family on Rottnest Island brought home a chunk of asbestos after collecting shells, rocks and other items from the tourist hot spot.
"It's made me really anxious about letting my children frolic around and do what kids do, which is explore and pick up shells and things," the girl's mother told The Western Australian. "If there's a danger of them picking up asbestos, it ruins the family holiday."
An RIA spokesperson at the time told the news agency that rain or a ground disturbance unearthed the asbestos, which could have been debris from a 2005 roof replacement.
Australia's History with Asbestos
Asbestos was extensively used in the building and textile industries in Australia between the 1950s and 1980s. Many parts of Australia were also mining towns, including Wittenoom, one of the continent's worst industrial disaster sites.
Many homes and business built with materials containing asbestos are still standing today across Australia.
Recently, officials discovered homes in Canberra still contained remnants of Mr. Fluffy, an insulation material composed of deadly asbestos. Although government efforts in the 1980s tried to eliminate the insulation from thousands of homes, many homeowners still are finding the material in their residences.
The Australian government will buy those homes from Canberra residents and demolish them in the coming months.
Many homes in Rottnest Island also contained asbestos, especially in the roofing materials.
According to the RIA, all asbestos currently in the buildings on the island is inert and safe. Officials said August marked the most recent asbestos inspection on Rottnest Island.
Free Mesothelioma Resources
Get Access to Free Resources for Patients & Loved Ones