Research & Clinical Trials
Department of Defense Doubles Cancer Research Funding in 2015
Fact Checked
Our fact-checking process begins with a thorough review of all sources to ensure they are high quality. Then we cross-check the facts with original medical or scientific reports published by those sources, or we validate the facts with reputable news organizations, medical and scientific experts and other health experts. Each page includes all sources for full transparency.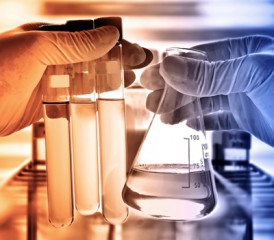 Doctors and researchers seeking a cure for mesothelioma will soon be able to tap into millions of dollars set aside by the U.S. Department of Defense for cancer research.
The Office of Congressionally Directed Medical Research Programs (CDMRP) invested $50 million in the Peer Reviewed Cancer Research Program (PRCRP) for 2015, an amount that doubles the money awarded to the program last year.
With the additional funding, asbestos-related cancer researchers can extend current studies and launch new ones to improve traditional treatments, introduce emerging therapies or test new cancer drugs. Funding in 2014 was $25 million.
Researchers hold out hope that their military-focused programs will develop the medical advancements that extend life expectancy or develop a cure for U.S. service members and families affected by mesothelioma. Former service members are a prime demographic for development of the rare and fatal cancer.
CDMRP spokeswoman Gail Whitehead told Asbestos.com that applicants seeking funding under the 2015 cycle must send in their applications in the fall. Winners for that round will be announced in 2016.
The cancer program and CDMRP are funded through the Defense Department. Since its inception, the program has provided nearly $3 million to fund mesothelioma research, according to CDMRP documents.
The Peer Reviewed Medical Research Program, also part of CDMRP, pumped $7.7 million into mesothelioma research projects from 2008 to 2010.
Ongoing Mesothelioma Research under the PRCRP
Since 2011, the program has funded six mesothelioma research projects with military relevance that are ongoing:
$296,850: Dr. Bruce Robinson, University of Western Australia. Targeting Immunological Restrainers: Understanding the Immunology Behind Combination Chemoimmunotherapy to Improve the Treatment of Malignant Mesothelioma.
$308,000: Dr. Sherven Sharma, UCLA David Geffen School of Medicine. Mesothelioma Snail Mediated Modulation of Inflammatory Response.
$316,000: Dr. Ravi Salgia, University of Chicago. PI3K as a Therapeutic Target in Malignant Pleural Mesothelioma.
$294,870: Dr. Lynn Heasley, University of Colorado Denver Anschutz Medical Campus. Targeting Fibroblast Growth Factor Receptor Signaling Pathways in Mesothelioma.
$256,613: Dr. Mark Klein, Minneapolis VA Medical Center. Development of Novel p16INK4a Mimetics as Anti-cancer Therapy.
$360,000: Dr. Haining Yang, University of Hawaii. Mesothelioma: Identification of the Key Molecular Events Triggered by BAP1.
Winners of 2014 awards will be announced by October, Whitehead said.
History of the Peer Review Cancer Research Program and Mesothelioma
Established in 2009, PRCRP supports innovative and competitive research for cancers designated by Congress as pertinent to U.S. military service members and their families. Topic areas funded by the 2014 peer-reviewed program include:
Blood cancers
Cancers related to radiation exposure
Colorectal cancer
Genetic cancer research
Kidney cancer
Listeria vaccine for cancer
Melanoma and other skin cancers
Myeloproliferative disorders
Neuroblastoma
Pancreatic cancer
Pediatric brain tumors
Exposure to Asbestos on U.S. Navy Ships
Doctors diagnose about 3,000 cases of mesothelioma annually in the United States, the majority of which are traced to job-related asbestos exposure.
Veterans account for almost 30 percent of all mesothelioma cases, and the U.S. Department of Veterans Affairs estimates there are nearly 22 million American veterans living today.
Cancer research program officials added mesothelioma to the list of topic areas in 2011 because occupational exposure is a frequent risk of military service.
"Mesothelioma is a known risk to naval shipyard work. It is generally accepted that nearly 95 percent of all mesothelioma cases are due to asbestos exposure," PRCRP officials wrote in a 2014 report to Congress.
Asbestos was a key construction material in many U.S. Navy vessels built before 1980. The Navy relied on the mineral because it was affordable, strong and resistant to heat. All these were valuable properties of asbestos, but the minerals health risks were not widely known until the mid-1970s.
Asbestos is toxic when its fibers become airborne. Prolonged exposure to damaged asbestos products likely leads to fibers becoming stuck in the lining of the lungs and developing tumors over several decades. It can take 20 to 50 years after exposure before symptoms arise.
Connect with a Mesothelioma Doctor
Find a Top Specialist Near You