Treatment & Doctors
New Mesothelioma Drug May Bring 'Brilliant Hope for Cancer Therapy'
Fact Checked
Our fact-checking process begins with a thorough review of all sources to ensure they are high quality. Then we cross-check the facts with original medical or scientific reports published by those sources, or we validate the facts with reputable news organizations, medical and scientific experts and other health experts. Each page includes all sources for full transparency.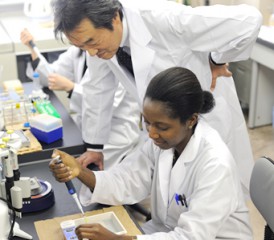 A Japanese research team recently described the versatile anti-cancer benefits of HUHS1015, a new drug that shows promise as a treatment for mesothelioma and various other cancers.
In a Dec. 2014 study, researchers confirmed the drug effectively kills mesothelioma cells — and malignant cells of some of the most commonly diagnosed cancers worldwide.
It could lead to improved treatments for not only mesothelioma, but also cancers of the lung, prostate, stomach, liver, bladder, kidneys and colon.
"HUHS1015 might offer brilliant hope for cancer therapy," Dr. Tomoyuki Nishizaki, chief professor of the Division of Bioinformation at the Hyogo College of Medicine and lead author of the study, said.
Nishizaki and team discovered that the drug halts tumor growth in mice injected with human-derived cell lines for pleural mesothelioma, stomach cancer and colorectal cancer.
In addition, they report that HUHS1015 matches or exceeds the effectiveness of several drugs doctors now use to treat these cancers.
"This raises the possibility that HUHS1015 could be developed as an efficient anti-cancer drug," Nishizaki said.
An Accidental Discovery
Nishizaki's research team was the first to synthesize HUHS1015 in the lab, but an existing drug provided the inspiration.
Naftopidil, currently offered as a treatment for hypertension and enlarged prostate, has displayed unexpected cancer fighting activity in clinical trials for these conditions.
Intrigued by this finding, Nishizaki and colleagues developed 21 original variations of naftopidil. Their goal was to identify a formula that maximizes the drug's anti-cancer potential.
For 24 hours, researchers exposed several mesothelioma cell lines to each variation. They then compared the effectiveness of each formula by measuring the number of cancer cells that died after treatment.
Out of naftopidil and 20 other analogues of the drug, HUHS1015 produced the most potent anti-cancer effect. With this knowledge, Nishizaki's team shifted their focus from naftopidil and its less successful variants to HUHS1015.
Using a test called flow cytometry, they discovered the drug induces necrosis and apoptosis, two key processes by which all cells die. When exposed to HUHS1015, mesothelioma cells and various other cancer cells died by these methods.
For the four pleural mesothelioma cell lines tested (NCI-H28, NCI-H2052, NCI-H2452 and MSTO-211H) the drug killed 61 percent, 69 percent, 37 percent and 58 percent of cancer cells, respectively.
Later experiments revealed the drug destroys cancer cells cultivated from a variety of human tissue samples, including three lung cancer cell lines, two liver cancer cell lines, two stomach cancer cell lines, six bladder cancer cell lines, three prostate cancer cell lines, three kidney cancer cell lines and two colorectal cancer cell lines.
How Does HUHS1015 Compare to Current Therapies?
With ample evidence that HUHS1015 kills multiple human cancers in the Petri dish, Nishizaki's team decided to test the drug's anticancer effects in animal models. To do so, they transplanted human mesothelioma cells into xenograft model mice.
These mice are remarkably similar to humans in terms of anatomy and genetics, so they help give scientists a clearer idea if promising lab results could actually lead to safe and effective therapies for human patients. When they injected the mice with mesothelioma cells and delivered HUHS1015, the drug offered further proof that it is a powerful cancer killer.
In fact, it performed roughly as well as cisplatin, one of the most effective and widely used chemotherapy drugs for mesothelioma today. When researchers pitted the drug against paclitaxel, another popular drug in mesothelioma treatment, HUHS1015 outperformed it by far.
"HUHS1015 clearly suppressed tumor growth in mice inoculated with [mesothelioma] cells, with a potential much greater than that for paclitaxel," Nishizaki said.
After about a month, all mice treated with HUHS1015 survived, compared to 43 percent of those treated with cisplatin and 86 percent treated with paclitaxel. At the two-month mark, all HUHS1015-treated mice were still alive, but only 30 percent of paclitaxel-treated mice remained.
In addition, HUHS1015 did not harm the liver or kidneys of any mice or cause any substantial loss to body weight. According to Nishizaki, this suggests it could be developed into a promising anti-cancer drug with lesser side effects.
Although the Nishizaki and team have yet to uncover exactly how the drug works, results from these early experiments are hopeful. Moving forward, they plan to continue research on HUHS1015 and work toward improved therapies for mesothelioma and other cancers.
Medically Reviewed by Top Mesothelioma Doctors
Free Mesothelioma Guide