Research & Clinical Trials
Impressive Survival Time for Peritoneal Mesothelioma Patients
Fact Checked
Our fact-checking process begins with a thorough review of all sources to ensure they are high quality. Then we cross-check the facts with original medical or scientific reports published by those sources, or we validate the facts with reputable news organizations, medical and scientific experts and other health experts. Each page includes all sources for full transparency.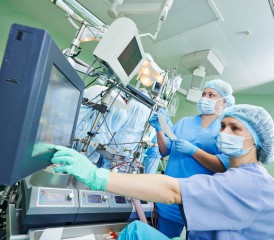 The prognosis for patients with peritoneal mesothelioma has improved considerably in recent years, leaving behind the pessimism that often still engulfs those with pleural mesothelioma.
The survival-time gap between peritoneal and pleural — the two most common types of mesothelioma cancer — has grown significantly wider with advances in therapy.
According to a recent study done at Wake Forest University School of Medicine in Winston-Salem, North Carolina, the median survival for a peritoneal patient is more than four times that of a patient diagnosed with pleural mesothelioma.
"The take-home message here is that there is real hope for mesothelioma patients, very clearly for those with peritoneal," Dr. Jill Ohar, pulmonologist at the Wake Forest Comprehensive Cancer Center, told Asbestos.com. "This is not a death sentence like people used to think. You can really have a prolonged survival."
The Wake Forest team reviewed survival data for 380 cases of mesothelioma diagnosed from 1992 to 2012. The cases were drawn from volunteers, treatment referrals and independent medical evaluations done for legal purposes. There were 303 pleural cases and 77 peritoneal.
Two Leading Mesothelioma Types
Both types of mesothelioma cancer are caused by exposure to toxic asbestos fibers, which many people continue to inhale or ingest unknowingly.
Pleural mesothelioma typically forms on the pleura, a thin lining that surrounds the lungs and chest cavity. Once inhaled, microscopic asbestos fibers become lodged in that lining and slowly cause scarring that can lead to cancerous growths in the chest cavity.
Peritoneal mesothelioma usually develops after people ingest asbestos. Swallowed fibers can migrate from the digestive system to the peritoneum, a membrane that surrounds the abdominal cavity. There it causes scarring that can develop into cancer.
According to the study, the median survival time for pleural patients was 18.4 months, compared to a median survival of 75.7 months for peritoneal patients.
Much of the difference in survival times stems from the therapeutic advancements available to peritoneal patients. Doctors have had great success with cytoreductive surgery coupled with heated intraperitoneal chemotherapy (HIPEC), which offered an overall median survival of nearly 4.5 years in one landmark study.
Conversely, the pairing of heated chemotherapy with an equally aggressive surgery has not been as successful for pleural mesothelioma patients.
"The lungs make it much different," Ohar said. "It's different real estate, a different landscape than in the abdomen."
Other Differences
The Wake Forest study also found that more than 90 percent of the patients exposed to asbestos in an occupational setting developed pleural mesothelioma. Of those exposed in a non-occupational setting, less than half went on to develop the pleural type.
Patients exposed to asbestos outside of the workplace were typically exposed at a younger age, diagnosed at a younger age and had a shorter latency period between exposure and diagnosis. The majority of non-occupational exposures occurred in women, who have had a much-better success rate in fighting the disease.
Ohar said the study was partially prompted by the success peritoneal patients have seen at Wake Forest Comprehensive Cancer Center. Many of them were patients of renowned surgeon Dr. Edward Levine, who specializes in HIPEC.
"You would read in the literature that mesothelioma patients were surviving only 18 to 24 months, but we're seeing patients in our clinic who are living four, five, six, seven years out after surgery," Ohar said. "We were seeing a great response to treatment."
Ohar is hoping the study drives more investigation into other factors that will explain the widening gap between pleural and peritoneal mesothelioma survival. She also is in the midst of a clinical trial involving genetic predisposition to the disease.
"We hear of many peritoneal patients seen by doctors who are just happy to give them systemic chemotherapy and not explore the surgical options. And that's a big mistake," she said. "Too many doctors are still unaware of the improvements we've seen with this disease. You can have a nice, long survival. And we're showing that now."
Connect with a Mesothelioma Doctor
Find a Top Specialist Near You