Legislation & Litigation
Outdated EPA Regulations May Increase Asbestos Exposure
Fact Checked
Our fact-checking process begins with a thorough review of all sources to ensure they are high quality. Then we cross-check the facts with original medical or scientific reports published by those sources, or we validate the facts with reputable news organizations, medical and scientific experts and other health experts. Each page includes all sources for full transparency.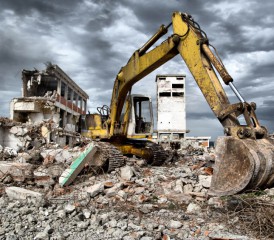 The U.S. Environmental Protection Agency (EPA) has an antiquated and inadequate policy in place that allows the release of asbestos-contaminated wastewater and threatens public health, according to the Office of Inspector General
(OIG).
The EPA's National Emission Standard for Asbestos, first issued in 1973, includes a provision that still permits the demolition of structurally unsound buildings without first removing asbestos products, often resulting in toxic runoff and contaminated soil.
"Demolitions may be releasing potentially harmful amounts of asbestos into the environment," said Michael Wilson, toxicologist who helped author the June OIG report. "The amount of asbestos released into runoff wastewater can often
exceed the legally reportable quantity."
The renovation, remodeling or demolition of older structures becomes particularly dangerous if microscopic asbestos fibers are disturbed. An exposure can lead to serious asbestos-related health issues such as mesothelioma, asbestosis or lung cancer.
The report is based on the EPA's Alternative Asbestos Control Method (AACM) experiments from 2005 to 2011 that included demolition procedures and collection of data on the release of asbestos into the environment.
It also was based on buildings that were constructed with asbestos cement products and asbestos-containing joint compound. Both building materials were common in new construction before 1980.
Wilson said the result of the demolitions likely would violate the EPA's Comprehensive Environmental Response, Compensation and Liability Act if the reportable quantity of asbestos was released.
Public Health Risk Needs Reassessment
He believes the EPA should reassess the public health risk from the contaminated wastewater caused by the demolitions.
The report made four recommendations:
Evaluate the potential public health risk from the release of asbestos fibers through untreated discharge of runoff wastewater.
Issue a technical report that details the findings and is available to the public.
Based on the technical report, implement any action needed in a timely manner.
Share and discuss any regulatory changes and enforcement.
Asbestos was a common building material throughout much of the 20th century. It was once lauded for its ability to strengthen and fireproof at a reasonable cost. However, research showed it also was toxic, becoming a serious health risk as it aged and became airborne.
The EPA and its regulations are credited for the dramatic decline in the use of asbestos products in commercial and residential construction over the last 40 years.
EPA Disagrees with Critics
The EPA responded to the report by disagreeing with the OIG findings, believing the AACM experiments did not provide an appropriate basis for comparison.
"We disagree with the recommendations in this draft report. However, we share the OIG's concern regarding the potential for asbestos exposure," wrote Janet McCabe, EPA acting assistant administrator, in an accompanying attachment to the report. "We recognize asbestos as a known human carcinogen, and note that there is no known safe level of exposure to asbestos."
McCabe said the original National Emission Standards for Asbestos regulation was last amended in 1990, and a variety of work practices have been developed to prevent contamination of nearby properties. She also admitted a lack of clarity in the amendment.
"These documents are disparate and dated, and we believe could be reviewed, revised and consolidated into a single guidance document," she wrote.
She also said the EPA will complete the project before April 2016 and take the following actions:
Assemble a team of asbestos experts and inspectors to advise and assist.
Review the rule applicability regarding containment of asbestos-contaminated waste materials and revise existing guidance documents.
Compile implementation guidelines.
Review applicability determinations issued by regional offices.
Review existing sampling and analysis methods that are applicable to asbestos in various media and incorporate into the guidance.
Consolidate into a single set of guidance materials and implement them.
Access Trust Funds, Grants & Compensation for Mesothelioma
Get Financial Assistance