Asbestos Exposure & Bans
Shocking Allegations of Asbestos Dumping at Kilgore College
Fact Checked
Our fact-checking process begins with a thorough review of all sources to ensure they are high quality. Then we cross-check the facts with original medical or scientific reports published by those sources, or we validate the facts with reputable news organizations, medical and scientific experts and other health experts. Each page includes all sources for full transparency.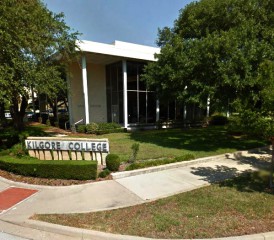 The timing couldn't be worse for Kilgore College in Texas.
School officials recently laid off several maintenance workers and forced others into early retirement. Their last day is Aug. 31.
The cuts happened four months after they submitted signed affidavits to two state agencies describing how the school was illegally dumping asbestos and other hazardous waste on campus for decades, the Longview News-Journal reports.
However, Kilgore College President Bill Holda denied the layoffs are related to the workers' allegations. Holda said layoff discussions began as early as 2010, years before workers sent the accusations to the Texas Department of State Health Services (TDSHS) and Texas Commission on Environmental Quality (TCEQ).
"We can prove we were discussing this [privatization of custodial, grounds and maintenance departments] as far back as five years ago," Holda said. "I have at least two dates prior to the asbestos stuff that I can prove we met prior to this stuff."
Holda said the maintenance department layoffs are part of a larger staff reduction. The school plans to cut 40 employees because of declining enrollment, state revenue and other variables.
This isn't the first time the school comes under fire for allegedly mishandling asbestos. The toxic mineral, once a popular fireproofing agent used in the construction of homes and public buildings, is a carcinogen known to cause mesothelioma. The illness is often terminal.
Both state agencies opened investigations in November 2014. Only the TCEQ probe found violations, but they didn't involve asbestos. The school corrected the problems and the investigations were closed in March.
The recently laid off maintenance workers filed their affidavits in April. TDSHS spokesman Chris Van Deusen told Asbestos.com that agency investigators are still evaluating the information.
"There's nothing new to report right now," he said. Van Deusen said the affidavits are being treated as new complaints and allegations.
Lack of Evidence Shut Down First Investigation
In November, Kilgore College physical plant coordinator Dalton Smith told the Longview News-Journal about his concerns involving asbestos violations at the school. The newspaper reported a series of stories about the allegations at the 80-year-old campus.
Both state health agencies opened an investigation after reviewing those news articles. Smith submitted sworn statements to state officials and campus administration about numerous situations where asbestos and hazardous materials were jeopardizing public safety.
TECQ closed the case in March, citing the school for only minor hazardous waste issues. Officials said the case lacked sworn statements by employees about asbestos allegations.
"I had already given recorded statements to them and college administrators," Smith told the Longview News-Journal. "I didn't know I needed anything else."
Smith says the reason he came forward was "the increasing frequency of these happenings and the high amount of people being exposed."
Unlicensed Asbestos Removal
Smith's seven-page affidavit on illegal asbestos dumping describes his concern.
Some of his statements include:
"I have personally witnessed the removal and disposal of what I was told by my superiors, co-workers, and outside contractors were asbestos-containing materials. These abatements were performed by unlicensed, untrained employees of Kilgore College."
"I also verify that I recorded [employees] Dan Beach, Rick Murphy, Terry Huckaby and Perry Meyers giving witness to years of illegal removal and disposal of declared asbestos materials."
"The reason I came forward was due to the increasing frequency of these happenings and the high amount of people exposed to the carcinogens."
Private Efforts Failed
Smith said he tried to alert school officials before reaching out to the media.
"I went to several administrators first," he said, naming five high-ranking school officials specifically.
When no action was taken to resolve the issues, he took the story to the press.
"I never expected people would react this way," he said. Smith said people attacked him publicly and called him a liar.
Smith Is Not Alone
Smith's public mistreatment after his allegations came to light left David Roberts, a 27-year veteran maintenance employee without experience is proper asbestos removal, reticent about sharing his story.
"I've prayed about this, and it's been on my conscience," Roberts said. "I love my job, and I'm not trying to make the college look bad, and I'm not trying to point fingers, but someone has got to try to get this to stop."
Roberts' signed affidavit includes the following allegations:
Burying asbestos-containing floor tiles and roof shingles at the firing range
Removing asbestos that covered a boiler and its pipes
Hauling asbestos paneling to a nearby farm for dumping
Scraping asbestos tile off a college building and burning them on campus grounds
Using him, instead of a licensed plumber, to remove asbestos from a water line under the gym
Former Employee Speaks About School's Asbestos Problems
"I've kept these documents and photos for six years, just hoping someone else would come forward about the things that were going on," former maintenance worker James Buckley said.
While working and taking classes on campus in 2009, Buckley saw and photographed crumbling asbestos, also described as friable, in the ventilation system at the school's liberal arts building.
"There was also asbestos all inside the intake area [of the air conditioning units], just sitting there, able to get sucked into the system and circulated throughout the building," Buckley said.
He told his supervisors, but nothing was done.
Ongoing State Review
While it's been four months since the affidavits were filed, TDSHS press officer Chris Van Deusen told Asbestos.com that agency investigators are still evaluating the information.
"There's nothing new to report right now," he said.
He added that the affidavits are being treated as new complaints and allegations rather than opening the prior case against the school.
Meanwhile, after close to 30 years with the college, Roberts will be unemployed at the end of August when the school begins outsourcing maintenance. Asked to retire early, he was planning to work another ten years.
"It's not their problem that I can't find a job because of my age."
Free Mesothelioma Resources
Get Access to Free Resources for Patients & Loved Ones