Treatment & Doctors
Early CT Screening Is Critical to Reducing Lung Cancer Deaths
Fact Checked
Our fact-checking process begins with a thorough review of all sources to ensure they are high quality. Then we cross-check the facts with original medical or scientific reports published by those sources, or we validate the facts with reputable news organizations, medical and scientific experts and other health experts. Each page includes all sources for full transparency.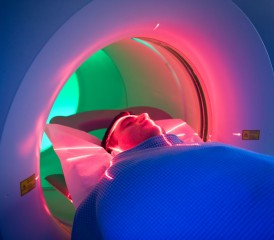 Thoracic surgeon and robotics innovator Dr. Farid Gharagozloo believes regular early screenings and better follow-up care will significantly reduce the annual number of Americans dying of lung cancer by almost two-thirds.
Gharagozloo, director of cardiothoracic surgery at Florida Hospital Celebration Health, says the medical establishment in the U.S. and patients themselves share the blame for the unreasonably high number of lung cancer deaths today.
Patients need to be more assertive. Doctors need to be more aggressive. Together, they can make a big difference.
"We can turn this thing around, change the whole story of lung cancer, if we just approach it correctly," Gharagozloo told Asbestos.com. "And it's not that complicated. We already have the tools we need."
The American Lung Association estimates that 158,000 Americans will die in 2015 from lung cancer, which is 27 percent of all cancer deaths and more than breast, colon and prostate cancers combined.
November is Lung Cancer Awareness Month. Although smoking or exposure to secondhand smoke is responsible for an estimated 85 percent of all lung cancer cases, an exposure to toxic asbestos greatly increases the risk.
Early Detection Is Key to Reducing Lung Cancer Deaths
Gharagozloo believes the key to reducing lung cancer deaths is an aggressive promotion of readily available CT (computed tomography) screenings, which are the most reliable road to early detection.
"The point is, if you pick up lung cancer early, and it's not that difficult to do, you can treat it surgically, and you are essentially curing the patient," he said. "It's sad what is happening now. Patients are referred to us way too late, later than they should have been."
Gharagozloo believes anyone 55 and older who smokes daily, or smoked daily and quit in the last 15 years, should undergo an annual CT scan, even if symptoms are negligible.
"Smokers should understand this is a lifeline for them because early cancer is curable. I'd like to start seeing billboards on the highway, raising awareness to the importance of early screening," he said. "We could save so many lives this way."
Gharagozloo believes there is a glaring need for more discussion and more attention paid to lung cancer, much like there has been for breast cancer and prostate cancer. The death rate for those cancers dropped significantly in the past 20 years, primarily because of early detection.
"Everyone knows about mammograms and colonoscopies. We should treat the CT scans the same way," he said. "Everyone knows lung cancer is the No. 1 killer, but no one in this country wants to talk about it. And that's always bothered me."
An estimated 221,000 new cases of lung cancer are expected to be diagnosed in 2015, according to the American Lung Association. Unfortunately, only 15 percent of those are detected when it still is localized and when the five-year survival rate is almost 60 percent.
The five-year survival is only 4 percent for a patient diagnosed stage III or IV, after the cancer already has spread to other organs.
A typical CT scan costs an estimated $300 for someone without insurance. Medicare usually will cover the cost, and private insurance companies either cover it now or will begin covering it in 2016.
More Aggressive Lung Cancer Therapy Is Important
Gharagozloo believes the second step toward saving thousands of lives is improved, post-scan follow-up care. Too often, a small nodule will show up in a scan, and a doctor will wait for another scan in 6-12 months before deciding what to do. Or a medical professional without experience in lung cancer will read it and not fully understand the scan.
"A patient should not accept a 'let's see if this changes or grows,' explanation. 'Watch and wait' just means we don't know what we're doing," Gharagozloo said. "You need to demand a diagnosis. Go to a lung doctor. If there is a nodule, take the attitude that it is cancer until proven otherwise."
Although small, abnormal areas, often called nodules, that show up on a CT scan may not be cancer, they should lead a patient to an experienced pulmonologist. The next step may be a navigational bronchoscopy, which can better identify the potential presence of early-stage lung cancer.
Minimally Invasive Robotics Is a Convincing Treatment
The advent of minimally invasive, robotic surgery, which Gharagozloo has helped pioneer, now allows surgeons to handle early-stage lung cancer without major chest-opening procedures.
It often will convince a patient to attack the cancer early, when it is most curable, instead of taking the 'wait and see' approach that often leads to metastasis and a poorer long-term outcome.
"A patient without obvious symptoms is not going to let me open up his chest. He's just not. But with the robot, he's more likely to have the surgery and essentially be cured if the recovery will be quick with three little holes, and he'll be home in a couple days," he said. "The stakes are too high to just wait or for a patient to go to a doctor and hope he knows what he's doing."
Gharagozloo came to Florida Hospital in early 2015, helping mesh its Global Robotics Institute into a more comprehensive lung cancer program. Previously, at the University of Arizona Health Network, he was the first to use robotics to perform an extrapleural pneumonectomy for a mesothelioma patient. That's something he also is doing at Florida Hospital.
Yet lung cancer is where he will have the biggest impact. Although smoking has declined significantly in recent years, lung cancer deaths have not. They have risen by 4 percent in the last 15 years.
And that is unacceptable to Gharagozloo. The overall five-year lung cancer survival rate is 17.8 percent compared to 90.5 percent for breast cancer and 65.4 percent for colon cancer.
"The story of lung cancer should not be different than any other cancer. By screening and curative intent therapy, the death rate will decrease significantly. It's hard to know by how much, but two-thirds is not too much to think if we do this correctly. And the only way this ship turns will be if the patients turn it."
Medically Reviewed by Top Mesothelioma Doctors
Free Mesothelioma Guide