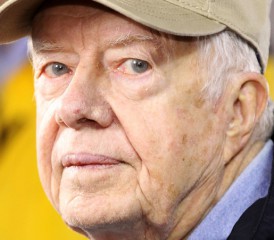 Former U.S. President Jimmy Carter is crediting his recent rebound from melanoma cancer to the
immunotherapy drug Keytruda
, the subject of a phase II clinical trial involving
malignant pleural mesothelioma
. Keytruda, known generically as pembrolizumab, is manufactured by Merck. Carter, 91, made his pronouncement earlier this week at the Maranatha Baptist Church in Plains, Georgia, where he teaches Sunday school. He announced his melanoma cancer diagnosis in August after doctors discovered tumors on his brain and liver. He underwent surgery to his liver and radiation treatments for his brain, along with taking Keytruda. "My most recent MRI brain scan did not reveal any signs of the original cancer spots nor any new ones," Carter announced Sunday to a rousing round of applause. "I will continue to receive regular, three-week
immunotherapy treatments
of pembrolizumab." The U.S. Food and Drug Administration (FDA) approved Keytruda in 2014 to treat melanoma, an aggressive skin cancer that often migrates to other organs, much like it did with Carter. In 2015, the FDA also approved the drug for colorectal cancer and certain lung cancers. Oncologists everywhere are excited about its potential.
Find Mesothelioma Clinical Trials
Get free help finding and enrolling in a mesothelioma clinical trial today!
Find a Clinical Trial
Only One Mesothelioma Clinical Trial
There are more than 100 different clinical trials today testing the effectiveness of Keytruda with various cancers and other diseases. The University of Chicago Comprehensive Cancer Center is
conducting the only trial
involving pleural mesothelioma. It started in May with considerable fanfare. "This is really exciting," University of Chicago
mesothelioma specialist Hedy Kindler
, who is conducting the trial, said earlier this year. "This is an exciting class of drugs. Not only do they shrink the tumors, but they have a sustained and prolonged response." Kindler is
recruiting new patients
, hoping for a trial size of at least 65 and attracting attention nationally. A smaller study of mesothelioma and Keytruda was completed early in 2015 with impressive results at the
University of Pennsylvania Abramson Cancer Center
. Pembrolizumab shrank or stopped the tumor growth in 19 of the 25 patients who received it, according to researchers there. Pembrolizumab, a laboratory immune protein, blocks a
particular gene (PD-1)
that prevents a person's own immune system from killing the tumor cells. The drug allows a patient's immune system to recognize the tumor cells as foreign and attack them without harming the healthy cells.
Works Best in Combination with Other Treatments
Unlike typical chemotherapy,
pembrolizumab has minimal side effects, and patients have received it well. The FDA has not approved any second-line treatments beyond standard therapy for mesothelioma. Pembrolizumab is expected to fill that void. Many doctors believe immunotherapy drugs like pembrolizumab are used most effectively in combination with other drugs or other treatments such as surgery and radiation. Dr. Len Lichtenfeld, deputy chief medical officer for the American Cancer Society, told NBC News that Carter's recent good fortune likely stems from the synergy between the drug, surgery and radiation. "It's always tough to label someone cancer-free because there may be cells that doctors haven't detected, but it's possible that removing the mass in his liver several months ago allowed the immune system, along with radiation and the drug Keytruda, to fight the lesions in his brain."