Asbestos Exposure & Bans
Sen. Markey: US Schools Fail Asbestos Management
Fact Checked
Our fact-checking process begins with a thorough review of all sources to ensure they are high quality. Then we cross-check the facts with original medical or scientific reports published by those sources, or we validate the facts with reputable news organizations, medical and scientific experts and other health experts. Each page includes all sources for full transparency.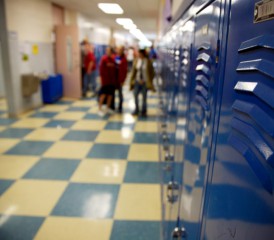 Thirty years ago, Congress acted to protect schools from deadly asbestos. But today, it appears the majority of states overlook the law passed to safeguard students, teachers and administrators across the nation.
Two congressional legislators this year queried all 50 state governors to determine compliance of the Asbestos Hazard Emergency Response Act (AHERA) enacted three decades ago.
Disappointingly, less than half replied. Five of those governors did not answer questions specifically and failed to provide information regarding their observance of the law.
Details of AHERA Legislation
Enacted into law in 1986, AHERA requires local schools to:
Inspect premises for asbestos.
Develop operation plans to train employees about asbestos safety.
Develop management plans to properly deal with asbestos.
Conduct periodic inspections and surveillance of any asbestos-containing materials not removed from the schools.
Ensure asbestos removal is executed by trained professionals.
Each state is responsible for implementing AHERA, but the U.S. Environmental Protection Agency (EPA) has authority to oversee compliance and take emergency action if necessary.
Present Law Is Ineffective
Sens. Ed Markey, D-Mass., and Barbara Boxer, D-Calif., report that findings from the inquiry reveal "little is known about the extent of asbestos hazards in schools, and monitoring, investigation or remediation of asbestos hazards is woefully insufficient."
"What you don't know can hurt you when it comes to asbestos in America's schools," Markey warned.
Asbestos exposure leads to the potential for developing mesothelioma, a cancer that often kills its victims within a year of diagnosis.
After inhalation of the carcinogenic asbestos fibers, tumors slowly begin to develop on the pleura. Symptoms start to manifest 20 to 50 years after exposure.
Almost 3,000 new cases surface each year in the U.S.
Report Compiled from Questionnaire Results
Markey and Boxer published the findings in a report titled "Failing the Grade: Asbestos in America's Schools."
The results illustrate asbestos handling remains noncompliant, disorganized and inconsistent in the nation's schools.
The 20-page document contains comprehensive responses from the 15 state governors who answered the questionnaire, as well as informational graphs and charts. The featured points include:
More than two-thirds of schools across the nation have unabated asbestos in their buildings.
Most officials do not know how many complaints or tips of alleged violations occurred.
The majority of respondents were unable to outline clear school inspection schedules.
The majority of respondents were unable to provide data on the frequency of reporting asbestos information to the state or parents.
Five governors said asbestos-related information is not reported to the EPA in regard to AHERA.
"We know so little about current asbestos hazards in our schools, and what we do know indicates we have a widespread problem in addressing this toxic threat," Markey said.
Enormous Impact
According to Markey, 53 million American children and six million adult Americans spend a large portion of their days in school buildings.
This year alone, students in Orange County, California; Dearborn, Michigan; Evanston, Illinois; and Swampscott, Massachusetts, experienced potential asbestos exposure.
"Recent estimates show the average age of main instructional buildings is 44 years, indicating the importance of ongoing AHERA compliance," the report states.
Recommendations Outlines in the Report
The senators concluded the lack of responsiveness to the inquiry and the ambiguity of those who did respond indicates AHERA needs more oversight and enforcement.
The report makes the following recommendations:
Establish periodic reporting requirements and provide additional funding for routine inspections and audits in the nations schools.
Evaluate AHERA programs in each state every ten years.
Mandate states to communicate information to EPA on their implementation progress.
Increase of funding for AHERA enforcement.
"Decades of inaction have put students and teachers at risk of asbestos exposure," Markey said. "We need to enact legislation that arms consumers with information about where asbestos can be found so they can avoid exposure, and create a more systemic and dedicated commitment to removing it from schools."
Free Mesothelioma Resources
Get Access to Free Resources for Patients & Loved Ones