Research & Clinical Trials
Moffitt Launches New Mesothelioma Clinical Trials in Tampa
Fact Checked
Our fact-checking process begins with a thorough review of all sources to ensure they are high quality. Then we cross-check the facts with original medical or scientific reports published by those sources, or we validate the facts with reputable news organizations, medical and scientific experts and other health experts. Each page includes all sources for full transparency.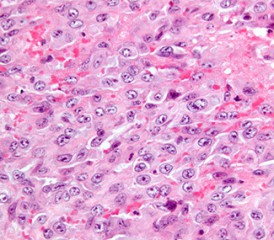 The mesothelioma program at the Moffitt Cancer Center in Tampa opened two new clinical trials recently, expanding efforts to provide patients throughout the state with more treatment options.
Both mesothelioma-specific, phase II trials are designed as second-line therapies involving options that have shown success with other types of cancer.
"If a patient is willing and able, we would encourage them to look at these opportunities," said Dr. Tawee Tanvetyanon, Moffitt medical oncologist and mesothelioma specialist. "People look to trials today because they can find the newest, and sometimes the best, treatment before it is available everywhere."
The two new clinical trials at Moffitt, involving unresectable pleural mesothelioma, are exploring the effectiveness of:
Moffitt also is continuing its role in the multicenter clinical trial of immunotherapy drug CRS-207. That trial measures the drug's ability to stimulate a patient's immune system when fighting unresectable mesothelioma. Early results using the genetically modified version of listeria are promising and will soon be published.
"Progress is being made in the treatment of mesothelioma. It's benefiting now from advances and successes with other cancers," Tanvetyanon told Asbestos.com. "These trials are about advancing the research."
Moffitt Pioneers Chemoperfusion Study for Mesothelioma in the US
Doctors in Germany and Egypt have performed the chemoperfusion treatment since 2013.
Other cancer centers across the U.S. have successfully used chemoperfusion in the treatment of liver cancer, but Moffitt is the first center in the country to explore the technique on mesothelioma.
The procedure involves identifying specific blood vessels that feed the mesothelioma tumors, then overloading them with different chemotherapy agents to slow or stop the growth of the disease.
Directly targeting the tumors allows higher doses of chemotherapy, minimizes exposure to the rest of the body and avoids some of the debilitating side effects.
"We think this could be an effective option for patients who thought they were out of options," said thoracic surgeon Dr. Jacques Fontaine, director of Moffitt's mesothelioma center. "No one is saying it will cure the cancer, but it should help."
The German and Egyptian cancer centers reported 36 percent of patients showed tumor reduction, and 49 percent achieved stable disease after the chemoperfusion.
BAY 94-9343 Study Targets Mesothelin
Drug anetumab ravtansine (BAY 94-9343) will be measured against chemotherapy drug vinorelbine. It is designed to target the antigen mesothelin, which is often overexpressed in tumors created by various cancers, including mesothelioma.
It is part of a new class of drugs known as antibody-drug conjugates, which combine immunotherapy with cytotoxic therapy.
Mesothelin has become a common target for many immunotherapy drugs tested today for ovarian, pancreatic and lung cancers.
In earlier phase I mesothelioma studies, BAY 94-9343 produced a response rate of almost 50 percent and tolerable side effects with mesothelioma patients. It will be given intravenously every three weeks in this phase II study.
Only patients whose tumors show an overexpression of mesothelin and show confirmed progression on first-line treatment will be accepted for the study.
Early laboratory studies showed anti-tumor efficacy corresponded with the amount of mesothelin expressed. With the high-expression tumors, BAY 94-9343 showed superior results than with first-line treatments.
"The response to chemotherapy for mesothelioma often does not last long for these patients," Tanvetyanon said. "We're looking for something better. We're optimistic in that regard."
Moffitt Cancer Center: A Leader in Mesothelioma Treatment
Moffitt unveiled its Mesothelioma Research and Treatment Center in 2012.
In addition to the multidisciplinary mesothelioma work the hospital has accomplished over the decades, its recent advances in the thoracic oncology department have raised the hospital's profile even higher in the mesothelioma community.
In addition to doctors Fontaine and Tanvetyanon, the other specialized talent in treating mesothelioma at the center includes thoracic surgeon Dr. Lary Robinson and immunologist and head of thoracic oncology Dr. Scott Antonia.
Connect with a Mesothelioma Doctor
Find a Top Specialist Near You