Asbestos Exposure & Bans
Canada Admits Using Asbestos in New Public Buildings
Fact Checked
Our fact-checking process begins with a thorough review of all sources to ensure they are high quality. Then we cross-check the facts with original medical or scientific reports published by those sources, or we validate the facts with reputable news organizations, medical and scientific experts and other health experts. Each page includes all sources for full transparency.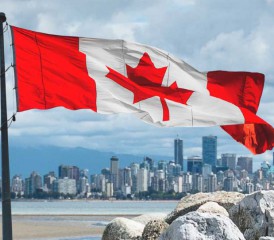 The argument to ban asbestos in Canada is growing stronger after government officials admitted using the carcinogen in the renovation and construction of federal buildings.
Members of the nation's trade union association also say the importation of asbestos-containing materials, specifically asbestos cement pipes installed in government buildings, is on the rise.
"That they're continuing to use a known carcinogen in the workplace is just unbelievable," said Laura Lozanski, occupational health and safety officer at the Canadian Association of University Teachers.
Government officials with Public Services and Procurement and the Canada Review Agency acknowledged the use of asbestos in federal buildings — even as the government is undergoing asbestos abatement projects — after the Canadian Broadcasting Corporation (CBC) news agency confirmed the findings.
Mesothelioma is a deadly cancer primarily caused by workplace exposure to asbestos. The news of the government's asbestos use is especially alarming because the number of new mesothelioma cases in Canada is on the rise.
Statistics Canada, a federal economic, social and census database, shows there were 560 new mesothelioma cases in 2012 (the latest figures) — a 67 percent increase from 2000.
Canadian Government Downplays Asbestos Dangers
More than 40 countries, including all members of the European Union, have banned asbestos. But its use in Canada is not forbidden. The U.S. government also hasn't banned asbestos despite repeated efforts.
Canadian government officials say asbestos can be used safely under controlled conditions.
"Its use is limited to non-friable forms (not easily broken into smaller pieces) and is strictly controlled under the Asbestos Products Regulations," Canada Revenue Agency spokesman Philippe Brideau told CBC.
But Lozanski refutes Brideau's claim.
"This continued putting forward that it's non-friable, and it's safe, is complete nonsense and should not be used by people who should know better," Lozanski said.
A 2015 report in the Globe and Mail shows Canada imported more than $100 million worth of asbestos brake pads and linings in the past decade and more than $250 million worth of raw asbestos or asbestos products during that time.
Canada also exports 96 percent of the mined mineral to Asian countries.
Unions, Health Advocates Push to Ban Asbestos
Canada Public Health Association Executive Director Ian Culbert doesn't believe "asbestos is a legal product for the building trades anymore."
"You'd think the federal government would be the last landlord to be using that kind of a product," Culbert said.
The World Health Organization (WHO) estimates more than 125 million people around the world are exposed to asbestos in the workplace annually.
WHO leaders recommend:
Banning all types of asbestos.
Replacing the mineral with safer products.
Taking steps to prevent exposure during abatement.
Improving early diagnosis and treatment.
Hassan Yussuff, president of the Canadian Labour Congress, the nation's trade union association, hopes the government "will do a serious review, and hopefully the labor minister will consider bringing in a unilateral ban on all forms of asbestos products that are having an impact on human health in this country."
As a minor step, unions want the Canadian government to create a public registry that identifies public buildings containing asbestos products.
Ban Asbestos Canada, a coalition of health, environmental and labor groups, sent a letter to Canadian Prime Minister Justin Trudeau asking to ban the use, export and import of asbestos-containing products.
"This practice needs to be ceased immediately," said Denis St-Jean, a national safety officer for the Public Service Alliance of Canada (PSAC). PSAC is part of Ban Asbestos Canada. "We're also asking that the use of any asbestos-containing material be withdrawn from any federally funded infrastructure projects from the federal government."
Some Canadian Government Officials Support Asbestos Ban
New Democratic Party Member of Parliament Sheri Benson asked lawmakers to put an end to asbestos use in new construction.
She says this is an opportunity for the federal government to play a leadership role and announce future projects will no longer use asbestos.
Minister of Public Services and Procurement Judy Foote said the government "will undertake a review to make sure that asbestos is not a product that's used on an on-going basis."
Maryann Mihychuk, federal minister of employment, workforce development and labor said Canada is "monitoring the situation."
"We're considering the ban, but we're not there yet."
Free Mesothelioma Resources
Get Access to Free Resources for Patients & Loved Ones