Treatment & Doctors
New Study: Mesothelioma Surgery Still Benefits Older Patients
Fact Checked
Our fact-checking process begins with a thorough review of all sources to ensure they are high quality. Then we cross-check the facts with original medical or scientific reports published by those sources, or we validate the facts with reputable news organizations, medical and scientific experts and other health experts. Each page includes all sources for full transparency.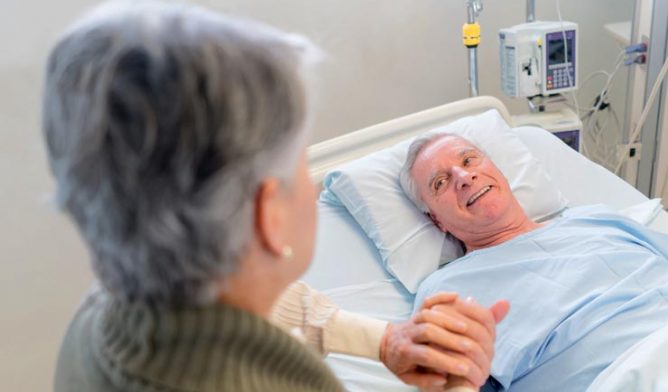 Older patients with pleural mesothelioma can double their chances of extending their survival rates by undergoing aggressive, potentially curative surgery, according to a recent national database analysis.
Age also should not be a deterrent to surgery, refuting the lingering myth that many mesothelioma patients are too old to benefit from these procedures.
"More and more, we've come to realize that age is just a number," thoracic surgeon Dr. Mark Berry at the Stanford University Medical Center told Asbestos.com. "Some patients at 75 are great candidates for surgery, and some younger than 55 are not so great. Age alone should not deter these patients from surgery."
Berry joined a handful of surgeons and oncologists from the Duke Cancer Center who tapped into the Surveillance, Epidemiology and End Results (SEER) national database to analyze 879 pleural mesothelioma patients and their treatment outcomes.
The goal: Determine how age impacts the potential benefits of surgery. Their hope was to provide clinicians and patients with evidence to help make more informed cancer treatment decisions.
The latest issue of Clinical Lung Cancer published the team's analysis.
What they found was somewhat surprising.
"The thing that surprised me a little was the magnitude of the benefit of surgery was kind of similar with the older group and the younger group," Berry said. "The midterm survival for the older group that had surgery almost doubled. I don't know if I would have expected that much improvement."
SEER Study on Mesothelioma Supports Earlier Findings
The age issue is particularly relevant to mesothelioma treatment because the disease most often is diagnosed early in retirement after years of occupational exposure to asbestos.
It is a rare and aggressive cancer that strikes an estimated 3,000 people in the U.S. annually. Almost 80 percent of those diagnosed with mesothelioma are 65 and older.
The recent analysis supported the earlier findings from the University of Chicago Medical Center, where thoracic surgeon Dr. Wickii Vigneswaran (now at Loyola University Medical Center) spoke adamantly in 2015 about the survival benefits of surgery older mesothelioma patients.
He believes oncologists often incorrectly advise their older patients that their age renders them ineligible for surgical consideration.
In a previous interview with Asbestos.com, Vigneswaran said "there has always been this tendency to say 'He's a little too old for surgery.'" But the fact is "if you're fit enough, regardless of age, you can benefit."
The recent SEER analysis supported his belief. The study included 879 patients from 2004-2010 who had stage I, II or III mesothelioma. Thirty-two percent of patients elected surgery.
Surgery was generally associated with better survival compared with nonsurgical management of the disease. One-year survival was 63 percent for those who had surgery and 44 percent for those who did not.
The three- and five-year survival rates for those who underwent surgery were 21 percent and 11 percent, respectively, and 8 percent and 3 percent for patients who did not.
The 30-day mortality of patients who did not receive surgery was 11.7 percent, compared to 4.3 percent for those who had surgery.
Long-Term Survival Rates Drop for Patients Age 80 and Older
Only 22 percent of patients 70 and over underwent surgery, compared to 46 percent of those under 70.
"Surgery was used a lot more with the younger cohort than the older cohort, but unfortunately, the long-term outcome for mesothelioma is pretty poor, even though surgery makes it better," Berry said. "The five-year survival numbers are still disappointing."
Survival rates for patients 70 and older (surgery, no surgery):
One-year survival: 59 percent, 38 percent
Three-year survival: 15 percent, 8 percent
Five-year survival: 3 percent, 1 percent
Survival rates for patients younger than 70 (surgery, no surgery):
One-year survival: 66 percent, 54 percent
Three-year survival: 25 percent, 17 percent
Five-year survival: 12 percent, 7 percent
For patients 80 and older, researchers found negligible benefits from surgery. Only 34 percent of those older than 80 survived one year and 4.3 percent lived for three years after surgery.
Berry emphasized the importance of a multidisciplinary care evaluation of all patients — including the elderly — to decide if surgery should be part of their treatment plan.
"I think progress is being made [with mesothelioma], although we haven't come up with anything that dramatically alters the outcomes," he said. "We've done a better job of picking the right treatment plan for each individual and selecting which patient will benefit from which treatment. We are doing better."
Medically Reviewed by Top Mesothelioma Doctors
Free Mesothelioma Guide