Critics of a proposed free trade agreement between the United States and the European Union believe the deal would undermine the
asbestos ban
that has existed in the EU since 2005. The Transatlantic Trade and Investment Partnership, also known as TTIP, has been under negotiations for three years. TTIP promises to bolster an already strong relationship between the U.S. and the 28-nation EU by boosting economic growth and adding to the more than 13 million American and EU jobs already supported by transatlantic trade and investment. But some European environmental and public health activists claim TTIP will threaten current asbestos restrictions and regulation, making it possible for U.S. companies to export asbestos-containing products to European countries. Exposure to asbestos is the
leading cause of mesothelioma
, and the carcinogen is also linked to lung cancer and other diseases. The U.S. is one of few major industrialized nations
without an asbestos ban
of the mineral in all its forms. Federal restrictions exist, but overall regulation is far less strict compared to EU countries. "The problem is many of the things we consider unhealthy or dangerous in the EU are considered safe or safe enough in the U.S. and Canada," David de Vreede, an air quality expert and member of the Dutch group Committee for Asbestos Victims, told Asbestos.com. This stricter process is called the precautionary system. In other words, EU countries don't have to be 100 percent sure to ban a substance that some deem dangerous. Despite insufficient scientific evidence, if a risk might exist, action can be taken. De Vreede and others who oppose TTIP are concerned the treaty would hinder and inhibit the EU to continue to regulate in accordance with the precautionary system. U.S.
asbestos manufacturers
can sue the federal government for legislation they deem inappropriate, unjustified or overreaching. In 1991, the Fifth Circuit Court of Appeals overturned the U.S. Environmental Protection Agency's
Asbestos Ban and Phase-Out Rule (ABPR)
after asbestos manufacturer Corrosion Proof Fittings won a landmark suit against the EPA. While the case resulted in several small victories for asbestos regulation, the EPA ultimately failed to put an end to asbestos use. "This system is not legal in the EU," de Vreede explained. "This system will be forced on us if the TTIP is approved."
Mixed Reactions to the TTIP Agreement in US & Europe
TTIP advocates believe the deal could fall apart if they do not secure a preliminary accord before President Barack Obama leaves office in January 2017. While they hoped a full agreement would be reached by the end of 2016, it is now clear that won't happen. Germany's vice chancellor Sigmar Gabriel told the Associated Press in August that free trade talks have already failed, citing a lack of progress on any of the major sections. Gabriel noted that in 14 rounds of talks, the two sides have failed to agree on a single common item of the 27 chapters being discussed. France has been especially critical of the deal, with trade minister Matthias Fekl suggesting negotiations should stop and President Francois Hollande saying he would not accept the deal in its current form. Britain's new international trade secretary supports TTIP and said the government will continue to push it forward despite the United Kingdom's decision to leave the EU. "While we remain in the EU, we will continue to push all free trade agreements possible because we believe in global trade liberalization," Liam Fox told the House of Commons. Britain can't begin discussing its own free trade agreements with other countries until it officially leaves the EU, which analysts say could take two to five years. U.S. and Italian officials are now weighing a deal to lock in elements of TTIP before the end of the year, according to Politico.eu. The deal could possibly include joint testing regimes and mutually agreed upon standards for cars, pharmaceuticals and medical devices. TTIP also has broad support from Poland, Denmark, Finland, Sweden and the Baltic states.
Status of Canadian Asbestos Ban & CETA
Another treaty causing concern involves the EU and Canada, called the Comprehensive Economic and Trade Agreement, or CETA. This treaty is further along than TTIP and has a better outlook, with adopted texts already proposed to the Council of the EU.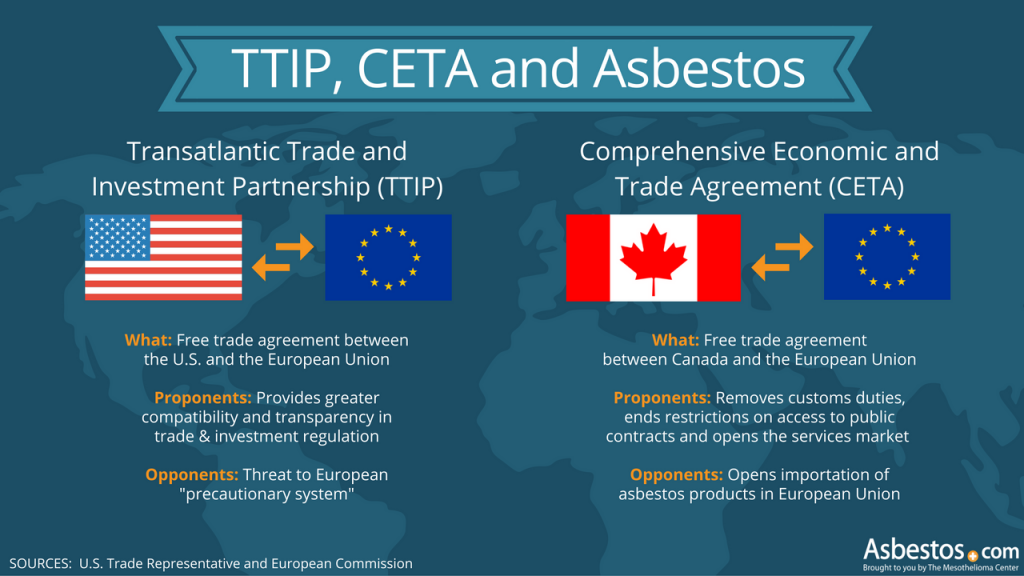 If approved, it will be possible to provisionally apply CETA. A full conclusion won't come until the council has the consent of the European Parliament and by all EU member states through the relevant national ratification procedures. According to the European Commission, which adopted the texts, the trade deal aims to "remove customs duties, end restrictions on access to public contracts, open-up the services market, offer predictable conditions for investors and help prevent illegal copying of EU innovations and traditional products." It also promises to fully uphold Europe's standards in areas such as food safety and worker's rights and that economic gains won't come at the expense of democracy, the environment or consumers' health and safety. But as with TTIP, European activists feel this will deregulate the import of potentially harmful goods, including products containing asbestos. Along with the U.S., Canada does not have a full asbestos ban. Canada stopped mining asbestos in 2011 and until recently was one of the world's largest exporters of the known carcinogen, with 96 percent of the mined mineral going to Asian countries. Canada also has one of the
highest mesothelioma cancer rates
in the world. The Canadian government
spends about $1.7 billion
annually on asbestos-related cancers stemming from occupational exposure, according to a recent Institute for Work & Health study. "This [annual expenditure] is really just the tip of the iceberg," Institute for Work & Health senior scientist Dr. Emile Tompa told Asbestos.com in June. "When you see the magnitude of the cost, it makes you aware there is a need to take action." Canadian Prime Minister Justin Trudeau recently announced the government's commitment to
moving forward on an asbestos ban
. "We know that its impact on workers far outweighs any benefits that it might provide," Trudeau said. But with Canada's deep roots in asbestos production and exporting, many Europeans are fearful the passing of CETA could open up pathways for the toxic mineral to enter the EU. Joyce Matthijssen, a lawyer at the Committee for Asbestos Victims in the Netherlands, said neither CETA nor TTIP should put a stop on the ban on asbestos in the EU due to the union's "jurisdiction to autonomously stipulate protective standards." "These standards are only allowed when the need of those protective standards can be scientifically substantiated," Matthijssen told Asbestos.com. "It's been known for decades that asbestos poses a risk to health and this is also confirmed by various scientific studies." However, there could be a problem with the enforcement of the ban because the treaties aim for free movement of trade. "This could mean that the goods that are imported from Canada and the U.S. are not being checked for the presence of asbestos when they enter the EU," Matthijssen said. "In this way, goods containing asbestos may still end up in the European market."