Research & Clinical Trials
New Lung Cancer Study May Improve Mesothelioma Therapy
Fact Checked
Our fact-checking process begins with a thorough review of all sources to ensure they are high quality. Then we cross-check the facts with original medical or scientific reports published by those sources, or we validate the facts with reputable news organizations, medical and scientific experts and other health experts. Each page includes all sources for full transparency.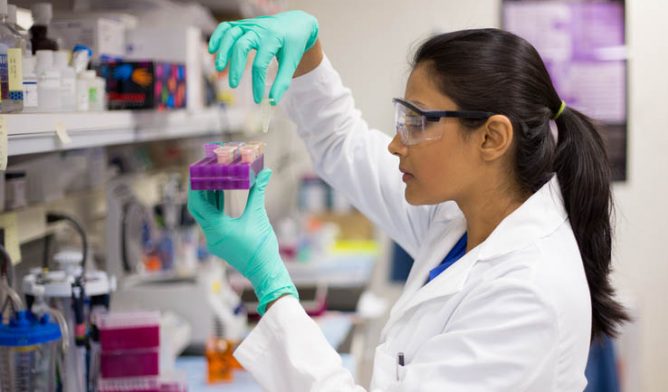 New insight into the gene responsible for the most aggressive subtype of non-small cell lung cancer (NSCLC) could bring hope for mesothelioma patients.
Researchers from UT Southwestern Medical Center identified a new way to target lung cancer through the Kirsten rat sarcoma viral oncogene homolog, also known as the KRAS gene.
Tumors that carry a mutation in this gene account for about 30 percent of lung cancer cases, which are usually aggressive with a poor prognosis.
Prior to the study, scientists had difficulty targeting the gene.
The KRAS gene produces proteins called K-Ras, which influence cell division. Mutations in K-Ras can result in normal cells dividing uncontrollably and turning cancerous.
This is an example of an epidermal growth factor receptor (EGFR).
EGFR is involved with the pathogenesis of malignant pleural mesothelioma (MPM), the most common form of mesothelioma.
While the study focused on lung cancer, new breakthroughs targeting mutated genes and cancer cells are beneficial to future treatments of mesothelioma, which is equally as aggressive as NSCLC.
Significance of Mutation Analysis in Mesothelioma Treatments
Asbestos exposure activates EGFR; however, because it is produced by a variety of cancers, it cannot be used to diagnose mesothelioma.
Advances with anti-EGFR drugs and targeted treatments can be significant in future treatments of pleural mesothelioma patients. Molecular profiling is essential for some pleural mesothelioma patients who may respond to anti-EGFR therapies.
The British Journal of Cancer in 2013 published a study that investigated the presence and frequency of EGFR gene mutations in pleural mesothelioma patients.
Researchers found EGFR downstream pathways are not rare in malignant pleural mesothelioma patients, and although none found in the study "seemed to be prognostically significant, they may support a more specific selection of patients for future trials."
Findings Show Fatty Acids Play Key Role in Lung Cancer
UT Southwestern researchers determined enzymatic activity from the Fatty-Acid-Coenzyme A Ligase Long-Chain 3, or ACSL3 gene, is essential for the mutated KRAS genes to survive. Suppressing the ACSL3 gene causes these lung cancer cells to die.
Dr. Mahesh S. Padanad, first author and part of the UT Southwestern team, wrote in the study that "there is an urgent need for discovery of additional targets that inhibit lipid metabolism in cancer cells that could lead to targeted therapies: the discovery of the importance of ACSL3 in lung cancer meets this unmet need."
To understand the biological significance of ACSL3 in lung cancer, researchers studied several complementary approaches, including cell lines, mice and human patient tumor samples.
Scientific journal Cell Reports published the study in August. The American Cancer Society Research Scholar grant, Cancer Prevention and Research Institute of Texas (CPRIT), UT Southwestern Friends of the Comprehensive Cancer Center and other research grants supported the study.
Clinical Trial Shows Success in KRAS Treatment
A recent collaboration at 67 medical centers and clinics in 12 countries reported some success in treatment of KRAS-mutant cancers using a compound of standard chemotherapy agent Docetaxel in combination with Selumetinib.
"A combination of chemotherapy and Selumetinib is significantly better than chemotherapy alone for this group of patients – better in terms of tumor response to therapy and in terms of survival times prior to advance of the disease," Dr. Pasi A. Janne, a practicing oncologist and researcher at the Lowe Center for Thoracic Oncology, told Asebstos.com. "It suggests that for the first time we may have an effective treatment for KRAS-mutant lung cancer, which is the largest single subtype of the disease."
The clinical trial found Selumetinib, manufactured by AstraZeneca, plus docetaxel has promising effectiveness but with a "higher number of adverse events than with docetaxel alone."
Researchers said the findings warrant further clinical investigation.
Connect with a Mesothelioma Doctor
Find a Top Specialist Near You