Treatment & Doctors
Early Palliative Care Improves Mesothelioma Prognosis
Fact Checked
Our fact-checking process begins with a thorough review of all sources to ensure they are high quality. Then we cross-check the facts with original medical or scientific reports published by those sources, or we validate the facts with reputable news organizations, medical and scientific experts and other health experts. Each page includes all sources for full transparency.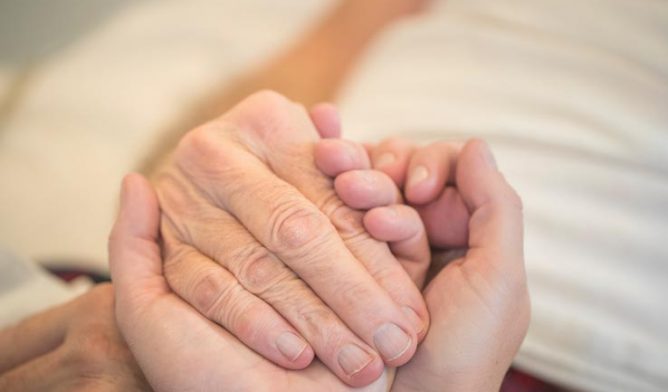 Mesothelioma cancer patients can live longer and better lives if they begin palliative care sooner, according to a multidisciplinary panel of experts convened by the American Society of Clinical Oncology (ASCO).
The panel recommended that palliative care options should be explored almost immediately after diagnosis of mesothelioma, a rare and aggressive cancer with no definitive cure.
"The sooner the better," Betty Ferrell, director of the Division of Nursing Research and Education at City of Hope Medical Center in Los Angeles, told Asbestos.com. "The evidence is strong."
Ferrell, who has 35 years of experience as an oncology nurse and researcher, is the lead author of the new ASCO guidelines on palliative care published recently in the Journal of Clinical Oncology.
Palliative care, or supportive care, for cancer patients is defined typically as care that focuses on quality of life and relieving symptoms caused by the disease or side effects from the medications used to treat the condition.
"The message in the new guidelines is that palliative care can benefit a patient and the family caregivers tremendously," Ferrell said. "Not only does it help with symptom management and quality of life concerns, but patients actually do better with treatment, stay on treatment and live longer."
Guidelines of Palliative Care for Cancer Patients
According to the guidelines, palliative care for optimal effectiveness should begin with diagnosis of disease, be delivered concurrent with active treatment, include family and friend caregivers and performed by a multidisciplinary palliative care team in outpatient and inpatient settings.
Palliative care, according to the guidelines, should include:
Coordination with other care providers
Assistance with medical decision-making
Building relationships with patients and family caregivers
Helpful referrals to other care providers when necessary
Education and understanding about illness and prognosis
Clarification of treatment goals
Assessment and support of coping needs
Symptom, distress, and functional status management
Changes and Updates in Palliative Guidelines
The guidelines were given a significant refresh from 2012, reflecting changing evidence and reinforcing the integration of palliative care into standard cancer care for all patients.
The expert panel reviewed numerous randomized clinical trials, including one by the National Cancer Institute Physicians Data Query and peer-reviewed publications from across the nation.
"The more we studied, the more surprised with were by the strength of the information. Study after study found the same things," Ferrell said. "Four years ago, there were a lot of 'should' and 'may consider' in the papers, but this time, it was much more definitive. This really needs to happen."
Unfortunately, the panel also found that far too often, there were lengthy delays in starting palliative care, denying patients the full benefit of a valuable and available resource.
"There still are misconceptions that palliative care means end-of-life care. There still is a strong association with hospice care. It's one of the biggest barriers we face," she said. "And because of that, sometimes when an oncologist suggests the options, the patient or family is 'No, no, no, not me, we're not there yet.'"
City of Hope Is Leading the Way in Palliative Care
In 2015, the Journal of Pain Symptom Management published a groundbreaking paper penned by City of Hope researchers that offered similar beliefs. They included:
Family caregivers benefit from — and need — palliative care assistance as much as the patients.
Palliative care goes far beyond pain management and includes spiritual, psychological and physical assistance.
Palliative care provides clear benefits at the earliest stages of disease, and should be used long before end-of-life care.
The journal Cancer published a study from researchers at the MD Anderson Cancer Center in 2014 that also detailed the positives of early palliative care. They found that early referrals were associated with fewer hospitalizations, emergency room visits, intensive care admissions and hospital deaths.
Researchers in that study showed more than half of all cancer patients didn't take full advantage of palliative care. They cited a lack of availability, a misunderstanding among medical staff and a giving-up stigma sometimes attached to palliative care as the three biggest problems.
Ferrell believes the acceptance of palliative care among the medical community has grown considerably in recent years. Almost all large cancer centers now have multidisciplinary palliative care programs.
However, it still takes a patient or the family to make sure it starts as soon as possible.
"I put the responsibility on the professionals here. A patient has enough to be worried about in a complex health care system. But sometimes a patient has to be his own advocate, or the family needs to advocate for him," she said. "A family should not hesitate to be strong advocate when it comes palliative care. It's so important."
Medically Reviewed by Top Mesothelioma Doctors
Free Mesothelioma Guide