Research & Clinical Trials
Future of Mesothelioma Research Lies in Growing Tissue Bank
Fact Checked
Our fact-checking process begins with a thorough review of all sources to ensure they are high quality. Then we cross-check the facts with original medical or scientific reports published by those sources, or we validate the facts with reputable news organizations, medical and scientific experts and other health experts. Each page includes all sources for full transparency.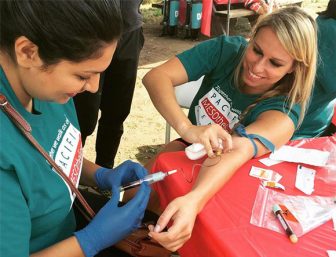 A year after establishing its own tissue bank, the Pacific Heart, Lung & Blood Institute (PHLBI) in California is looking for additional funding and tissue samples to continue research of pleural mesothelioma and other diseases.
Currently, there isn't an international bank for the collection of tissue.
"We eventually want to be in a position where we can help other researchers around the world," Clare Cameron, the executive director of PHLBI told Asbestos.com. "We hope that we'll get to that point where people will come to us for tissue, but we're a long way from that right now."
On Wednesday, the PHLBI will host its annual open house event at its Santa Monica lab. The event is a way to invite patients and their family members as well as people with a history of asbestos exposure to get a tour of the lab and find out more about the services the PHLBI offers.
"This year we'll actually be able to take blood, buccal swabs and urine samples," Cameron said. "We're hoping to be quite successful and hope people will come and feel good about donating to the international tissue bank."
Collecting Tissue Samples
The PHLBI established the tissue bank in December 2015.
The bank operates in conjunction with UCLA and Dr. Robert Cameron, the director of thoracic surgery at the Ronald Reagan UCLA Medical Center. Cameron is also the senior medical adviser for the Pacific Mesothelioma Center, a specialized center within PHLBI.
"Dr. Cameron is one of the senior surgeons at UCLA and does a lot of mesothelioma operations there," Clare Cameron said. "We're constantly having a flow of tissues that come from these surgeries."
In the past year, PHLBI's tissue bank has collected samples from diseased and nondiseased participants, but there is plenty of room for growth, and it starts with more funding and sample donations on a national level.
In addition to planned research projects for mesothelioma, the PHLBI will use the tissue bank to research esophageal cancer, lung cancer and thymoma.
"We're calling this MELT, because wouldn't it be nice to melt away these cancers one day," Clare Cameron said during a presentation about tissue banking at the 6th International Symposium on Malignant Pleural Mesothelioma, held Sept. 24 in Los Angeles.
The Importance of a Tissue Bank
The PHLBI bank is the first unlimited tissue bank in the U.S., meaning it accepts tissue samples from patients of all types as well as samples from healthy participants.
Tissue samples include blood, urine, buccal swab (a way to collect DNA from a person's cheek), sputum (saliva and mucus coughed up from respiratory tract), exhaled breath, tumors and pleural and pericardial fluid.
Additionally, detailed information from each participant, such as age, gender, medical history and history of exposure (asbestos, smoking, etc.), is critical to make progress and find cures.
Cameron noted that cardiovascular disease and cancer are the leading causes of death in the U.S. and that a tissue bank is needed to study:
The normal biology of diseases
The natural history of diseases
Outcomes from current treatments
Advantages and disadvantages of potential future novel therapies
The secondary objective of the PHLBI is to act as a clinical data and tissue depository for collaborating with investigators worldwide. PHLBI already has a working relationship with UCLA, but they are currently working to extend the relationship to the West Los Angeles Veterans Affairs division.
The two most prominent mesothelioma-focused banks are the National Mesothelioma Virtual Bank (NMVB) at the University of Pittsburgh, which is funded by the Centers for Disease Control, and the U.K. Biobank, which is the largest collection of biometric and health data in the world.
An Expensive but Necessary Resource
Collecting specimens from outside banks is expensive and time consuming, so having an internal tissue bank is an invaluable resource for the medical community.
"We can't really go out and afford to buy this tissue because it's terribly, terribly expensive," Cameron said. "Since we're associated with UCLA and have the Punch Worthington Lab at UCLA, we thought why not see if we can share some of the tissue from UCLA, and that way, it will prevent us from having to go out and pay for the tissue."
Many tissue banks rely on federal funding. In 2013, the CDC and the National Institute of Occupational Safety and Health (NIOSH) eliminated the annual grant from the NMVB.
In February, NIOSH announced a $5.5 million grant to continue funding the NMVB through 2021.
As a small nonprofit with few resources, the PHLBI relies on philanthropic support of individuals to continue developing new treatment approaches and research future treatment breakthroughs.
Awareness Will Increase Tissue Donations
Receiving tissue samples from UCLA is an important first step to growing the tissue bank, but the PHLBI is currently seeking samples from outside sources. Cameron noted that anyone is able to donate, regardless of where they live.
"Many people are not aware that they can do that, so we have to get the word out," she said. "There might be people in Texas, on the east coast or in the middle of the country who can send us their samples and information and help us with our research."
The PHLBI is currently in the process of promoting its presentations from the recent International Symposium of Malignant Pleural Mesothelioma, all in an effort to stress the importance of the tissue bank and need for more resources.
The Future of Mesothelioma Research
PHLBI researchers are now developing new mesenchymal stem cell-based treatments modeled under recent clinical breakthroughs in combination immunotherapy for cancer.
Mesenchymal stem cells are harvested from donated bone marrow, term placentas, umbilical cord blood and fat tissue.
Cameron said UCLA Medical Center is also a valuable resource for placenta samples for the mesenchymal research.
"We have an intellectual property out that will be filed next year," Cameron said. "We can't say much about that, but we're really hopeful that we're on the right track with mesenchymal stem cells."
At the symposium, Cameron used data from a U.K. Biobank study to stress the need for prospective studies to be large. The more specimens collected, the more precise the research will be.
"The tissue bank is for us at this stage to help with our mesenchymal cell research program, and then as we build it, and as we grow and get more money, our long-term goal is to go into clinical trials," she said. "We hope to collect more samples from people exposed to asbestos, both with and without asbestos-related diseases."
Do You Want to Donate Tissue Samples?
Anyone 18 and older with or without diseases of the lung, heart or blood is eligible to donate blood, urine, saliva or tissue specimens for research. All participants become "associate researchers" and receive a button for donating.
People interested in participating can contact nurse practitioner Lien Hau-Feng at 310-474-8223. Monetary donations can be made by visiting the PHLBI website.
Connect with a Mesothelioma Doctor
Find a Top Specialist Near You