Asbestos Exposure & Bans
Mental Health Issues Plague Mr. Fluffy Homeowners
Fact Checked
Our fact-checking process begins with a thorough review of all sources to ensure they are high quality. Then we cross-check the facts with original medical or scientific reports published by those sources, or we validate the facts with reputable news organizations, medical and scientific experts and other health experts. Each page includes all sources for full transparency.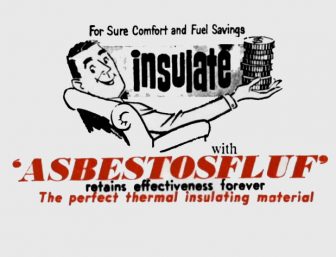 While the physical symptoms of deadly asbestos contamination can take decades to develop, some Australian homeowners are feeling a more immediate and sometimes lethal form of repercussions.
An Australian government survey reveals a quarter of homeowners affected by the ongoing Mr. Fluffy asbestos crisis in Canberra have mental health issues, some as serious as suicide, according to the Canberra Times.
The government buyback and demolition program of more than a 1,000 homes containing asbestos-laden Mr. Fluffy insulation is ongoing. Asbestos is the leading cause of mesothelioma, an incurable cancer.
"The survey indicated that some people living in a Mr. Fluffy house have experienced levels of psychological distress," a brief on the government report states.
Carrie-Ann Leeson, the chief executive of suicide prevention organization Lifeline Canberra said: "We do know that on the phones and through our face-to-face support groups and our education programs here in Canberra, that a very large number of Mr. Fluffy homeowners were suffering from suicidal thoughts — and still are."
Pressure on Mr. Fluffy Homeowners Began Three Years Ago
Distress for homeowners began in 2014 when the Australian Capital Territory Government (ACT) announced homes originally deemed safe after a national asbestos cleanup in the 1980s were now considered toxic.
More than 1,000 homeowners received letters warning them of the possible dangers of asbestos exposure.
Later that year, the Commonwealth of Australia offered the ACT a $1 billion loan to compensate victims.
The government task force used the funds to organize a buyback and demolition program to take place over a five-year period.
Canberra Residents' Calls Led to Alarm
Leeson expressed concern over calls that came in to the Lifeline phone center, calling them "troubling."
She said the rate of suicide was hard to quantify because ACT lacked a regular coroner, and the process of determining the cause of death varied.
NRMA Insurance reported receiving hundreds of calls from distressed Mr. Fluffy homeowners.
Up to that time, the Lifeline-NRMA partnership programs enabled them to service only 250 people.
Leeson called that the "tip of the iceberg" and said they weren't meeting the demand.
Australian Government Steps Up Assistance
Leeson said the ACT Asbestos Response Taskforce, a governmental body managing the home crisis, was slow to answer the dilemma.
In 2015, Leeson approached ACT, appealing for more funds to meet the needs of the impacted homeowners, but she was denied.
A spokesman for ACT said support already existed through their partnership with a number of other organizations.
Lifeline already receives $225,000 a year from ACT, as well as partnering with NRMA Insurance, which provided funds to offer education programs and crisis support to Mr. Fluffy homeowners.
The government recently announced mental health-focused services, established as part of ACT to address this pressing need among displaced homeowners.
"One key role of the new Office for Mental Health will be to establish a clear picture of the prevalence of mental health concerns, suicide attempts and the demand for suicide prevention services in the ACT so that we can ensure we are meeting the needs of our community," Minister for Mental Health Shane Rattenbury said.
Mr. Fluffy History, Impact and Resources
In the 1960s and 1970s, the Mr. Fluffy company marketed "Asbestosfluf" insulation, named for its light and fluffy appearance.
The insulation was pumped into attics and walls of homes and buildings throughout Canberra and New South Wales, promising to offer customers long-lasting and maximum insulating properties.
An Australian health official proclaimed the product dangerous in the 1960s, but the warning was mostly ignored. Use of the product continued for more than 11 years.
In addition to the buyback and demolition program, the ACT task force contracted the Australian National University to conduct an ACT Asbestos Health Study which included the information about the mental health issues.
The final report of the study hasn't been released.
Rattenbury claims the new government mental health services show "a clear commitment to greater investment in the mental health and well-being of our community."
Historically, asbestos contamination not only takes a toll on victims physically but also mentally.
The amount of people exposed to asbestos vastly exceeds those who actually receive a mesothelioma diagnosis.
For people learning of their exposure and the possible deadly consequences, this knowledge presents an alarming situation that might produce anxiety, depression and fear.
If you think you may have asbestos in your home, take a look at The Mesothelioma Center's Asbestos Guide, which may contain answers to some of your questions.
Free Mesothelioma Resources
Get Access to Free Resources for Patients & Loved Ones