Research & Clinical Trials
Mesothelioma Study Using Fitbit to Monitor Patient Recovery
Fact Checked
Our fact-checking process begins with a thorough review of all sources to ensure they are high quality. Then we cross-check the facts with original medical or scientific reports published by those sources, or we validate the facts with reputable news organizations, medical and scientific experts and other health experts. Each page includes all sources for full transparency.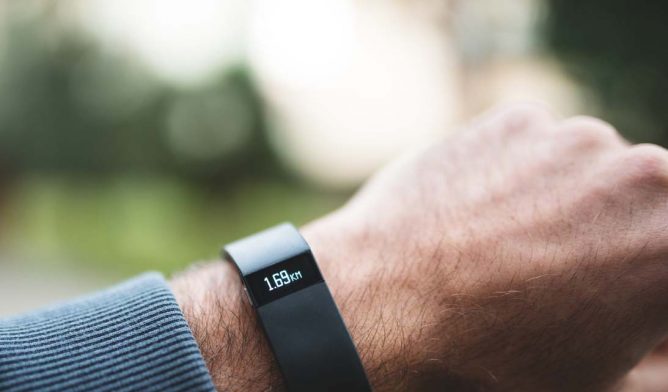 Millions of Americans use Fitbit devices to track their daily activities, exercise and sleep patterns.
But a student intern at the Pacific Heart, Lung & Blood Institute (PHLBI) in California is using the popular fitness tracker for a different purpose — as a tool to measure postsurgery recovery for mesothelioma patients.
Blair Kimble, a third-year undergraduate student at UCLA, is leading the latest clinical research project for the Pacific Mesothelioma Center (PCM), a division of PHLBI. Kimble is working closely with mesothelioma surgeon Dr. Robert Cameron, the scientific advisor at PHLBI.
The study investigates some of first quantitative measures of postoperative mesothelioma patient recovery using Fitbit wristbands to collect data about a patient's walking habits, heart rate and sleep patterns before and after surgery.
"Using their data from before surgery as a baseline for their activity, we are then able to track how quickly they return to that normal baseline after surgery," Kimble wrote in a PHLBI blog post explaining the study.
The overall goal of the project is to use the Fitbit devices to motivate patients to return to presurgery physical activity levels, according to Dr. Raymond Wong, PHLBI lead researcher and head of the intern program.
"This could ultimately result in shorter hospital stays on average and the use of Fitbit trackers as standard postsurgery monitoring," Wong told Asbestos.com.
Patient Recovery Is Under Investigated
As mesothelioma research continues to grow in the scientific community, the area of patient recovery remains largely untapped.
Many clinical trials evaluate patient life expectancy following surgery or other treatments but not how well a patient responds to surgery. A "smooth" recovery is measured by how quickly a patient can return to their daily life.
"The comfort and recovery of a patient is a top priority for physicians, but the amount of time available every day to evaluate that recovery is incredibly limited," Kimble wrote. "In having such a small window in which to evaluate a patient's progress, a physician may not be able to see everything relevant."
By using the Fitbit devices, Kimble and her team are able to monitor patients day and night, before and after surgery.
This type of evaluation is more comprehensive than any physician or at-home caregiver can provide.
"Until now, recovery has been evaluated subjectively, but with objective data, we may be able to correlate certain kinds of physiological factors with a faster discharge from the hospital and smooth recovery after going home from the hospital," Kimble wrote.
Type of Procedure Varies Recovery Time
A hospital stay of up to two weeks is common for most mesothelioma surgeries, but recovery doesn't end when a patient leaves the hospital.
Recovery at home can last from as little as a month to as long as a year and depends on a variety of factors, including:
Type and Stage of the Cancer: Someone with pleural mesothelioma will deal with different issues following surgery than someone will with peritoneal. Minimal bleeding, fatigue and pain around the incision area are common side effects of all mesothelioma surgeries.
Aggressiveness of Procedure: Noninvasive or minimally invasive surgeries often lead to quicker recovery compared to radical procedures such as extrapleural pneumonectomy (EPP), where surgeons remove an entire lung.
Age and Overall Health: A patient's age can have a significant effect on their recovery. Older patients may be weaker or be dealing with other health conditions that make recovery more difficult compared to a younger patient with a strong immune system.
Full recovery from EPP usually takes eight weeks but may extend to three months or four months. Recovery from the lung-sparing pleurectomy/decortication (P/D) typically ranges from four weeks to six weeks.
Recovery from heated intraperitoneal chemotherapy (HIPEC) — a common option for peritoneal mesothelioma patients that combines surgery with heated chemotherapy — ranges from six months to a year.
Mesothelioma Fitbit Study in Early Stages
Kimble and her team are currently in the pilot portion of the patient recovery study, making sure the data collected is accurate.
From there, the research will move to a randomized trial where some patients will get access to their Fitbit data and others will not.
"This will allow us to compare the pace of recovery between those who get feedback and those who [do] not and hopefully show that the quantitative data is motivating for patients," Kimble wrote.
It is difficult for the body to recover from surgery, but the emotional toll can be just as hard.
Mesothelioma patients experience a range of emotions following surgery. Keeping a positive attitude and a strong support system can actually lead to a smoother recovery.
Eating healthy, exercising regularly and joining a support group can help patients achieve a higher quality of life and make it easier to deal with feelings of sadness, anxiousness and fear.
By using Fitbit devices or other activity trackers, mesothelioma patients can see real-time results from their recovery process.
"We hope to ultimately demonstrate that with an activity monitor, we can help patients recover to their own baseline of activity faster and return to their daily life," Kimble wrote.
Students Are the Future of Mesothelioma Research
PHLBI is at the forefront of giving students the opportunity to lead mesothelioma clinical research projects.
The student intern program began in 2015 and allows students from Los Angeles-area colleges and universities to receive on-site training at PHLBI's in-house laboratory. Interns range from undergraduates to doctorates.
"All of our student interns are aspiring medical doctors and come from nearby universities, UCLA and Loyola Marymount University," Wong said. "In addition to gaining valuable early career experience in medical science, our interns also receive academic credit or financial assistance through their federal/state work-study grants."
As a small nonprofit, PHLBI relies on the help of student interns to assist Wong with a variety of projects, including the core mission of conducting cancer immunotherapy research.
Former intern Dr. Steven Ching, a recent graduate of UCLA medical school, helped develop the digital tracking infrastructure of PHLBI's growing tissue bank. Ching also provided pilot research on an improved prototype of a chest-tube drainage device and optimized a laboratory protocol for cryotherapy, or the process of killing cancer cells by exposing them to extreme cold.
PHLBI currently employs 11 interns, eight of who are women — a historically underrepresented demographic in scientific research, Wong says.
"Our interns have become a valuable asset to the PMC research programs," Wong said. "Their experience here will surely lead them toward becoming more adept medical doctors in the future."
Connect with a Mesothelioma Doctor
Find a Top Specialist Near You