Research & Clinical Trials
Using Viruses to Boost Mesothelioma Immunotherapy
Fact Checked
Our fact-checking process begins with a thorough review of all sources to ensure they are high quality. Then we cross-check the facts with original medical or scientific reports published by those sources, or we validate the facts with reputable news organizations, medical and scientific experts and other health experts. Each page includes all sources for full transparency.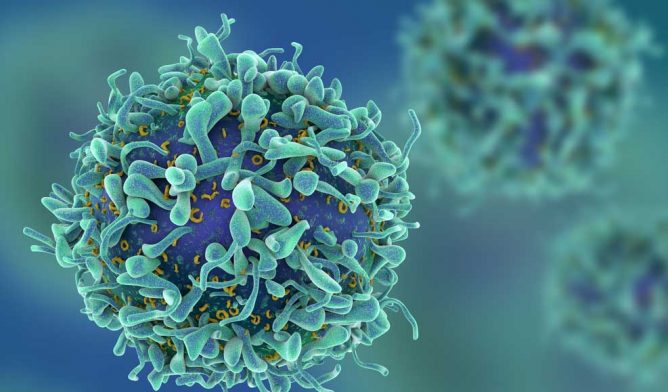 Immunotherapy through clinical trials is becoming a promising treatment option for some mesothelioma patients.
Checkpoint inhibitor drugs, such as Keytruda, already have U.S. Food and Drug Administration (FDA) approval as first-line treatments for non-small cell lung cancer (NSCLC), edging immunotherapy drugs closer to becoming a viable second-line therapy for other thoracic cancers, including pleural mesothelioma.
However, overall response to immune therapies remains relatively low.
Researchers across the country are striving to enhance responsiveness to immunotherapy drugs. Leading that trend is viroimmunotherapy, or the process of combining cancer-killing (oncolytic) viruses with immunotherapy drugs.
Dr. Manish Patel, an assistant professor in the division of hematology, oncology and transplantation at the University of Minnesota, has studied the potential of virus therapy for mesothelioma for several years.
His research led to an ongoing clinical trial at the Mayo Clinic in Rochester, Minnesota, investigating the side effects and optimal dosage levels of using a genetically altered measles virus to kill mesothelioma tumor cells.
Patel and Dr. Alexander Dash of Macalester College in St. Paul, Minnesota, recently published a paper in the journal Biomedicines that analyzes measles and other oncolytic viruses as potential viroimmunotherapy treatments for pleural mesothelioma and other thoracic cancers.
As research continues, Patel believes the day of using viruses to increase the efficacy of immunotherapy drugs is not as far off as some may think.
"I think as we go down the line of combining with checkpoint blockade and looking at different viruses, we may see that we start seeing more efficacy; however, for mesothelioma, that may take a few years," Patel told Asbestos.com. "We've got the measles virus that really is going to be in phase II testing now, and so I think if we're able to demonstrate efficacy in that study, we may well be able to get an FDA indication in the next two to three years."
Viruses Help the Immune System Recognize Tumors
Immune checkpoint inhibitors, such as pembrolizumab (Keytruda), allow the immune system to fight cancer cells by negating the PD-L1 protein, which usually prevents an immune response.
A recent clinical trial showed significant tumor reduction in more than half of pleural mesothelioma patients given pembrolizumab as a second-line therapy. The FDA recently expanded approval for pembrolizumab after the drug nearly doubled the effectiveness in patients diagnosed with NSCLC.
"I suspect that immune checkpoint blockade will be approved for mesothelioma as well once we get more information," Patel said. "In fact, we're already using [immune checkpoint inhibitors] as an off-label for many patients."
But, irrespective of tumor type, only a small percentage of patients can respond to the therapy.
Through immunotherapy results of melanoma and lung cancer, researchers have found that response likely depends on the ability of the patient's own immune system to recognize the tumor as foreign.
"Depending on which tumor type, it's somewhere between 15 to 30 percent of patients who will respond to checkpoint blockade," Patel said. "And if you do respond, usually that response is quite durable."
The goal now becomes getting a better response to immunotherapy.
As foreign pathogens, viruses can recreate the ability to recognize a tumor by bringing immune cells into the tumor microenvironment. Researchers also know that some viruses can directly kill cancer cells and stimulate an immune reaction around the cancer cells.
"When tumors die, they release antigens that can be recognized by immune cells. So it increases the chance that you have a T-cell that now recognizes the tumor," Patel explained. "Those are now tumor-specific immune responses that could potentially be long lived."
Viruses can also increase the cancer cell expression of PDL-1.
"I think all of those things conspire together to show that this is probably going to be a good way to activate the immune system, making the immune cells recognize that there's a tumor there," Patel said. "Then, if we block PDL-1, you'll have a much better chance of getting an active immune response."
Using Viruses to Fight Mesothelioma
The concept of virotherapy, or using viruses to attack cancer cells, is nothing new. But Patel and other researchers are focused on finding viruses that kill tumor cells as well as induce an enhanced immune response to the cancerous tissue.
Although the measles virus is the most studied in this area, it presents some challenges. The virus was a serious problem in America until an infant vaccine eliminated much of the concern.
"Because people have antibodies against the measles virus, it's very difficult to get that virus to where you want it to go," Patel said.
In their recent study, Patel and Dash evaluated other viruses and their potential as a treatment against thoracic cancers, including vesicular stomatitis virus (VSV).
"Part of the interest in that one is, unlike the measles virus, most people have never been exposed to VSV," Patel said. "It's mainly a virus that affects animals, specifically livestock, so that whole problem with the antibodies is not really there with VSV."
A separate study showed VSV was not only effective in killing cancer cells in mice with mesothelioma tumors, but also raised the immune response of the mice against the tumors.
"The activity of it was really dependent on the immune system," Patel said. "So now you have a system in which the virus is not only directly killing the cells but also raising immune response. It is an exciting finding, particularly in today's oncology landscape."
Aggressiveness of Mesothelioma Presents Challenges
The overarching challenge facing virotherapy and all potential mesothelioma treatments is how fast the cancer spreads.
Mesothelioma is often diagnosed in the later stages when tumors have spread outside the point of origin and possibly to other parts of the body.
Currently, Patel and his colleagues are focused on intratumoral injections, which involve inoculating the tumors with the viruses directly. The potential downside of this selective approach is if the tumors are widespread.
"Is there enough infection going on? Is there enough replication going on? And is there enough viroimmune response to really get at the whole body burden of cancer? I think those are some questions we're working on," Patel said. "If a patient has a metastatic tumor, or widely spread cancer, you may infect just some of those cancer cells. And is that going to be enough to create a whole systemic response?"
Another question being addressed is how to improve the delivery of a virus to a broad variety of spots affected.
Patel and other investigators are looking at using cells to help carry the virus.
"We know for sure that there's another virus called Rio Virus that gets carried along with immune cells in the bloodstream, which we don't seem to see with some of these other viruses but at the same time there are potentially different strategies that could be used to deliver the virus to where we want it to go," Patel said.
Perhaps the biggest challenge facing researchers is the development process.
Developing new drugs is costly and time consuming. For mesothelioma, the rarity of the disease is a challenge in itself, as it is difficult to conduct a large enough clinical trial.
"Anytime we make a change to the baseline virus, it has to go through the whole development pathway all over again. "We have way more ideas than we have time to develop into a useful drug. So that's another major challenge — to determine which viruses to stick with because the process is lengthy."
Connect with a Mesothelioma Doctor
Find a Top Specialist Near You