Research & Clinical Trials
Time Between Surgeries Helps Predict Mesothelioma Survival
Fact Checked
Our fact-checking process begins with a thorough review of all sources to ensure they are high quality. Then we cross-check the facts with original medical or scientific reports published by those sources, or we validate the facts with reputable news organizations, medical and scientific experts and other health experts. Each page includes all sources for full transparency.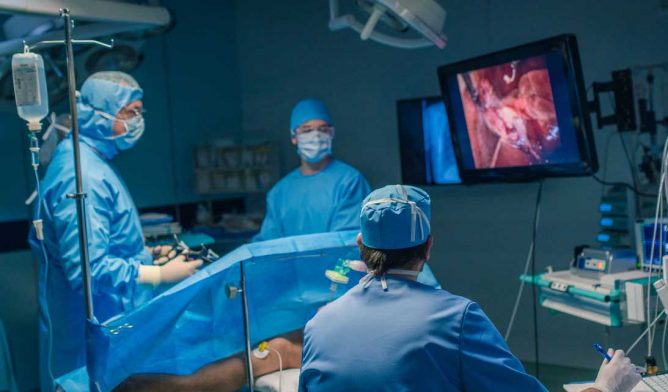 A new study from researchers at the City of Hope cancer center in Los Angeles and Wake Forest University School of Medicine in Winston-Salem, North Carolina, reveals how the length of time between initial and follow-up cytoreduction surgery and HIPEC plays a role in patient survival.
The study, published in June in the Journal of Surgical Oncology, shows peritoneal mesothelioma patients who repeat the procedure between one and two years after the initial surgery have the most favorable outcome, with a median overall survival of nearly four years.
Peritoneal mesothelioma is an aggressive, asbestos-related cancer, and recurrence is common.
"These results are very promising for a select group of patients who recur after cytoredutive surgery (CRS) and HIPEC," Dr. Konstantinos Votanopoulos, associate professor of surgery at Wake Forest School of Medicine, told Asbestos.com. "In this group, a complete CRS and HIPEC essentially resets the clock in terms of anticipated survival."
The multimodal approach of CRS followed by heated intraperitoneal chemotherapy (HIPEC) is the standard treatment option for peritoneal mesothelioma patients.
In 2013, researchers at Moffitt Cancer Center concluded patients who opted for a second procedure survived nearly three times as long as those who underwent only one procedure.
Mesothelioma Results Contrast with Other Cancers
The goal of CRS, also known as debulking, is to remove any visible tumors or cancer from multiple sites in the abdomen. It may require removing some or all parts of major organs, including the gallbladder, liver, pancreas, stomach, spleen and intestinal tract.
HIPEC involves delivering heated chemotherapy drugs directly to the abdominal cavity to treat any cancer cells that may remain. It is considered a risky procedure, and not all peritoneal mesothelioma patients are candidates.
Sometimes, multiple rounds of HIPEC are necessary to send the cancer into remission.
In addition to peritoneal mesothelioma, CRS and HIPEC are used to treat other gastrointestinal cancers and peritoneal surface malignancies including cancers of the colon, appendix and gallbladder.
Using a City of Hope database of 1,314 CRS and HIPEC procedures performed between February 1993 and December 2015, Konstantinidis and his team identified 103 (8.5 percent) patients who underwent repeat procedures.
The group included:
60 patients with high-grade or low-grade appendiceal cancer (58.3 percent)
14 patients with peritoneal mesothelioma (13.6 percent)
Nine patients with colon cancer (8.7 percent)
Eight patients with ovarian cancer
12 patients with another form of gastrointestinal cancer
Mesothelioma patients carried the most significant disparity of overall survival, according to the time interval between first and second CRS and HIPEC procedures.
Overall survival rates for peritoneal mesothelioma patients in the study were:
1.3 years for a time interval of less than a year
3.7 years for an interval between one and two years
1.8 years for patients who underwent a second procedure two or more years after the initial surgery
Median overall survival for all peritoneal mesothelioma patients in the study was 2.4 years.
All other cancer patients who underwent repeat procedures after two years saw a significant increase in overall survival compared to those in the one- to two-year range, including a four-year difference for low-grade appendiceal cancer and three-year difference for colon cancer patients.
The median overall survival for all cancers in that interval was seven years, far longer than mesothelioma patients in that group, for all patients who underwent repeat procedures after at least two years. This can be attributed to the high recurrence rate of peritoneal mesothelioma and its ability to spread quickly.
Although the study links repeated procedures more than two years after initial surgery with the best overall survival, the optimal time interval for mesothelioma patients is between the first and second year.
"Essentially, the amount of time between procedures functions as a powerful selection tool to predict the patients that will do well," Votanopoulos said. "A recurrence within a year from the initial operation is a sign that the tumor is very aggressive and more surgery is unlikely to offer a survival benefit."
Survival Gap Between Peritoneal and Pleural
Researchers at Wake Forest were part of a 2015 study analyzing the survival-time gap between the two most common types of mesothelioma — peritoneal and pleural.
The study showed the median survival for peritoneal patients is four times that of a patient diagnosed with pleural mesothelioma, which develops on the protective lining surrounding the lungs and accounts for roughly 70 percent of all mesothelioma cases.
Median survival for peritoneal patients was more than six years, compared to just 18 months for pleural patients.
Advancements in therapy, most notably the cytoreductive surgery and HIPEC procedures, are credited for the significant difference in prognosis between the two types.
Combining heated chemotherapy with aggressive surgery has not been as successful for treating pleural mesothelioma.
There are still limitations for CRS and HIPEC. Peritoneal patients are eligible on a case-by-case basis, depending on tumor growth and whether the cancer has spread outside of the abdominal cavity.
But ongoing research continues to demonstrate the procedures as the standard therapy for peritoneal mesothelioma.
"A complete CRS and HIPEC, or in other words resection of all visible tumor, is the most important factor in predicting improved survival," Votanopoulos said. "Therefore, early detection of recurrence when the volume of disease is low is of paramount importance."
Connect with a Mesothelioma Doctor
Find a Top Specialist Near You