Research & Clinical Trials
Mesothelioma Clinical Trials Involve Gene Therapy
Fact Checked
Our fact-checking process begins with a thorough review of all sources to ensure they are high quality. Then we cross-check the facts with original medical or scientific reports published by those sources, or we validate the facts with reputable news organizations, medical and scientific experts and other health experts. Each page includes all sources for full transparency.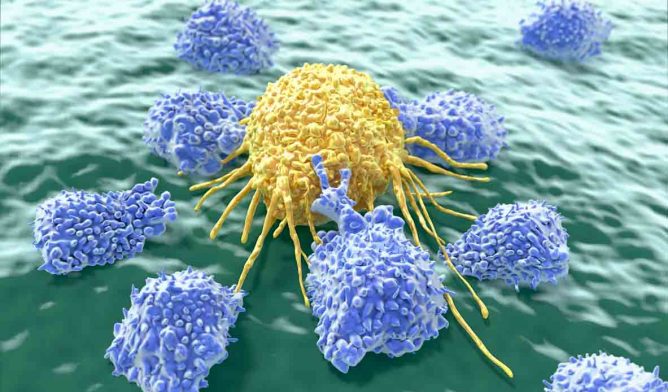 Treatment options for malignant mesothelioma may soon include customized gene therapy, according to thoracic surgeon and scientist Dr. Prasad Adusumilli at Memorial Sloan Kettering Cancer Center in New York.
Gene therapy involves a laboratory reprogramming of a patient's own T cells, which are a type of white blood cell, to recognize and destroy the cancer.
The U.S. Food and Drug Administration (FDA) recently approved the first gene therapy specifically for pediatric leukemia, signaling the start of a new approach to cancer treatment in this country.
The newly approved treatment is also known as chimeric antigen receptor (CAR) T cell therapy, which includes removing T cells from a patient, arming them with a protein linked to a particular cancer and then returning those cells to the patient.
CAR T cell therapy already has shown considerable promise with blood cancers such as leukemia, which prompted the FDA's groundbreaking approval. But its effectiveness with solid tumors, such as mesothelioma, has been limited until recently.
Memorial Sloan Kettering Leading the Way
Memorial Sloan Kettering has been a worldwide leader in developing CAR T cell therapy for cancer, making it safer and more effective.
Adusumilli, who specializes in thoracic cancers, is the chief investigator of a promising clinical trial involving T cells genetically engineered to target mesothelin, a protein found in almost 90 percent of pleural mesothelioma tumors. Early trial results are encouraging.
"This will be one aspect of cancer treatment in the future, how best to combine it with other therapies, and how to select individual patients for which combinations," Adusumilli told Asbestos.com. "In my mind, this is the future of cancer therapy. Yes, that includes mesothelioma."
His phase I clinical trial is recruiting patients with lung cancer, mesothelioma or breast cancer. It is designed to establish safe dosage levels of the genetically modified T cells.
Combining Therapies Works Better
Adusumilli hasn't seen harsh side effects in his mesothelioma patients, and the trial has resulted in a good response rate. He intends to modify the protocol to include multiple doses, which should make it more effective.
Some mesothelioma patients in the trial have combined the CAR T cell therapy with a different type of immunotherapy known as a checkpoint blockade, making it longer lasting and more durable.
"What we've learned is that the immune cells, especially with the low doses, can get functionally exhausted in the face of cancer," Adusumilli said. "The checkpoint blockade can keep them active and killing."
Adusumilli was the senior author of an earlier, animal-model study that combined the two therapies with great success.
"We have demonstrated a new treatment strategy that can greatly benefit patient care," he said. "This is promising."
Memorial Sloan Kettering Cancer Center currently has nine ongoing clinical trials involving CAR T cell therapy and various cancers. And more are awaiting approval for 2018.
The center will also be hosting a two-day conference in November entitled "Clinical Application of CAR T Cells."
The National Cancer Institute in Bethesda, Maryland, and the University of Pennsylvania in Philadelphia, also are involved now in phase I clinical trials involving mesothelioma and CAR T cell therapy.
"We do not anticipate CAR T cells to work as well in mesothelioma [as they work for] leukemia due to the complex tumor environment in solid tumors," pulmonologist Dr. Andy Haas at the University of Pennsylvania told Asbestos.com. "But after we confirm safety in this current trial, we will move to combination therapy with other immune or tumor microenvironment modifying drugs to improve efficacy."
The FDA approval of its first gene therapy last month is seen as the start of a changing landscape in cancer care, catching the attention of oncologists everywhere.
"We're entering a new frontier in medical innovation with the ability to reprogram a patient's own cells to attack a deadly cancer," said FDA Commissioner Dr. Scott Gottlieb when announcing the approval. "New technologies, such as gene therapies, hold out potential to transform medicine and create an inflection point in our ability to treat, and even cure, many intractable illnesses."
Connect with a Mesothelioma Doctor
Find a Top Specialist Near You