Asbestos Exposure & Bans
EPA Grants New England Schools $631K for Asbestos Control
Fact Checked
Our fact-checking process begins with a thorough review of all sources to ensure they are high quality. Then we cross-check the facts with original medical or scientific reports published by those sources, or we validate the facts with reputable news organizations, medical and scientific experts and other health experts. Each page includes all sources for full transparency.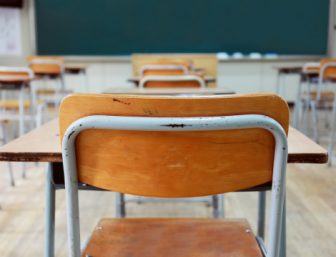 The U.S. Environmental Protection Agency (EPA) announced it awarded a total of $631,000 this year to five New England state agencies to ensure schools properly manage asbestos-containing materials.
Connecticut, Maine, Massachusetts, New Hampshire and Rhode Island each received between $100,000 and $166,000 from the government agency, depending on the amount of initiatives they are committed to in accordance with the EPA's Asbestos Hazard Emergency Response Act (AHERA).
AHERA requires public school districts and nonprofit private schools to inspect their schools for asbestos-containing materials and prepare management plans to reduce asbestos hazards.
The EPA requires schools to have a designated person assigned to handle asbestos issues. Schools must update asbestos management plans every three years and notify parents when a new plan is filed.
The annual EPA funding helps establish and carry out these plans, including potential asbestos abatement projects. The grant also helps states maintain an asbestos accreditation and certification training program.
Vermont, which only performs the inspection portion of the program, received $16,000 from the EPA.
Exposure to asbestos can lead to serious health conditions such as asbestosis and mesothelioma cancer.
Asbestos Prevalent in New England Schools
Asbestos-containing building materials remain prevalent in schools built before the 1980s. The EPA estimates there are asbestos-containing materials in most of the nation's primary, secondary and charter schools.
About half of all U.S. schools were built from 1950 to 1969, when asbestos was added to virtually every kind of construction product to increase durability and fire resistance. Asbestos materials do not pose a health risk if left intact and undisturbed.
However, many of these products wear over time or become damaged during building renovation or demolition projects, putting students, teachers and other faculty at risk for asbestos exposure.
Asbestos products are particularly common in New England schools, given the region's history and centuries-old infrastructure. Asbestos is most often found in floor and ceiling tiles, pipes in boiler rooms and insulation materials.
Many schools in Massachusetts, Connecticut and other New England states regularly face costly asbestos abatement projects and controversial asbestos exposure incidents.
Notable Asbestos Issues Throughout New England
A report showing photos of disturbed asbestos inside West Haven High School in Connecticut sparked outrage among students and parents earlier this year.
The report, conducted by Dunn Environmental Group on the order of the Connecticut Department of Public Health, investigated a camera installation project at the school.
Asbestos materials were reportedly disturbed by untrained and unlicensed workers during the project. Pictures in the report showed asbestos debris in various areas of the school, including on top of a trophy case.
"I was surprised that they would do work in a school with asbestos and then not handle it properly," Bridgette Hoskie, a mother of a West Haven High School student told NBC Connecticut.
Other notable asbestos-related incidents within New England schools this year include:
Watertown, Massachusetts: Asbestos was found in the walls, ceiling and floor tiles of Watertown High School. The inspection, conducted by EFI Global in October, found asbestos in a number of areas, including damaged plaster in 50 areas around the school. Remediation plans include encapsulating damaged areas or replacing significantly damaged plaster with sheet rock and joint compound.
Barre, Massachusetts: The Quabbin Regional School Committee in October awarded a $39,600 contract to a local restoration company for the removal of asbestos-containing floor tile from Oakham Center School. Tile was removed from the school's kitchen, cafeteria and adjoining hallways.
Hartford, Connecticut: The Wish School in Connecticut's capital city closed for two days in April after contractors removing old lockers exposed asbestos insulation within the school. No students, staff or families were exposed since the lockers were removed during spring break, according to NBC Connecticut.
Rhode Island: The Jacobs Report — a statewide, independent assessment of the repair needs of all 307 public school facilities sanctioned by the Rhode Island Department of Education — estimated it would cost $2.2 billion to get the buildings into "ideal" condition, including removing unabated asbestos materials.
Bennington, Vermont: Shaftsbury Elementary School opened with other schools across Southwest Vermont in September, despite earlier concerns that exposed asbestos may delay its opening. Asbestos was discovered in August during work to improve the school's ventilation system. Principal Jeff Johnson told the Bennington Banner that asbestos had been fully removed a week before the start of the school year. The contract for the duct replacement project was awarded to Hayden Plumbing and Heating of Bennington for $159,245.
Asbestos a Growing Concern in Maine
Maine has the nation's highest rate of asbestos-related deaths, according to a recent report from the Centers for Disease Control and Prevention (CDC). The agency found that between 1999 and 2015, the annual mortality rate from malignant mesothelioma in Maine was approximately 22 per million people.
The CDC study focused on occupational asbestos exposure through high-risk industries such as construction and shipbuilding.
Maine's housing stock is among the oldest in the country, with more than 30 percent of units built before 1950. Many schools, homes and offices still contain asbestos building materials, putting occupants at risk for exposure if the products are damaged.
Concerns over asbestos abatement costs played a factor in the decision to consolidate two aging middle schools in South Portland, Maine.
The Middle School Facilities Committee recommended in a Nov. 9 meeting that the city build a new $50 million school consolidating students from Mahoney Middle School — built in 1922 — and Memorial Middle School, built in 1967.
Other options included renovating and expanding Mahoney or building a new Memorial Middle School at the existing site. But school officials feared asbestos and lead paint abatement issues would drive up costs because of the age of the buildings.
According to The Forecaster, Memorial will likely be demolished, while Mahoney, a historic building, will likely be preserved, although not as a school.
Just across Fore River in Portland, voters in November overwhelmingly decided to borrow $64.3 million to renovate four elementary schools. The schools have outdated heating systems and a variety of structural problems, including exposed asbestos materials.
"You can't have a strong city without strong schools," Emily Figdor, a leader of the four-school campaign, told the Portland Press Herald. "We'd like to get started as soon as possible. The problems are urgent and they need our attention right away."
Free Mesothelioma Resources
Get Access to Free Resources for Patients & Loved Ones