Research & Clinical Trials
New Targeted Therapy May Benefit Mesothelioma Patients
Fact Checked
Our fact-checking process begins with a thorough review of all sources to ensure they are high quality. Then we cross-check the facts with original medical or scientific reports published by those sources, or we validate the facts with reputable news organizations, medical and scientific experts and other health experts. Each page includes all sources for full transparency.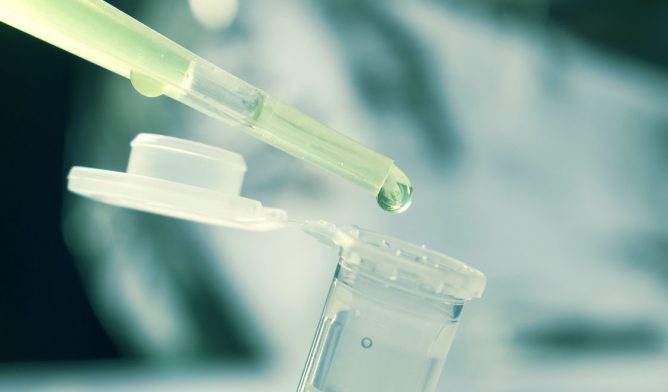 For newly diagnosed mesothelioma patients, standard treatment options include surgery, radiation therapy, chemotherapy and multimodal therapy, which combines these options in various ways.
However, more physicians are adding precision medicine to the mix, including targeted therapies such as immunotherapy or drugs aimed at a specific genetic mutation in a tumor.
Clinical trials have shown a new drug called AZD5363 attacks a gene that is mutated in some mesothelioma tumors.
The drug was not designed for mesothelioma patients, but it may offer another mesothelioma treatment avenue in the future.
Limited Options Inspire New Treatments
Given how challenging it is to treat mesothelioma effectively, new therapies producing better results are needed.
The experimental medication AZD5363 is one potential candidate for helping those diagnosed with mesothelioma.
A phase I clinical trial published in 2017 tested the drug in 90 patients with several different types of cancerous solid tumors. These are tumors that originate in an organ or solid tissue, including linings of body cavities.
Solid tumors do not include blood or immune system cancers such as leukemia or lymphoma.
Patients participated in the 2017 clinical trial in cancer centers throughout Europe and the United States.
How May the New Drug Benefit Mesothelioma Patients?
Although mesothelioma was not a focus of the trial, the drug may benefit patients with the asbestos-related disease because of the way it acts on certain tumors.
The new medication works through a gene called PIK3CA. This gene is mutated (damaged) in some breast and prostate cancers as well as in some mesothelioma tumors.
If the drug tested in the clinical trial works for other tumors with this genetic damage, it may work for mesothelioma.
Tumors from different types of cancers sometimes share the same genetic mutations. It makes sense to test a drug targeting that mutation in all tumors containing it, regardless of the type of tumor.
For most people with cancer, treatment begins with standard-of-care or best-practice therapies. These are widely available and FDA approved to treat certain types of cancer.
These standard therapies do not offer a cure for people with mesothelioma. Even multimodal therapy is not expected to cure most mesothelioma patients.
Mesothelioma doctors are constantly searching for additional ways to help patients extend their lives with better treatments. This new drug may offer this type of option.
What Are Phase I Clinical Trials?
Phase I clinical trials test the safety, side effects, best dose and timing of a new treatment. The dose of the study drug may be increased a little at a time. Researchers may give different doses to different people, as well.
This helps identify the highest dose that does not cause serious and harmful side effects.
Phase I clinical trials typically include a small number of patients who have not been helped by other treatments. Although curing patients or shrinking tumors is not the goal of phase I trials, this sometimes happens.
The researchers found the drug was safe in people at levels known to shrink tumors in mice. This is important because drugs that are safe in animals are not always safe for people.
Now the drug will move forward to a phase II trial in a larger group of patients. AZD5363 will be studied in people with cancers of the breast and prostate.
If enough patients benefit from the treatment and the side effects don't outweigh potential treatment advantages in the phase II trial, it can go on to a phase III clinical trial.
Talk to Your Mesothelioma Doctor
Right now, there are 21 clinical trials on this new drug listed on the ClinicalTrials.gov. This includes several trials on all solid tumors, which can include mesothelioma.
If mesothelioma patients meet all of the other criteria for these trials, they may qualify for one of these clinical trials of AZD5363.
Mesothelioma patients who are no longer receiving any benefit from their current therapies should ask their doctor if they might qualify for a clinical trial or other potential new treatments.
Connect with a Mesothelioma Doctor
Find a Top Specialist Near You