Research & Clinical Trials
Study Evaluates Systemic Chemotherapy on Peritoneal Mesothelioma
Fact Checked
Our fact-checking process begins with a thorough review of all sources to ensure they are high quality. Then we cross-check the facts with original medical or scientific reports published by those sources, or we validate the facts with reputable news organizations, medical and scientific experts and other health experts. Each page includes all sources for full transparency.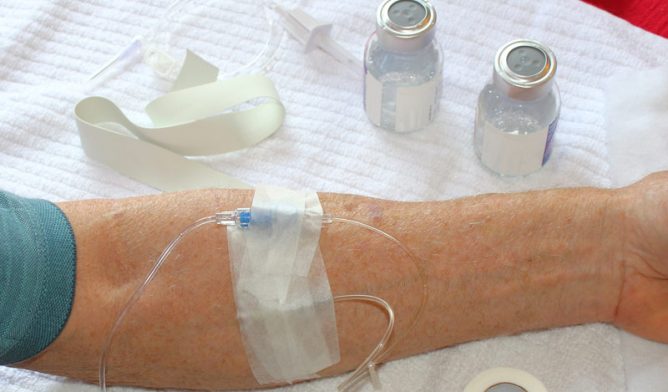 Systemic chemotherapy, either before or after cytoreductive surgery, provided no improvement in long-term survival for patients with peritoneal mesothelioma, according to a recent study.
The addition of systemic chemotherapy improved survival at the one-year mark, but there were no benefits at the two-, three- or five-year checkpoints. Systemic chemotherapy uses anti-cancer drugs that are injected into a vein or given by mouth.
The median survival of surgical patients who received systemic chemotherapy did not improve, either.
"We know surgery is the best option, and if the surgery is successful, chemotherapy may not have any added benefit," Dr. George Salti, University of Illinois Health surgeon and co-author of the study, told Asbestos.com. "Not everyone benefits from this systemic chemotherapy."
Medical Oncology recently published the study that examined the National Cancer Database (NCDB), a cancer registry maintained by the American College of Surgeons. The registry includes an estimated 70 percent of cancer cases nationwide.
Recent treatment advances, including the combination of cytoreduction and heated intraperitoneal chemotherapy (HIPEC), were not addressed in the study.
HIPEC involves a 90-minute chemotherapy wash of the abdominal cavity following surgery. The procedure has shown considerable promise.
Benefits of Surgery
The research team started with 2,664 peritoneal mesothelioma patients from 2004-2014. After a set of inclusion and exclusion criteria was applied, 1,136 cases receiving a curative approach to treatment were used in the study.
Cases were divided into five groups. They included a control group which received no treatment and those who received only chemotherapy, only cytoreductive surgery, chemotherapy before surgery and chemotherapy after surgery.
Median Survival of the Study Groups
No Treatment: 3.6 months
Chemotherapy Only: 11 months
Surgery Only: 57.4 months
Chemotherapy Before Surgery: 52.3 months
Chemotherapy After Surgery: 55 months
"If a surgeon says, 'We can't help the patient surgically,' then certainly chemotherapy has a role by itself," Salti said. "But that's something a surgeon should decide."
Seeing a Surgical Oncologist Is Key
Salti believes a medical oncologist, after a diagnosis is made, will too often advise a patient that chemotherapy is the only real option.
Doctors diagnose an estimated 3,000 cases of mesothelioma in the U.S. each year, and less than a third of those have the peritoneal type of the cancer.
There is no definitive cure, although recent treatment advances allow some patients to survive five to 10 years and beyond.
Salti, who has treated peritoneal patients for more than 20 years, said there is continued debate in the medical community over mesothelioma treatment.
Some think chemotherapy before surgery is advisable. Others believe chemotherapy after surgery is the better option.
And some prefer no chemotherapy if surgery is successful.
Personalized Treatment Is Important
Salti believes proper patient selection is most important for any treatment and avoiding the one-size-fits-all routine that happens too often.
"We hope that all patients are referred to a surgeon and not have someone else just assume they are inoperable," he said. "There may be surgical options. It's important for these patients to see a surgical oncologist who understands the disease."
One-Year Survival Rates in the Study
Surgery Only: 73.6 percent
Chemotherapy Before Surgery: 86 percent
Chemotherapy After Surgery: 86.7 percent
"Sometimes, I'll see a patient and recommend that he or she receive chemotherapy before surgery, shrink the tumors and hopefully make the surgery more successful," he said. "But every case is different. Sometimes I think chemotherapy, either before or after surgery, may not be the best option. I don't think we really know for sure."
Connect with a Mesothelioma Doctor
Find a Top Specialist Near You