Research & Clinical Trials
Results of Novel Mesothelioma Drug Presented at ASCO Meeting
Fact Checked
Our fact-checking process begins with a thorough review of all sources to ensure they are high quality. Then we cross-check the facts with original medical or scientific reports published by those sources, or we validate the facts with reputable news organizations, medical and scientific experts and other health experts. Each page includes all sources for full transparency.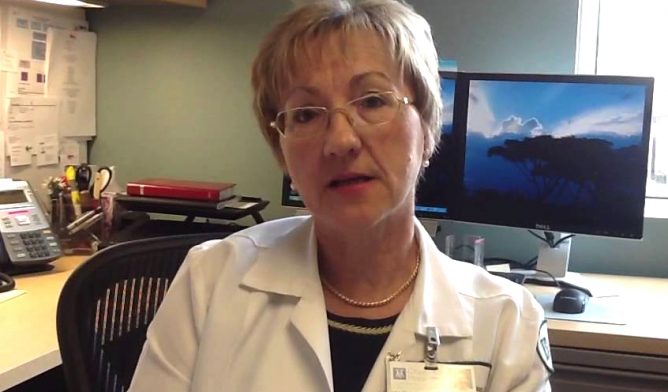 A multicenter phase II clinical trial involving the latest orally administered protein inhibitor drug has shown considerable promise in helping control malignant mesothelioma.
The effectiveness of tazemetostat was presented last week at the American Society of Clinical Oncology (ASCO) annual meeting in Chicago.
The trial study, which will conclude late 2018, involves 74 previously treated patients with recurring mesothelioma.
"We've seen benefit for some patients with this treatment and patients who have benefited over a long period of time," medical oncologist Dr. Marianna Koczywas, City of Hope Cancer Treatment & Cancer Research Center in California, told Asbestos.com. "I don't think you could say, at this point, it's a great breakthrough. But it's definitely a step in the right direction."
Early Results Look Promising
Koczywas is the trial investigator at City of Hope, one of seven U.S.-based centers conducting the trial.
Others include the Mayo Clinic in Rochester, Minnesota, Massachusetts General Hospital in Boston, Dana-Farber Cancer Institute in Boston, Memorial Sloan Kettering Cancer Center in New York City, UCLA and University of California, San Francisco.
The preliminary results included a 12-week disease control rate (DCR) of 51 percent. The DCR is defined as either complete response, partial response or stable disease. The 24-week DCR has been 26 percent.
"This is encouraging for the patients and families impacted by mesothelioma and for the oncologists who treat them," said Dr. Marjorie Zauderer, investigator at Memorial Sloan Kettering. "We are always searching for promising new treatments, particularly for those with relapsed or refractory disease."
There is no cure for mesothelioma, and patients typically survive only nine to 18 months after being diagnosed.
Chemotherapy with cisplatin and pemetrexed is approved by the U.S. Food and Drug Administration for the treatment of mesothelioma, but its effectiveness is limited.
Each patient in this trial received tazemetostat twice daily. None discontinued treatment because of toxic side effects, which was consistent with previous studies.
The most frequent side effects of the drug have been fatigue (32 percent), decreased appetite (28 percent) and difficulty breathing (28 percent).
A Potential Second-Line Treatment
Tazemetostat already had shown effectiveness in treating synovial sarcoma, non-Hodgkin lymphoma and certain genetically defined solid tumors.
The drug works by blocking an enzyme called EZH2. The drug maker, Epizyme, is promoting it as a potential second-line therapy for patients already treated with chemotherapy.
It has been especially effective in other cancers that include a mutation of the BAP1 tumor-suppressor gene, which is found in an estimated 60 percent of all mesothelioma cases.
Earlier, unrelated studies have shown people lacking the BAP1 gene — or having a mutation of it — are more likely to develop mesothelioma. The mutation, though, does make their bodies more receptive to therapy.
"A key is identifying patients whose tumors are sensitive to this targeted therapy," Koczywas said. "What works for one, may not work for another."
There currently are no FDA-approved second-line therapies for mesothelioma, but several are moving through the approval process.
Most of those, like tazemetostat, are therapies targeting a very specific protein and are for use in combination with other drugs.
Lock-and-Key Method
When the trial began in 2016, Koczywas used a lock-and-key metaphor when explaining how tazemetostat worked as a targeted therapy.
"You have a specific [cancer] key and a specific keyhole it goes through," she said. "If you can lock that keyhole, you can lock it out. These malignant cells rely on a pathway for growth and division, so you try and block that specific pathway."
Five of the patients died during the clinical trial. Seven still are taking the drug and three have stable disease today.
"We are encouraged by these positive results in this difficult-to-treat cancer, making [tazemetostat] a compelling candidate for exploration as a combination therapy," Robert Bazemore, president and chief executive officer of Epizyme, said.
Connect with a Mesothelioma Doctor
Find a Top Specialist Near You