Research & Clinical Trials
Moving Toward an Earlier Diagnosis of Mesothelioma
Fact Checked
Our fact-checking process begins with a thorough review of all sources to ensure they are high quality. Then we cross-check the facts with original medical or scientific reports published by those sources, or we validate the facts with reputable news organizations, medical and scientific experts and other health experts. Each page includes all sources for full transparency.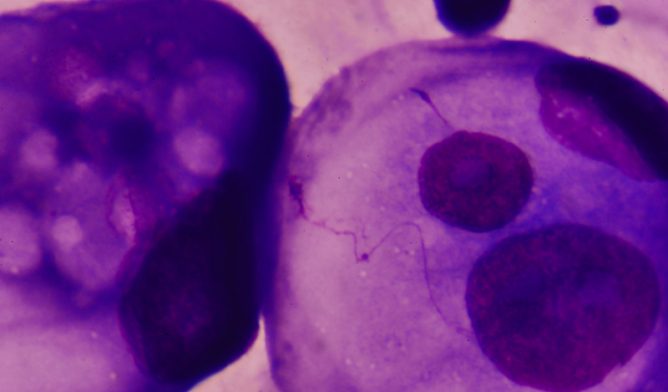 A way to diagnose mesothelioma earlier — critical to successfully treating it — could be on the horizon, based on two studies examining an issue that has hampered oncologists for decades.
Researchers in Sweden believe the problem can be solved through better cytology and more exact examination of the early fluid buildup around the lungs.
Researchers in Belgium are focusing on circulating tumor DNA (ctDNA), which can be uncovered with a blood sample and novel technology already being used with other cancers.
The two groups are exploring different ways to diagnose mesothelioma sooner, when treatment can be more effective.
Potentially, survival times could grow considerably.
"Right now, we don't have a way of identifying early-stage disease," professor John Cherrie, an occupational medicine specialist at Heriot-Watt University in the United Kingdom, told Asbestos.com earlier this year. "Usually, by the time it is diagnosed, it's virtually untreatable. We want to find a way to change that."
Cherrie published his study in 2017, focusing on occupational asbestos exposure history and a comprehensive screening program.
Diagnostics Through Pleural Effusion
Archives of Pathology & Laboratory Medicine published the most recent study, done by the Department of Laboratory Medicine, Division of Pathology, Karolinska University Hospital in Stockholm, Sweden.
Researchers there concluded a diagnosis of epithelioid and mixed-type mesothelioma can be obtained in most cases, through minimally invasive effusion cytology.
They also believe subsequent treatment — typically chemotherapy — would be more effective if started immediately.
Current diagnostics are considerably more complex, delaying the start of treatment for months.
Although they often begin with effusion cytology, oncologists typically require numerous tests and invasive biopsies before making the diagnosis.
Researchers in Sweden believe the diagnosis can be made much quicker with the initial cytology report.
"A conclusive diagnosis of [malignant mesothelioma] can be obtained based on the criteria defined by the guidelines with high positive predictive value," the study authors wrote. "When diagnosed in this way, subsequent therapy should be initiated without further delay. With the earlier diagnosis obtained by cytology, a better effect of chemotherapy can be expected, as shown by the longer overall survival in these patients compared with those with a histopathologic diagnosis."
Patients Diagnosed by Effusion Cytology Live Longer
The study was based on 85 cases of confirmed mesothelioma between 2004-2013 at the Karolinska University Hospital.
In those cases, the mean survival after a diagnosis by effusion cytology was 20 months.
Those diagnosed later through histology and a traditional tissue biopsy had a mean survival of just 12 months.
Of the 85 cases, 76 had an effusion examined, and 62 percent of those cases met the cytology criteria for malignant mesothelioma.
"The positive predictive value of such a cytologic diagnosis is as high as that obtained by histology, and therefore, provides sufficient basis for initiation of treatment," the authors wrote. "The cytologist must be aware of the spectrum of cellular and molecular alternations and recognize the malignant cells in those early effusions."
Diagnosis Through DNA Biomarkers
Lung Cancer published the second recent study, stemming from research at the University of Antwerp and Antwerp University Hospital in Belgium.
Researchers there believe ctDNA can serve as a biomarker for early diagnosis and effective treatment monitoring of mesothelioma.
The study involved tracing tumor-specific genetic mutations in DNA circulating within the bloodstream of 10 patients.
It required highly sensitive techniques to be detected. The tools already are being used in several other types of cancer, but not yet with mesothelioma.
"We are convinced that it has the potential to be used as a sensitive biomarker, addressing some of the key issues with malignant mesothelioma," the study authors wrote.
The ctDNA detection rate was 60 percent in the patients who had not begun treatment.
The authors believe it was the first time the presence of ctDNA within circulating DNA had been identified in mesothelioma patients.
"This study provided proof of concept for the presence of ctDNA in blood of treatment-naive MPM [malignant pleural mesothelioma] patients by the detection of somatic variants that were identified by analysis of a tumor sample," the authors wrote. "This opens perspective towards its use in MPM."
Connect with a Mesothelioma Doctor
Find a Top Specialist Near You