Research & Clinical Trials
Targeting Certain Lymph Nodes Could Change Mesothelioma Treatment
Fact Checked
Our fact-checking process begins with a thorough review of all sources to ensure they are high quality. Then we cross-check the facts with original medical or scientific reports published by those sources, or we validate the facts with reputable news organizations, medical and scientific experts and other health experts. Each page includes all sources for full transparency.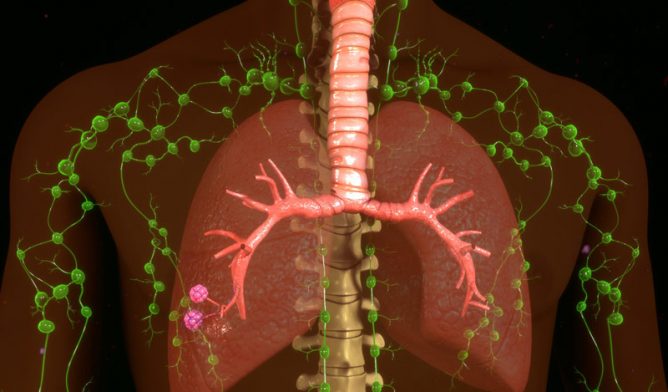 Thoracic surgeon Dr. Joseph Friedberg at the University of Maryland School of Medicine has identified previously underutilized lymph nodes that could change the way pleural mesothelioma is diagnosed, staged and treated.
Friedberg is the head of the Division of Thoracic surgery at Maryland and director of the Mesothelioma and Thoracic Oncology Treatment and Research Center.
The findings are based upon the posterior intercostal lymph nodes — a part of the lymphatic system between the ribs near the spine — in 56 mesothelioma patients who were part of a recent clinical trial.
Friedberg detailed the groundbreaking findings earlier this year at the Society of Thoracic Surgeons annual meeting in San Diego.
The Annals of Thoracic Surgery is expected to publish the study results soon.
"These have turned out to be incredibly important lymph nodes," Friedberg told The Mesothelioma Center at Asbestos.com. "This could turn out to be very significant."
Prognosis Could Change Significantly
Mediastinal lymph nodes often are used today for staging and treatment decisions with pleural mesothelioma, but the recent identification and use of intercostal lymph nodes was a first with any solid tumor.
"These lymph nodes look to be potentially as important — if not more important — than any other lymph nodes we take out for mesothelioma," Friedberg said. "We discovered them almost by accident, but now realize just how important they are. They could make a [patient's] prognosis radically different."
In the study, the intercostal lymph nodes were the only ones that showed evidence the mesothelioma had spread in 11 percent of the patients. Those same lymph nodes normally would not have been removed or considered in staging the cancer.
Mesothelioma lymph-node involvement typically alters treatment decisions. Biopsy sampling of mediastinal lymph nodes often is done to determine if a patient is a candidate for surgery.
In certain locations, lymph-node involvement eliminates the option of aggressive surgery, sparing the patient from a difficult recovery if the cancer has already spread.
Almost half of the patients in the study had mesothelioma tumor cells in the intercostal lymph nodes, including the 11 percent who had no other metastasis.
The intercostal lymph node involvement was associated with a 2 1/2 times greater risk of tumor progression and a 2 1/3 times elevated risk of death, according to Friedberg's research team.
Push to Identify Lymph Nodes Preoperatively
During his presentation in San Diego, Friedberg encouraged his peers to begin looking for intercostal lymph nodes during aggressive surgery for two reasons.
He wants confirmation to his findings. And he believes follow-up treatment could be based on their involvement — or lack of involvement — with the tumor.
The next step, he believes, is developing a technique to help identify the intercostal lymph nodes preoperatively.
"Right now, we don't have that technique," he said. "It's something the mesothelioma community should work on because these lymph nodes do appear to be very important."
Move to University of Maryland Was Key
Friedberg, who joined the University of Maryland School of Medicine in 2015 after a decade at the Abramson Cancer Center in Philadelphia, has helped pioneer the use of lung-sparing pleurectomy and decortication surgery throughout his career.
"Let's face it, surgery for mesothelioma is unlikely to cure someone. Realistically, what we're trying to do is extend a patient's life, and do it in a way to maintain a good quality of life," he said. "If there was a way to identify these lymph nodes preoperatively, it would be an important contribution."
His goal in moving to Maryland was to build the most comprehensive mesothelioma program in America, utilizing the vast resources available at the facility.
The center has been a national leader in innovative esophageal and lung cancer treatment for many years and a leader in biomedical research.
Friedberg's program now utilizes a multidisciplinary approach to treatment, giving patients access to multiple specialists from different fields.
As a researcher, Friedberg has focused on developing innovative treatments. And for years, he has talked about a goal of turning mesothelioma into a more manageable disease.
"We're going in the right direction with this disease, albeit, at a much slower pace than any of us want," he said. "We have no cure for this cancer, which is something I desperately want to move forward in my lifetime. It's why I've dedicated my career to this."
Connect with a Mesothelioma Doctor
Find a Top Specialist Near You