Research & Clinical Trials
Study: Elderly Mesothelioma Patients Denied Valuable Survival Time
Fact Checked
Our fact-checking process begins with a thorough review of all sources to ensure they are high quality. Then we cross-check the facts with original medical or scientific reports published by those sources, or we validate the facts with reputable news organizations, medical and scientific experts and other health experts. Each page includes all sources for full transparency.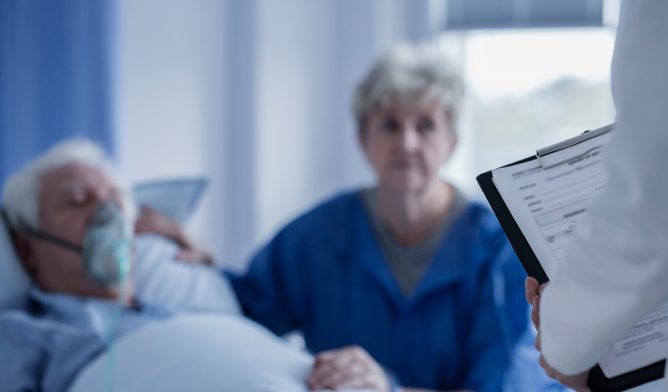 Almost two-thirds of the elderly patients being diagnosed with mesothelioma are dying without receiving any cancer-related treatment that could significantly extend survival.
Median survival is just 4.1 months, according to the first extensive study of mesothelioma patients 80 years or older.
The Annals of Surgical Oncology published the recent study, authored by mesothelioma specialists at five highly rated medical facilities.
"Too many elderly patients are being denied valuable survival time," Dr. Charles B. Simone II, chief medical officer at the New York Proton Center and co-author of the study, told The Mesothelioma Center at Asbestos.com.
Chemotherapy Makes a Difference
The study included 4,526 newly diagnosed patients from the National Cancer Database that were at least 80 years old and had nonmetastatic pleural mesothelioma.
Of those patients, 63% were only "observed" by their physicians, according to the study.
The 22% who received just chemotherapy had a median survival of 9.5 months, more than double of those who did not receive any treatment.
"Given the dramatic survival difference in this study, and given that several prior randomized trials have shown that chemotherapy actually improves symptoms and/or quality of life, I strongly encourage patients — regardless of age — to at least explore cancer-directed therapies," Simone said.
Simone suggested that elderly patients discuss mesothelioma treatment possibilities with their medical oncologist.
The longest median survival of those studied was 12.2 months, which included just 2% of the patients who had a combination of aggressive surgery and chemotherapy.
Aggressive Surgery a Real Risk
The study also showed just how risky aggressive surgery can be for this age group.
Of the 8% of patients who underwent "definitive" surgical resection, the 30-day and 90-day mortality rates were 11% and 28.5%, respectively.
Simone believes the findings throughout the study accentuate the importance of patients finding a mesothelioma specialty center or a center with a multidisciplinary tumor board for evaluation.
"While age alone should not be a reason to refuse surgery, providers and patients should be aware of the risks," he said. "They should be considered for systemic therapy if they have a good performance status, regardless of age."
The study emphasized that careful patient selection was "imperative" when considering patients for a combined modality approach to treatment.
Age Alone Should Not Discourage Treatment
Age typically is a major determinant of oncologic management. Many older patients struggle to tolerate aggressive multidisciplinary treatment.
The goal of the study was to evaluate how most elderly patients with mesothelioma were managed, along with measuring outcomes across multiple treatment approaches.
A large majority of the patients in the study were covered by Medicare insurance. The average age was 84.
The study also included an analysis in patients under the age of 80 within the National Cancer Database.
By comparison, 17% of those younger patients received the surgery and chemotherapy combination, 47% received just chemotherapy and 36% received only observation.
The median survival times were 17.7 months, 12.2 months and 6.6 months, respectively.
The issue of age is particularly relevant to malignant mesothelioma, which is caused by long-before exposure to asbestos, typically in an occupational setting. The median age at diagnosis is 72 years, according to this study.
Older Patients Can Have Surgery
The recent findings reinforced the results of a similar study at the University of Chicago Medical Center, which compared surgical outcomes of patients under the age of 70 with those 70 and older
Thoracic surgeon Dr. Wickii Vigneswaran, who led the study but is now at nearby Loyola University, remains adamant that age should not be a deterrent to aggressive, potentially curative surgery.
In over 100 consecutive surgeries for mesothelioma, he found advanced age did not translate into higher mortality rates or shorter long-term survival.
"We showed for the first time that older patients do just as well as younger ones," he said. "You should not use age as a cutoff. The decision [to have surgery] today should not be age-based."
Connect with a Mesothelioma Doctor
Find a Top Specialist Near You